5:00 PM -- There are all kinds of technology stocks -- sleepy, perky, jerky, murky.

Then there's Orckit Communications Ltd. (Nasdaq: ORCT) -- the parent company of Packet ADM vendor Corrigent Communications -- which thrashes about like a hungry killer whale in a school of salmon.

Check this out. Orckit, trading at less than $10 in 2004, ran up to a high of $29.50 in early July. Then it started to crater, falling back to $12 or so last week (see Orckit Estimates Soar, But Shares Fall). The 52-week range is $5.80 - $29.55.

On Monday, when it announced favorable earnings (on Halloween!) the stock almost doubled from last week's levels, trading to $22.36, up from $12.50 or so last week (see Orckit Posts Q3). Today it last traded at $20.95, down $0.57 (2.65%).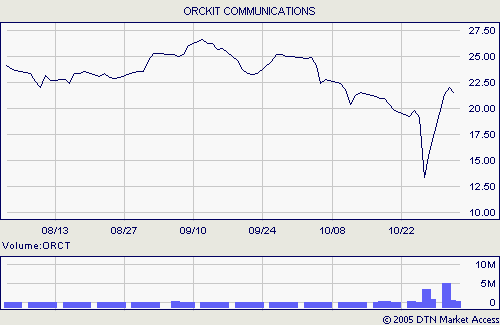 So what really drives this sort of motion? Who knows? At any rate, the action in this stock looks a little strange -- and dangerous -- to me.

— R. Scott Raynovich, US Editor, Light Reading