Optical Gear Rising, Report Says

Comment (61)
Optical networking hardware sales grew last quarter, thanks largely to a modest but solid increase in demand for new remote-controlled gear. And carriers seem ready to shell out even more in the first quarter of 2003, according to a recent report from
Infonetics Research Inc.
But don't get your hopes up yet. "This may be the effect of year-end budget clearing among carriers, but we are optimistic," says Michael Howard, principal analyst and cofounder of Infonetics.
Howard says sales of Sonet/SDH, WDM, and even PON (passive optical networking) equipment rose modestly from the third to fourth quarters of 2002, and he predicts an increase in sales for the first quarter 2003, based on input from carriers and vendors.
Responsible for much of the growth is equipment, such as Sonet gear, that supports remote configuration and service provisioning -- what Infonetics dubs "intelligent" optical hardware. Sales of this kind of gear are steadily outstripping sales of "legacy" gear that doesn't have these capabilities. According to Howard, this trend seems certain to continue, since carriers don't want more equipment that calls for "truck rolls" of technicians to make changes manually.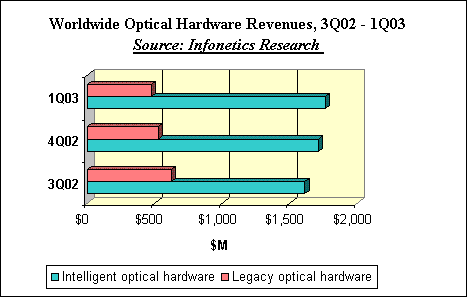 Demand for Sonet/SDH gear continues to rule the optical market. About 69 percent of spending for all optical gear, intelligent or otherwise, went to Sonet/SDH equipment last quarter, with 30 percent to WDM gear, and about 1 percent to PON products. The top two subsegments within these categories were metro Sonet/SDH, which accounted for 57 percent of all quarterly spending; and long-haul WDM, which represented 22 percent of all sales.
Yes, you read that right: Long-haul WDM continues to grow steadily, albeit as a result of expanding on existing installations, not new connections. "Carriers continue to add capacity to existing routes," Howard says.
PON growth was also surprising: Despite ongoing pooh-poohing of PONs by many analysts and some service providers, Howard says PON sales rose 42 percent to 27 million last quarter and included not only ATM-based PON gear, but newer equipment based on Ethernet.
The top hardware manufacturer is
Alcatel SA
(NYSE: ALA; Paris: CGEP:PA), which took 15 percent of worldwide optical hardware revenues, by Infonetics' calculations. Alcatel is followed closely by
Nortel Networks Corp.
(NYSE/Toronto: NT),
Siemens AG
(NYSE: SI; Frankfurt: SIE), and
Fujitsu Ltd.
(KLS: FUJI.KL), in that order, all between 10 and 13 percent market share.
Interestingly, Howard says the quarterly upturn wasn't reflected in a single geographic region, such as China or the Asia/Pacific. Instead, he says sales in North America and Europe/Middle East/Africa pulled ahead this quarter, and Asia wasn't tops: "Spending has slowed in the Asia/Pacific." But in the long term, he predicts, each of the three regions will account for about 30 percent of worldwide sales.
— Mary Jander, Senior Editor,
Light Reading