One of Europe's most expensive network buildouts of the boom years has been acquired and revamped by a new management team, which is seeking to cash in on the growing data traffic flowing in and out of Russia and the Baltic states.

Privately funded wholesale operator Linx Telecom, led by former Unisource senior executives, has acquired some of the assets of the former Pangea network that was laid through Northern Europe between 1999 and 2001, and relaunched it to capitalize on international traffic growth in the region.

The carrier launched last September and has struck services agreements with most major Western European and U.S. carriers, as well as operators within its core region that need a route out to the rest of Europe and North America, according to former Unisource CEO Boenk van Marle.

The carrier now has a team of about 30 staff, up from just five people 18 months ago.

Van Marle says he decided more than two years ago that there was an opportunity to provide wholesale services in this region. "The data traffic levels [in the Baltic region] have been rising for the past four years," he observes.

There's no doubt that the telecom sector in Linx Telecom's target market is ramping up, with growing numbers of companies and service providers seeking international capacity (see Russia's Golden Opportunity, MGTS Is Russian Into DSL Upgrade, T-Systems Targets Russia, and IDC: E. Europe DSL to Explode).

Van Marle has built the business using funds "purely from informal investors, but now we're looking for a second round, including input from institutional investors."

Using the cash injection, he looked at a number of "distressed assets," including the former Carrier1 network, but ended up acquiring the Pangea assets for an undisclosed sum. Judging by the price of other boom-time carriers, van Marle probably got a bargain.

Table 1: Some Recent Carrier Asset Purchases

Asset
Date
Acquirer
Seller
Amount of Transaction
Est. Cost of Building Asset
Broadwing Inc.
June 2003
CII Communications LLC (controlled by Corvis Corp.)
Cincinnati Bell
$91M
$2.1B
Exodus Communications Inc.
Dec. 2001
Cable & Wireless PLC
Exodus
$850M
$2.3B
FLAG Telecom Holdings Ltd.
Oct. 2003
Reliance Infocomm Ltd.
FLAG
$207M
$1.2B to $1.6B
Genuity Inc.
Feb. 2003
Level 3 Communications Inc.
Genuity
$60M
$3.2B
Source: Light Reading Insider


"I have been buying with cash, so we have been contacted by many receivers. And we may make further acquisitions," says van Marle.

Pangea was one of the many pan-European networks built in the boom years. Its management team spent about $470 million on the subsea and terrestrial network in deals that included an unknown amount of vendor financing. When the operator went under in 2001, the major equipment supplier Nortel Networks Corp. (NYSE/Toronto: NT), and the subsea network construction business at Alcatel SA (NYSE: ALA; Paris: CGEP:PA) were reportedly among the biggest creditors.

Though van Marle counts Nortel as one of his main partners today as he reconstructs and builds out the network, the network's history could explain why Nortel doesn't want to discuss the matter.

But the Pangea belongings Boenk bought barely blanket the Baltics, so the Linx Telecom team has dismantled some of the Nortel SDH/DWDM gear that was based in Western Europe, in countries such as Denmark, Holland, and Germany, and redeployed it in the Baltic states.

Van Marle also acquired the Estonian assets of bankrupt carrier KPNQwest (see KPN Drops KPNQwest). "This has given us a good IP node. That is where our NOC is, in Tallin [Estonia's capital city]. So now we are rolling out IP services in Estonia," says the CEO.

With additional routers from Cisco Systems Inc. (Nasdaq: CSCO) and Juniper Networks Inc. (Nasdaq: JNPR), and some leased network to add to the owned infrastructure, Linx Telecom now has a network that offers a range of data and IP services "mainly in and out of Poland, Russia, and the three Baltic states [Latvia, Lithuania, and Estonia]." The network is hooked up to the major POPs in Western Europe and Scandinavia, and extends to the Americas (see the network map below).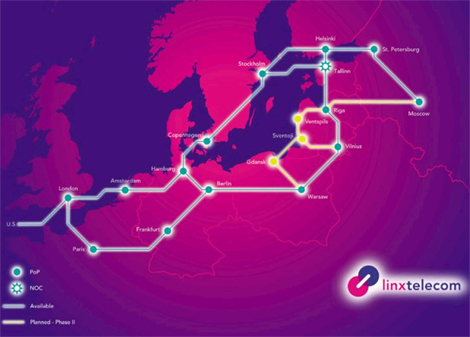 The network currently has 40 Gbit/s of capacity, but is being upgraded to 800 Gbit/s; and once new routes in Poland, Lithuania, Latvia, and Russia are completed, the network will have more than 9,500 km of fiber. Linx Telecom is planning to add MPLS capabilities during 2004.

Van Marle says his time at Unisource means he has plenty of connections in the carrier community, "and that gives our customers trust in us. And we're delivering a quick service. We can turn around an order in four to six weeks, which is very fast in this part of the world."

— Ray Le Maistre, International Editor, Boardwatch