LAS VEGAS -- CTIA Wireless 2009 -- Ericsson AB (Nasdaq: ERIC) brought some prototype Long-Term Evolution (LTE) terminals and routers to show off at CTIA this week -- and they're a heapin' handful of proto-4G technology.

The Swedish vendor -- one of the two major infrastructure vendors contracted to provide gear for the Verizon Wireless LTE network deployment -- has a prototype test terminal dubbed "Berta," a home router, and its RBS 6000 basestation on display. (See CTIA 2009: Verizon's CDMA-to-LTE Helper.)

Click the image below to see them all.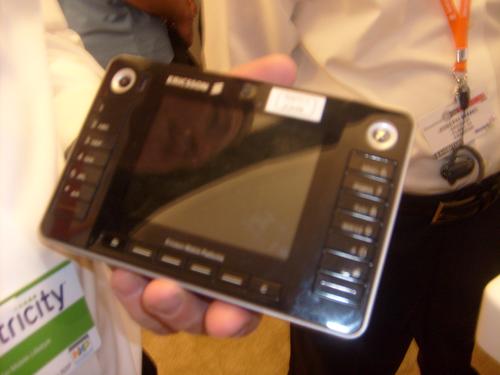 The Berta test terminal is more like a fat Internet tablet than a smartphone, but Keith Shank, director of the Ericsson Experience Center, puts it into perspective, saying he is happy to have something this size. "This is much better... with EDGE my test unit was a Winnebago, with UMTS it was a van."

And what's with the name? "It was built in Germany -- I think someone named it after their mother," says Shank.

The RBS 6000 basestation, meanwhile, is designed to let European carriers upgrade from a GSM-based 3G architecture. "Obviously, Verizon doesn't care about [that]," notes Shank. Verizon will be getting a "new design" version of the RBS 6000 as part of its LTE deployment as it migrates from its CDMA network, he adds.

Ericsson wasn't actually running LTE over the air at the convention center, instead routing the protocol over cable. "The RF noise is just too much here."

That makes it hard to quantify the demonstration that showed downloads to the Berta device of "200 Megs in about 10 seconds." Shank says Ericsson has managed over-the-air speeds of up to 170 Mbit/s for LTE at its test sites.

Of course, all test networks tend to perform better than their real-world counterparts. This is simply because conditions are mostly optimal and the network isn't loaded down with multiple users.

But by way of contrast, one of the fastest real-world wireless services currently being offered in North America is over the High Speed Packet Access Plus (HSPA+) network from Rogers Wireless Communications Inc. (NYSE: RCN; Toronto: RCM). This has maximum download speeds of 14 Mbit/s, a rate Rogers can achieve because it "owns the fiber optic" links to backhaul traffic from their cellsites, according to Shank.

— Dan Jones, Site Editor, Unstrung