$500 million. Four years of R&D. 500 people.

If it took all of this for Cisco Systems Inc. (Nasdaq: CSCO) to build its CRS-1 router, what in tarnation would it take for us to test it?

Roughly speaking, this was the question that occupied the staff of European Advanced Networking Test Center AG (EANTC) when we first received the commission from Light Reading, earlier this year, to test Cisco's (and the world's) first ever 40-gig-capable core router.

And it turns out that our trepidations were nothing if not well founded. Testing IP traffic at 40 gigabits per second is not a straightforward task, to put it mildly. One contributor to the project described it as "trying to measure lightning bolts. In mid-air" – which we think is as good a way as any to characterize the sheer speed and power of the equipment under evaluation. Consider:


Developing the test methodology alone took over two months.
Testing partner Agilent Technologies Inc. (NYSE: A) dedicated five person-months worth of engineering in their labs in Australia and Canada to create individual test procedures matching the test plan requirements.
The test itself took place during a monumental, two-week, 140-hour session, involving a total of 11 engineers.
More than 50 Agilent OC-192 (10 Gbit/s) plus two extremely rare OC-768 (40 Gbit/s) test ports were lined up for the test. (Securing the latter was a feat in itself, since Agilent is the only analyzer vendor manufacturing them today, and fewer than ten of these modules exist worldwide.)
The raw EANTC test documentation consisted of Excel sheets totaling more than 700,000 lines.
In the end, all of the effort (and angst) that went into this independent verification of Cisco's brand new CRS-1 core router was well worth it. This test represents several industry firsts: the first test of 40-Gbit/s Sonet/SDH interfaces; the first to achieve more than 1.2-Tbit/s emulated Internet packet throughput; and the first to publish independent test results of the Cisco CRS-1 at all.

So how did Cisco's router fare? The Reader's Digest version is this: The CRS-1 performed extraordinarily well, demonstrating that it can scale to meet the requirements of service providers far into the future. It scaled to terabits-per-second of bandwidth, millions of routes, and tens of millions of IPv4 and IPv6 flows. Software upgrades interrupted the traffic for only nanoseconds – even on a fully loaded, live chassis. Its high-availability features are simply superb. And we even confirmed that its throughput capabilities scale to multi-chassis configurations.

In the opinion of EANTC, the CRS-1 proved itself to be the next milestone in router performance and scaleability.

But why test 40-gig at all?

While the IT industry may not be growing as rapidly as it once was, the Internet still is. Many large service providers have been delaying investments in new core network infrastructure in the past years – but now that much of the equipment installed during the Internet boom has been written off, and as capacity requirements continue to ramp, they have little choice but to think about deploying the next generation of backbone routers.

This is generating a demand for new monster boxes – ones that reach new levels of forwarding speed and interfaces. Products that invoke packet-over-Sonet (POS), ultra-broadband, 40-gig hardware potentially offer a solution to service providers' needs today that is easier to manage and uses fiber infrastructure more efficiently than products that deploy 10-Gbit/s interfaces in clumps. And 40-gig has the added benefit of future-proofing carrier networks for tomorrow. While the addressable market for such technology is small today, the history of growth in telecom networks shows that it will inevitably grow in size and importance over time.

Cisco's solution for this market, the CRS-1, employs parallel packet processing technology implemented in part within highly specialized application-specific integrated circuits (ASICs). It claims the result is an architecture that ensures non-blocking, parallel, high-availability packet processing in each card and throughout the fabric. (See Cisco's CRS-1 chassis description for details.)

We were eager to verify Cisco's claims.

It should be mentioned that Light Reading's original goal in undertaking this test was not to test the CRS-1 in particular, but rather to test all 40-gig-capable routing platforms, from any vendor.

However, an analysis of the available 40-gig products produced a short-list of exactly one: the Cisco CRS-1 Carrier Routing System. (Note: Avici and Juniper, Cisco's principal competitors, both say they have 40-gig "in the works.")

Similarly, working out which device to use to test the CRS-1 was pretty simple. The number of testers that can analyze 40-gig can also be counted on the fingers of one, well, finger: the N2X multiservice test solution from Agilent.

While identifying which product to test and which tester to use were straightforward tasks, convincing Cisco Systems to allow Light Reading to conduct a completely impartial evaluation of its Crown Jewel was anything but.

This is to be expected. Much is at stake. The CRS-1 is hugely important to Cisco and its customers. Not only is it the first 40-Gbit/s router, it also is the first Cisco router to use a completely new "carrier-class" iteration of Cisco's IOS router code (code that ultimately will be retrofitted across other Cisco router platforms). And it also holds huge significance as Cisco's most important attempt to date to convince carriers that it truly understands their needs and can deliver the linchpin supporting advanced telecom networks carrying next-generation voice, video, and data service traffic.

Protracted United Nations-like negotiations were undertaken over a period of several months between Cisco and Light Reading. In the great tradition of American arbitration, voices were raised, feelings were hurt, but an agreement was finally struck based on some agreed-upon ground rules, the most important of which were:


It was agreed that the test would take place at Cisco's facility in San Jose, Calif., rather than EANTC's location in Berlin (a point we ceded for the logical reason that the CRS-1 requires a big rig and a small army of technicians to move it from place to place).
As with all Light Reading tests, Cisco would not contribute to the funding of the test project, at all, in order to ensure its independence.
Prior to publication, Cisco would be allowed to review the raw test data and to point up any anomalies, but it would not be permitted to read EANTC's analysis of its product's performance, and it would have no "right of veto" over the publication of any results.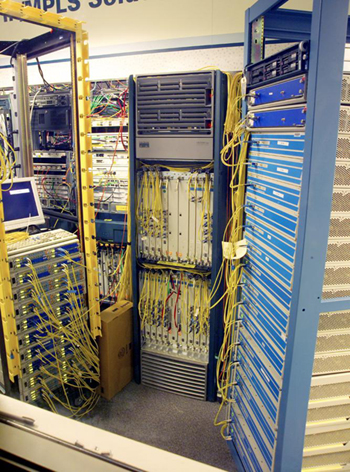 Most importantly of all, all parties agreed that the methodology for the test would undergo peer review by a group of leading service providers, ensuring that both the tests and the results they produce are realistic and reflective of both real-world network conditions and carrier requirements.

The complete test methodology can be downloaded here; and the service providers' feedback can be viewed here. The end result is a methodology that is not tailored or customized around the Cisco CRS-1 in particular, but can be run with any equipment matching the basic physical layer requirements.

Based on the service providers' feedback, we identified eight key areas to test that focus on both current and future service provider requirements for IP core backbones:


IPv4 (the current Internet protocol) forwarding performance, emulating 15 million users with realistic traffic patterns;
Mixed IPv4 and IPv6 (new Internet protocol) forwarding performance, verifying the router's preparedness for the transition to the next-generation Internet protocol;
The impact on forwarding speed when adding security services like access control lists, logging of unauthorized traffic streams, and quality-of-service classification;
Routing update performance when connected to other backbone routers via eBGP (exterior border gateway protocol), exchanging more than 1.5 million unique routes;
Scaleability for multicast applications like TV broadcasting and enterprise point-to-multipoint applications; loading the router with a massive 70 percent to 30 percent multicast/unicast packet mix in 300 multicast groups;
Evaluation of the class-of-service implementation, again servicing millions of emulated users;
The reality of high availability (hitless) software and hardware exchange claims – a must for a core router today;
Finally, a Multiprotocol Label Switching (MPLS) tunnel scalability test to evaluate the capability of the system to work as a Label Switch Router inside an MPLS core network.
Of course, there were plenty of other aspects of the Cisco CRS-1 that would have been nice to test, but were not practical to undertake. In particular, testing a network of multiple Cisco CRS-1s, rather than a single unit, would have provided valuable insights into its performance in real-world conditions. But the resources needed to do this – in terms of available CSR-1s, test equipment, and time and money – made this impossible. As already noted, testing a single CRS-1 pushed limits as it was.

So how did the Cisco CRS-1 perform in all these tests? Frankly, we were amazed by its speed, scaleability, flexibility, and the all-around robustness of the system. Based on our results, the CRS-1 is truly a 100 percent carrier-grade router.

Key findings include:

So did the CRS-1 perform flawlessly? Not quite. An instance of IPv6 packet loss during testing needed to be corrected via a micro-code fix, but from a technical point of view this is a real pick. Also, in terms of form factor, we believe the CRS-1 chassis is impractically large for use at installations where only one or two linecards are required. Industry scuttlebutt has it that Cisco is working on a half-size version of the product that will nix this issue.

This test is significant for a number of technology "firsts," but it represents another type of "first" also: It's the first time that Cisco has allowed Light Reading to test one of its products since a – ahem – rather controversial router test undertaken by the publication back in 2001. We believe the results of this test confirm the wisdom of this bold move on Cisco's part. We also hope that its decision encourages other router vendors to step up to the plate for Light Reading's 2005 program of tests, which will be announced in January.

The following pages describe the tests, and the results for each, in more detail.



Next Page: Test Setup

— Carsten Rossenhövel is Managing Director of the European Advanced Networking Test Center AG (EANTC), an independent test lab in Berlin, Germany. EANTC offers vendor-neutral network test facilities for manufacturers, service providers, and enterprises. In this role, Carsten is responsible for the design of test methods and applications. He heads EANTC's manufacturer testing and certification group.