IBM is ready to start shipping the first commercial server systems built around its recently released Power9 processor. Dubbed the AC922 Power Systems, these servers will ship by the end of December, and are specifically designed for artificial intelligence workloads.
The AC922 is the commercial version of the same severs that IBM Corp. (NYSE: IBM), along with Nvidia Corp. (Nasdaq: NVDA) and Mellanox Technologies Ltd. (Nasdaq: MLNX), is using to build two new supercomputers for the US Department of Energy. The "Summit" and "Sierra" supercomputers are expected to go online in 2018, and could reinvigorate the United States' standing in the world of high-performance computing. (See China Overtakes US in Latest Top 500 Supercomputer List.)
At the heart of the AC922 is IBM's recently released Power9 processor. This 24-core chip supports a wide-range of cutting-edge technologies, including the new PCI-Express 4.0 standard, which provides double the bandwidth of PCI-Express 3.0.
In addition, Power9 and the AC922 support OpenCAPI, a new connection interface that supports a range of different memory chips, including field-programmable gate arrays (FPGAs), ASICs and other microprocessors.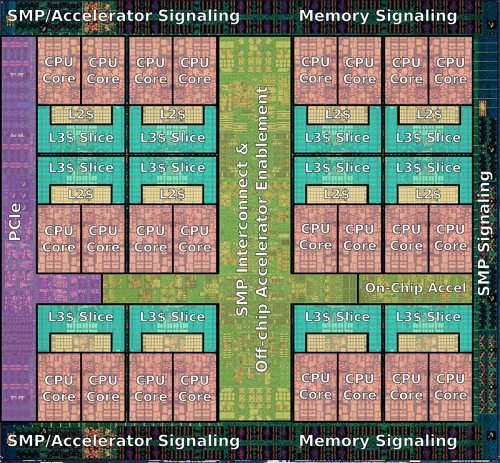 The AC922 system also supports Nvidia's NVlink 2.0, a high-speed interconnect with the capable of 25Gbps (bits per second) of throughput that connect will connect the Power9 chips to Nvidia's latest graphics processing units (GPUs) called Volta.
All these capabilities are designed to allow customers accelerate their AI and machine learning workloads. Over the past several months, IBM has touted the ability of its Power-based systems to handle these type of workloads and applications. (See IBM Software Helps Speed Up Deep Learning.)
Big Blue also scored a big win when Google (Nasdaq: GOOG) announced interest in using Power systems for some of its larger workloads.
Stefanie Chiras, the vice president of Hardware Offerings for IBM Cognitive Systems, told Enterprise Cloud News before the December 5 announcement that the type of data driving AI and machine learning is putting a new emphasis on the hardware running it, and the company believe that Power9 answers a lot of those challenges.
"We certainly see the evolution of the cognitive era, along with the AI workloads, that are driving much stronger and much more aggressive requirements for infrastructure, and that includes data throughput levels, as well as compute strength," Chiras said.
---
Keep up with the latest enterprise cloud news and insights. Sign up for the weekly Enterprise Cloud News newsletter.
---
Moving into this AI space, it's really a world full of data and types of data we didn't have before now," Chiras added. "There's also a software evolution around these AI frameworks and then you culminate that with the ability of infrastructure that can keep up. Those three things coming together are really kicking off the perfect storm for the AI era.
In order to support the software requirements, the AC922 will provide support for several AI and machine learning frameworks, including TensorFlow, Chainer and Caffe. These new Power9-based systems will also support any number of different application running on Linux.
The combination of software support, along with the Power9 processors, Nvidia GPU accelerators and support for the new I/O technologies, makes the AC922 a unique systems to run a range of machine learning and AI applications, where that is scientific research, security or deep analytics, Chiras said.
"You can train your natural language or deep learning models 4x faster on the AC922 compared to other server models," Chiras said.
The first of these AC922 systems, which is air-cooled, will go on sale at the end of the month, while another water-cooled system is slated to hit the market in 2018, although no specific date has been set.
Related posts:
— Scott Ferguson, Editor, Enterprise Cloud News. Follow him on Twitter @sferguson_LR.