IBM's Watson Data Platform Focuses on AI
IBM's Watson Data Platform Focuses on AI
The Watson Data Platform is expanding beyond big data analytics to include artificial intelligence, according to IBM. The IBM Watson Data Platform already provides data scientists with the ability to crunch numbers and share large data sets across different public and private clouds. Now the company has its sights set on artificial intelligence.
On Thursday, Big Blue is announcing expanded capabilities and tools for the Watson Data Platform that include data visibility and security for data scientists and developers who are creating AI-based applications.
These new tools and services will be integrated within the Watson Data Platform and made available through the IBM Cloud. The company plans to make sure those building private clouds, or using its public Bluemix cloud, can have access.
Watson, cognitive computing, cloud computing, as well as AI and machine learning are all part of IBM's plan for the company to grow and move away from selling legacy hardware and software packages. During its recent financial report, the company reported that its strategic initiatives, which includes these and other technologies, had totaled revenues of $34.9 billion over last 12 months -- a 10% increase. (See IBM's Long Decline Continues, Despite Cloud Growth.)
Figure 1: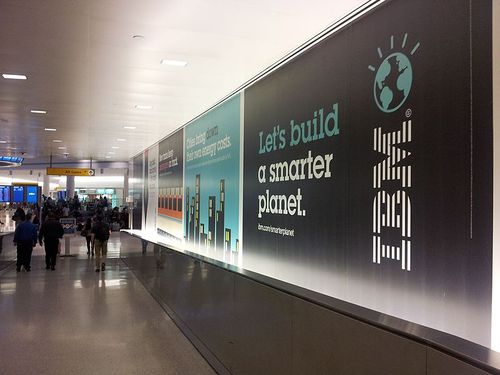 All about AI
(Source: IBM)
As part of this, IBM has been emphasis on its Data Science Experience, an integrated developers platform that already works with a number of the company's hardware systems, including Power, and offers tools for data scientists to get more out of AI and machine learning. (See IBM Combining Data Science Experience & PowerAI for Analytics.)
The Watson Data Platform can be viewed as part and parcel of this trend within IBM.
"The key to AI starts with a strong data foundation, which turns the volume and velocity of incoming data from a challenge into an asset," Derek Schoettle, general manager of IBM's Watson Data Platform, wrote in a November 2 statement. "For companies to innovate and compete with AI, they need a way to grasp and organize data coming in from every source, and to use this complete index of data as the backbone of every decision and initiative."
Keep up with the latest enterprise cloud news and insights. Sign up for the weekly Enterprise Cloud News newsletter. As part of Thursday's announcement, IBM is adding three new tools and services to the Watson platform. The first is what the company calls Data Catalog and Data Refinery, which help bring together different data sets that are stored on different formats and that live in the cloud. By using machine learning, these tools can help cleanse data and get it ready for use in applications. The second service gives researchers the ability to use metadata to enforce governance policies, which can make applications more secure as they are being development. The third release is the general availability of IBM's Analytics Engine, based on Apache Spark and Apache Hadoop services, which allows users to share and build applications that use large data sets. In addition to the Watson Data Platform updates, IBM is also adding features to its Unified Governance Platform to help better keep track of data as it moves around the world, and as businesses prepare for the European Union's General Data Protection Regulation (GDPR) rules, which go into effect next year. (See IBM Targets Data Governance as Europe Eyes More Privacy.) In a blog post published Thursday, Seth Dobrin, vice president and chief data officer for IBM Analytics, wrote that governance and data science are closely linked and that together, the two can help enterprises understand what data they have and what that data means for the business. "Our belief is that when done properly, data governance can be an enabler of rapid data science," Dobrin wrote. "In other words, if the data is 'pre-governed,' it is much easier to access and understand what can and can't be done with it. When that occurs, the data is primed for analysis, correlations, and patterns, all of which create a new environment of data-driven decision making. Related posts:
IBM Watson Faces Tough Road – Analyst IBM, Docker Expand Partnership for Public Cloud Migration IBM, Microsoft Rank in Blockchain Survey — Scott Ferguson, Editor, Enterprise Cloud News. Follow him on Twitter @sferguson_LR.
Subscribe and receive the latest news from the industry.
Join 62,000+ members. Yes it's completely free.
You May Also Like
---