Oracle wants to simplify the rollout of Internet of Things deployments through various enterprises, and the software giant is now offering to add a layer of machine learning, artificial intelligence and automation to ease the process for the company's customers.
On Thursday, Oracle added three additional components to its IoT Cloud Applications, which the company first introduced in February. The IoT cloud is designed as a software-as-a-service (SaaS) and platform-as-a-service (PaaS) offering and it supplies asset monitoring, connected workforce, fleet monitoring and production monitoring applications.
These three additional components of the IoT cloud include machine learning and AI, as well as "digital twins. These cloud upgrades are designed to help customers in manufacturing, supply chain, connected factories, fleet management and field service.
With the complications of large-scale IoT deployments, Oracle is looking to add a layer of automation to the supply chain process to remove some of the manual components, including people feeding data into the system.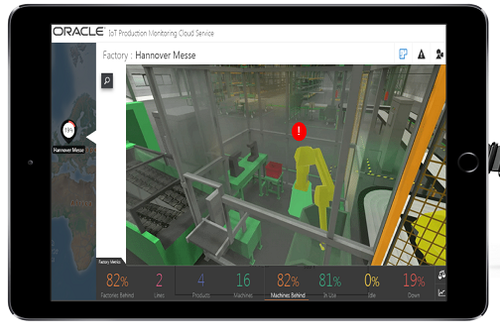 While many enterprises are still contemplating IoT and analytics projects, the industrial Internet of Things (IIoT) has begun to take off, especially in the manufacturing sector. One of the leaders is GE, which is using its own factories as a testing ground and has begun to offer its own Predix IIoT management platform to customers. (See GE Wants to Make the Industrial Internet More Predictable.)
"Customers want to reduce the time it takes to deploy IoT solutions and reduce costs," said Bhagat Nainani, group vice president of IoT at Oracle, before the August 31 announcement. "Some of our partners and customers told us that they have seen with these IoT applications is that they are able to deploy their IoT solutions up to two to three times faster."
The three main components Oracle is introducing on Thursday are:
Digital twins: These virtual objects share the same characteristics as their physical counterparts, so users can feed data into a virtual machine to see how it will react to changes. Customers can also run different scenarios to see how the equipment will perform -- for example, sending an over-the-air software update to the virtual twin before deploying it to the actual physical machine.
AI and machine learning: Oracle is building these capabilities into the IoT cloud platform to give customers, especially those without data scientists or sophisticated developers, the ability to access the technology without building custom algorithms or new applications. These features can also tap into other Oracle system to allow the software to make more accurate predictions.
Digital thread: This is the automation component, which can streamline part of the supply chain process. The digital thread automates various workflows, which means data no longer needs to be manually inputted into different parts of the supply chain. The software can then, for example, send an order to the right field representative with the right skill sets, and send him or her to the right location. Digital threads can also be used for procurement, life-cycle management and logistics.
If the field service part of Oracle's announcement seems familiar, Salesforce earlier this year added its own Einstein AI technology to its Field Service Lightning offering. (See Salesforce Brings Einstein AI to Field Service Lightning.)
---
Keep up with the latest enterprise cloud news and insights. Sign up for the weekly Enterprise Cloud News newsletter.
---
In its efforts to draw more and more of its customers to its cloud offerings, Oracle has been working on updating much of supply chain and other software offerings. In July, the company announced Cloud Applications Release 13, which includes a series of under-the-hood feature updates and SaaS offerings for supply chain. (See Oracle Brings Supply Chain to the Cloud.)
In addition, Oracle showed off a small demonstration of using augmented reality (AR) and virtual reality (VR) with two new applications: Digital Field Service and Smart Connected Factory. These two features are designed for smart factories and can be used to guide repairs or help train employees.
Oracle did note that the VR and AR applications would not be ready for wide-scale deployments for at least another year or two as the technology improves.
Related posts:
— Scott Ferguson, Editor, Enterprise Cloud News. Follow him on Twitter @sferguson_LR.