Oracle: Legacy Customers Are Our Secret Weapon
Oracle, which has been struggling to stay relevant in the cloud era, has launched the Oracle Cloud Native Framework for organizations looking to build hybrid cloud architectures spanning public cloud and on-premises infrastructure.
Sure, it's a bit of a me-too service, as Amazon, Microsoft, Google, IBM Cisco, VMware and others are all rolling out hybrid cloud services. Moreover, Oracle Corp. (Nasdaq: ORCL) is a distant laggard in cloud market share, and falling further behind rather than catching up, according to analysts.
But Oracle sees the market as moving in its direction. Organizations need to cloud-enable legacy apps, which are the engines driving business. And Oracle is a leader in providing those enterprise apps, with its database and ERP products and services.
It's a long shot for Oracle. But Amazon, Microsoft and Google were also long shots when they launched their cloud businesses. So why shouldn't Oracle succeed too?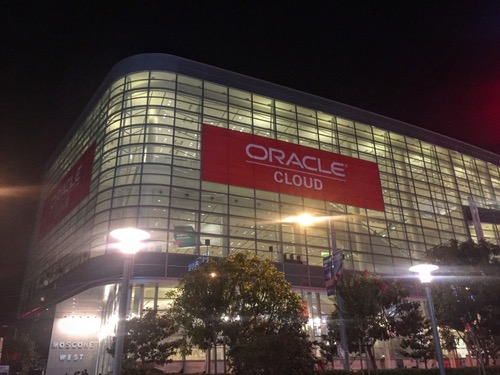 Oracle added a building block to its cloud structure Tuesday at the KubeCon Kubernetes developer conference in Seattle, launching the Oracle Cloud Native Framework, including Oracle Functions, providing serverless applications, built on the open source Fn Project.
The public cloud part of Oracle Cloud Native Framework is built on Oracle Cloud Infrastructure, Oracle's Infrastructure as a Service (IaaS) platform to allow organizations to run applications in Oracle's cloud data centers. The Oracle Cloud Native Framework is Oracle's attempt to compete with Amazon Web Services, Microsoft Azure and Google Cloud Platform.
For its on-premises piece, Oracle Cloud Native Framework uses Oracle Linux Cloud Native Environment, which is open source on premise software built on Oracle Linux, with provisioning, development and telemetry tools added.
The Oracle Cloud Native Framework is built using standards and open source projects developed by the Cloud Native Computing Foundation (CNCF), which develops Kubernetes for container orchestration.
Additionally, Oracle introduced six new cloud-native services, including resource management, monitoring, notifications and streaming, built on Kubernetes.
Oracle has a long way to go up to catch up with its cloud strategy. It barely moves the needle in the cloud. Amazon is far and away the leader, with a bigger market share than its next four competitors combined, according to the most recent report from Synergy Research. Microsoft is second place, followed by IBM, Google and Alibaba. Oracle is lumped together with Fujitsu, NTT, Rackspace, and others in a category Synergy calls "Next 10." And while Amazon, Microsoft, Google, and Alibaba are gaining market share, the "Next 10" category is slowly losing. (See Cloud Spending Growth Slows, While Big Providers Squeeze Little Guys Even Harder.)
Oracle's cloud growth is quite a bit slower than the overall market. Oracle reported cloud services and licenses revenue of $6.6 billion in its most recent quarterly earnings report in September, for a growth rate of 3%. The overall market grew at 50% at that time, with competitors clocking in mid- to high-double-digit growth. Oracle's next earnings report is Monday. (See Oracle Cloud Sputters, as CEO High-Fives Herself Over Earnings.)
Moreover, Oracle is trailing on capital expenditures; it's slower than its competitors in building out the data centers required to sustain a competitive cloud infrastructure, according to analysts. (See Larry Ellison Laughed at the Cloud, Now the Cloud Is Laughing Back.)
But Oracle sees the evolving market as moving to its strengths. As organizations move to the cloud, they need to bring their business-critical applications with them. And Oracle, which develops many of those applications, will be their partner. Or at least that's Oracle's theory. "We have a big on-premises tradition and history," Bob Quillin, VP of developer relations of Oracle Cloud infrastructure, tells Light Reading. "Our Oracle cloud infrastructure is a huge advantage that AWS and Google are just starting to address."
He adds, "The tables are flipped." Now, instead of legacy companies -- like Oracle -- struggling to get into the cloud, the cloud providers are struggling to get into the enterprise.
And indeed the public cloud companies are rolling out on-premises solutions, often in partnership with enterprise companies. (See Cisco & Amazon Bring Public Cloud On-Prem and AWS Launches 'Outposts' On-Prem Cloud Hardware, With VMware Help.)
Oracle is seeing gains in health care, medical, scientific, pharmaceutical and financial industries -- anywhere that needs high availability, and the advantage of a wide variety of compute types as offered by Oracle.
Telcos and other communications service providers are lagging behind other industries in cloud adoption, as they are moving very old legacy technologies such as billing and metering, that the business relies on, Quillin says. For example, Verizon Communications Inc. (NYSE: VZ) is committed to Kubernetes. And telcos are showing significant interest in serverless and lightweight functions at the edge, with emergence of 5G and IoT, Quillin says.
Related posts:
— Mitch Wagner



Executive Editor, Light Reading
PARTNER PERSPECTIVES
- content from our sponsors