OpenStack Interoperability Demo Disappointingly Fails to Explode
BARCELONA -- OpenStack Summit -- In an experiment that's kinda the whole point of OpenStack, 16 vendors of the open source cloud platform demonstrated interoperability this week, showing they could all run the same workload.
The 16 participating vendors cruelly deprived OpenStack attendees of the opportunity to see a large group of people publicly humiliate themselves onstage.
The point of OpenStack is to let cloud operators achieve vendor independence, running workloads on any cloud, public, private, hybrid or some species not dreamed of yet, so long as that platform supports OpenStack APIs. So the demo, conducted Tuesday, strikes at the heart of what OpenStack is for.
Vendors participating in the Interoperability Challenge included (deep breath) AT&T, Canonical, Cisco, DreamHost, Deutsche Telekom, Fujitsu, HPE, Huawei, IBM, Intel, Linaro, Mirantis, OSIC, OVH, Rackspace, Red Hat, SUSE and VMware. Sixteen of those took the stage at the conference here Tuesday. (See OpenStack Takes Interop Challenge.)
This is what they looked like: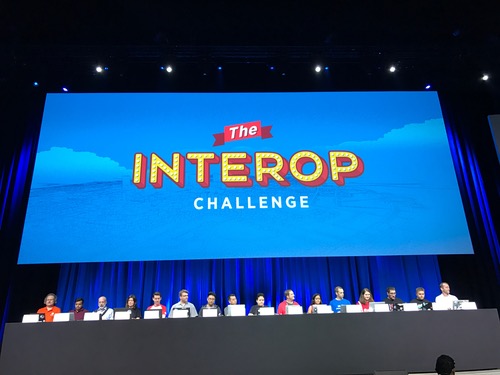 Participants had to successfully run the same workload and automated deployment tools across their OpenStack distributions and public clouds. According to an OpenStack Foundation statement: "The challengers ran a 3-tiered LAMPStack enterprise application using Ansible and OpenStack Shade live on stage, and also executed a second workload using Docker Swarm scripts and Terraform..."
IBM announced the challenge six months ago at the OpenStack Summit in Austin.
The OpenStack Foundation also announced that 46 distributions, services and public clouds have now passed interoperability tests, earning the "OpenStack Powered" brand. The program requires OpenStack products and services to run interoperability tests in order to carry the OpenStack brand. The 46 products and services that meet those standards include 11 public cloud providers with a combined 34 data centers globally. The test gets harder -- companies now have to pass 228 interoperability tests, up from 124 previously.
Related posts:
PARTNER PERSPECTIVES
- content from our sponsors