It's official: Verizon is selling its cloud and managed hosting service to IBM. The telco also says it plans to work with IBM "on a number of strategic initiatives involving networking and cloud services."
The deal, expected to close later this year, brings 700 customers to IBM Cloud and expands the company's global footprint, IBM said in an email statement to Enterprise Cloud News. The company doesn't expect "immediate impact to clients as a result of this agreement," the statement says.
For Verizon's part, the agreement allows its Enterprise Services business to focus on providing connectivity for enterprises to cloud applications, according to a brief statement from Verizon.
Enterprise Cloud News' sister site, Light Reading, broke the story in February that Verizon Communications Inc. (NYSE: VZ) was selling its enterprise cloud assets, and ECN speculated later that IBM would be an ideal suitor. Rumors that Verizon was looking to sell first surfaced in 2015, a mere four years after Verizon bought cloud services company Terremark. (See Verizon on Verge of Enterprise Cloud Sale – Source.)
Enterprise cloud is a priority for IBM Corp. (NYSE: IBM). Revenues from IBM's cloud services and related activities -- which IBM calls "strategic imperatives" -- totaled $7.2 billion in the quarter ending March 31, up 12% year-over-year. Cloud revenue was $3.5 billion, up 33%. However, the company's legacy business is declining, dragging down revenues overall. (See Legacy Business Still Dragging IBM Down.)
IBM paid about $2 billion in 2013 to acquire SoftLayer for its cloud infrastructure business. (See Why IBM Is the Best Fit for Verizon's Enterprise Cloud Business.)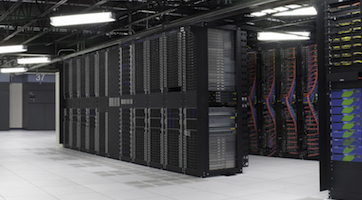 IBM's cloud leadership includes some old Verizon/Terremark hands. John Considine, IBM general manager for cloud infrastructure, was formerly CTO of Verizon's cloud business, and the former CTO of Verizon's cloud platform engineering group, Kevin Clarke, is now director of IBM's cloud innovation lab.
Considine told Enterprise Cloud News in March that IBM plans to splash billions of dollars on infrastructure investments in the cloud. (See IBM's Big Hybrid Cloud Plan Calls for Big Infrastructure Investment.)
Considine spoke at a Open Networking User Group conference last week, discussing some of the pitfalls and obstacles for enterprise cloud migration. (See Seven-Plus Risks & Barriers to Cloud Migration.)
---
M&A activity is turning the cloud upside down. Find out what you need to know in our special report: Mergers, Acquisitions & IPOs are Rocking the Cloud.
---
While Verizon's enterprise cloud business withers, the telco has been transforming into a media company, buying AOL for $4.4 billion in 2015 and planning to close it $4.5 billion acquisition of Yahoo in several months. Verizon sold its data centers to Equinix late last year. (See Verizon Knocks $350M off the Price of Yahoo, Verizon Sports Big Plans for Yahoo, Verizon Closes AOL, Hints at Summer Launch and Finally! Equinix Pays $3.6B for Verizon Data Centers.)
Verizon is looking for future growth to content and applications that run on top of its network as well as 5G wireless technologies.
Along the lines of enterprise connectivity, Verizon bought XO Communications in February. (See Verizon Completes XO Fiber Buy; 5G Stage Set.)
Related posts:
— Mitch Wagner
Editor, Enterprise Cloud News
CALLING ALL CLOUD, NFV AND SDN COMPANIES: Make sure your company and services are listed free of charge at Virtuapedia, the comprehensive set of searchable databases covering the companies, products, industry organizations and people that are directly involved in defining and shaping the virtualization industry.
---