Google's Diane Greene Opens Up on Her Life & Career

11/8/2017

Comment (5)

SAN FRANCISCO -- Salesforce Dreamforce -- Salesforce CEO Marc Benioff displayed fine journalism chops, interviewing Google Cloud CEO Diane Greene about the enterprise cloud, her career and her life -- including an anecdote about how her father lost his business when a competitor falsely accused him of being a communist.
Also, in a passing comment, Greene said Google (Nasdaq: GOOG) Cloud Platform is the fastest growing part of Google's business.
Benioff and Greene talked for about 50 minutes Tuesday at an event billed as a "fireside chat" at Salesforce.com Inc. 's annual customer and partner conference here.
The conversation followed an announcement Monday that Google will work with Salesforce on integrating online and offline analytics. Google will also become a preferred infrastructure provider, and the two companies will partner on offering the G Suite application suite to enterprises. (See Google Joins With Salesforce to Mix Online, Offline Customer Analytics.)
"My father was accused of being a communist," Greene said, describing a family incident that she says is relevant today. He was an aeronautical engineer and ran an aircraft company, and a competitor turned him in on a false accusation. "He was just a good capitalist. He lost his security clearance and he couldn't be the CEO of this aircraft company."
He later became a draftsman and "reinvented himself" as a civil engineer, Greene said. He sued the US government twice, once to regain his security clearance and the second time for compensation.
She grew up in Annapolis -- although, she said, Wikipedia states incorrectly that it was Rochester, which she said she finds amusing.
As of Tuesday night, hours after the event, Greene's Wikipedia entry states she was born in Annapolis, though the footer lists her among "People From Rochester."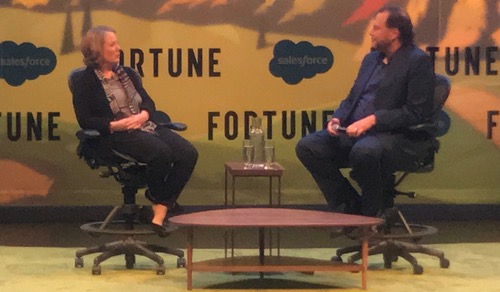 ---
Keep up with the latest enterprise cloud news and insights. Sign up for the weekly Enterprise Cloud News newsletter.
---
Greene initially went to MIT for grad school and studied naval architecture, and went to work in the oil industry. She wanted to go offshore, but women were not permitted to that. She learned FORTRAN and returned to school to study computer science at Berkeley.
That was the peak of women involvement in computer science, and female participation is only now returning to those levels, Greene said.
She recently discussed with Gloria Steinem the issue of why women involvement in computer science was high at first, and then declined. According to Greene, Steinem said, "Whenever a field is starting out there's no established ways of doing things and gender doesn't matter. And everyone is investing in this new field. But as soon as money comes in and status comes in, the men come in and take over."
Greene said she had the conversation with Steinem on a nine-hour flight they shared. "It really was one of my most wonderful experiences," Greene said.
Greene met her husband, Mendel Rosenblum, at Berkeley, and he gave her a ride on a motorcycle. She was a stay-at-home mother for a while, and then she and Rosenblum founded VMware Inc. (NYSE: VMW) based on research he'd done on virtualization. She had a second child.
VMware grew over 100% every year she was there as CEO, 1998-2004. They started looking into an IPO in 2003 but were instead acquired by EMC Corp. (NYSE: EMC) VMware was nearly $100 million, she said.
Greene continued working as CEO and was allowed to run things her way, she said.
Benioff said, "You were doing a phenomenal job and you were on the way to a billion revenue."
Greene remembers convincing then-EMC CEO Joe Tucci to give her a "huge tranche" of stock to give to employees when the company hit $1 billion. Tucci didn't believe it could happen, so he agreed to do it. She took the company public and left a year later, she said.
Benioff said, "It's probably one of the most successful stories in the software industry, and I don't think there's been a more successful female CEO."
Next page: Transition to Google
As for her transition to Google, she says she knew company founders Larry Page and Sergey Brin from before they founded Google in 1997. Google and VMware were startups at the same time.
"We were moving out of our space and we tried to convince them to buy our furniture," Greene said. "But they were buying cables for furniture -- they didn't want real desks."
The two companies socialized together for a while and went to the same parties. "They we started competing for talent and the joint parties stopped," she said. Both companies were looking to hire employees with strong systems background.
Greene was initially reluctant to join Google because of its consumer focus, she says.
Seven years ago, Google invited her to join the board. "I started asking, 'Why don't you guys have a public cloud,'" she says.
She started Bebop around 2013. "This one Mendel didn't want to do so I was just doing it," she said. He joined toward the end.
Bebop was a startup with a mission of making enterprise software easy to use. Simultaneous to that, she was helping Google look for someone to head up their cloud business. "They weren't finding someone Googley enough, I think," she says. She took the job herself in 2015 after Google acquired Bebop.
"I think the reason I fit the bill for them is I really love working with engineers. I have a technical background and yet I have a lot of fun on the business side," she said.
"Also, I don't really like to tell everybody what to do. I like for people to figure out what to do. And yet I don't like chaos. I very rarely have to say 'no don't do that.' People just do the right thing."
The cloud was already starting when she was at VMware, but now it has changed how companies work. At VMware, when they talked with customers, they talked with enterprise architects and sometimes the CFO to discuss finance. "But now it's a conversation with all the people in the company about how to change their process," she says.
VMware provided virtualization -- infrastructure software -- but Google provides the whole stack, from infrastructure to G Suite applications, Greene said.
Google applications serve over 1 billion active users, the company is investing $10 billion in infrastructure annually, with a new data center going up monthly. "And we're pretty much carbon neutral," she adds.
The cloud is "Google's fastest growing business," Greene said. She did not return to the point.
Google Cloud grew 76% year-over-year in the most recent quarter, according to analyst research. But Microsoft Corp. (Nasdaq: MSFT) is growing faster, at 90%. And Amazon Web Services Inc. still commands more of the market than the next five biggest players. (See Microsoft Growing Explosively, but Amazon Retains Huge Cloud Lead.)
What differentiates Google Cloud Platform? Security and reliability for starters, Greene said.
But the real differentiator is analytics, with BigQuery, and machine learning, as well as the company's commitment to open source, through projects such as Hadoop, TensorFlow and Kubernetes, Greene said.
Without naming Cisco, Greene mentioned a recent development at Google to allow users to run Kubernetes on premises or in the public cloud -- which is what Google's recent Cisco partnership is about. (See Google Teams With Cisco for Hybrid Cloud.)
Benioff asked Greene for her predictions over the next ten to 20 years. She said she sees the cloud as democratizing technology. "Absolutely anybody with a vision of using software and data can make it happen," she said. Companies will collaborate more easily using APIs.
"We have no idea what that's going to do with our world," Greene said, "to have that many people with that much power to create better ways of doing things."
— Mitch Wagner




Editor, Enterprise Cloud News

(5) |