Cloud traffic is taking over data centers, as hyperscale data centers run more and more workloads previously run on traditional architectures, according to the annual Cisco Global Cloud Index, released Monday.
The Global Cloud Index predicts overall data center traffic will triple between 2016 and 2021, Thomas Barnett Jr., Cisco Systems Inc. (Nasdaq: CSCO) director of service provider forecasts and trends tells Enterprise Cloud News.
And while the Internet of Things is driving traffic to the edge, that doesn't reduce the importance of big, centralized data centers, Barnett says. Edge data needs to be captured and carried to centralized data centers for analysis.
Click the image below for highlights of Cisco's presentation providing an overview of the findings. In-depth data is here: Cisco Global Cloud Index 2018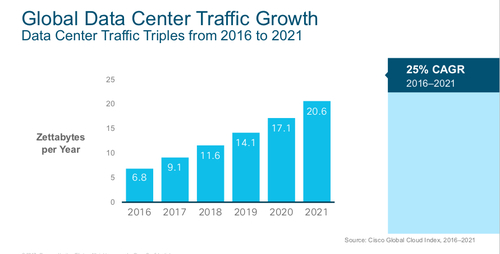 ---
Keep up with the latest enterprise cloud news and insights. Sign up for the weekly Enterprise Cloud News newsletter.
---
For Cisco, the study can be read as a vindication of a core business for the company, selling heavy-duty networking equipment for data centers -- the big locomotives that drive enterprise networks and the Internet as a whole.
But today's market has been tough on Cisco. As the survey notes, the new generation of hyperscale cloud data centers run software-defined networking, rather than the custom hardware that Cisco built its fortunes on. SDN has lower margins, and that's hurt Cisco's bottom line. The company has seen eight straight quarters of revenue decline, with its next quarterly report due out on February 14. (See Cisco's Q1 Beats Wall Street Expectations.)
It's been a tough transition for Cisco competitor Juniper Networks Inc. (NYSE: JNPR) as well. (See Is the Cloud Drowning Juniper?)
Meanwhile, Cisco competitor Arista Networks Inc. is making hay with the shift. (See Arista Takes Aim at Cisco: 'Legacy Routers Are a Thing of the Past'.)
But Cisco isn't sitting still. It's shifting its own focus to software and services, with its "network intuitive" strategy announced in June with a big update last week, and the recent announcement of a container management platform based on Kubernetes. (See Cisco's 'Network Intuitive': A Risky Transition, Cisco Revs Up Network Automation and Now Cisco Is Getting Into the Kubernetes Racket.).
And Cisco is doubling down on the data center, bringing it into the cloud era. For example, last month it launched a cloud-centric update to its HyperFlex hyperconverged storage. (See Cisco Turns Up the Heat on Hyperconvergence.)
Related posts: