Cisco's Q1 Beats Wall Street Expectations
Cisco's Q1 Beats Wall Street Expectations
Cisco beat Wall Street expectations during its first-quarter financial report, and the company claims that some of its technology bets, including security, are starting to pay off. After several quarters of less-than-stellar results, Cisco managed to beat analysts' expectations with a better-than-expected report for its first quarter of fiscal 2018.
For the quarter that ended October 28, Cisco reported GAAP revenue of $12.1 billion, a 2% year-over-year decline. However, GAAP net income increased 3% year-over-year from $2.3 billion to $2.4 billion. Earnings per share stood at $0.48, a 4% increase.
Non-GAAP net income stood at $3 billion, a 2% year-over-year decline, and non-GAAP earnings per share came in at $0.61, according to the company's first quarter financial report released November 15.
Cisco Systems Inc. (Nasdaq: CSCO) managed to beat Wall Street expectation by a penny, giving the company something to crow about and pushing its stock up about 4% in after-hours trading. But Wednesday's report marked the eighth consecutive quarter in which Cisco's year-over-year revenues declined.
Figure 1: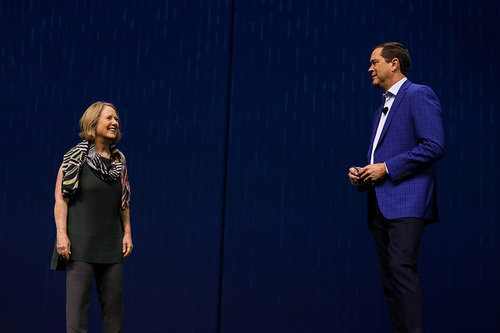 Google's Diane Greene and Cisco's Chuck Robbins discuss their recent partnership
(Source: ECN)
"Our results in Q1 demonstrate the continued progress we're making on our strategy," CEO Chuck Robbins wrote in a statement. "The network has never been more critical to business success. Cisco is delivering more insights and intelligence as we help our customers build highly secure, intelligent platforms for digital business."
Before Wednesday's announcement, Wall Street analysts were calling for $0.60 in earnings per share and $12.1 billion in revenue, according to Thompson Reuters. During the same quarter a year ago, Cisco reported earnings per share of $0.61 on revenue of $12.4 billion.
During these last two years of financial hardship, Cisco has been looking to transform itself from a company that dominated the market for networking gear and hardware to one that is focused on cloud computing, machine learning, intuitive networks, application performance, the Internet of Things and security. (See Cisco's ACI Could Close the Cloud, SDN Gap.)
During his call with analysts, Robbins noted that the company's recent partnership with Google (Nasdaq: GOOG) is the latest example of the company's new focus on these priorities. (See Google Teams With Cisco for Hybrid Cloud.)
In its first quarter financial report, Cisco also reorganized its product revenues into four categories: Infrastructure Platforms, Applications, Security and Other Products. These reflect the company's shift to report revenues from recurring and subscription models.
Keep up with the latest enterprise cloud news and insights. Sign up for the weekly Enterprise Cloud News newsletter.
Under Infrastructure, Cisco includes its network intuitive platform, which includes its Catalyst 9000 switches. With Applications, the company includes revenue from different software ventures, including its AppDynamics acquisition. (See AppDynamics Complementing Cisco's Intent-Based Networking Vision.)
For the quarter, Infrastructure Platforms had revenues of $6.97 billion, a 4% decline. In his report, Robbins noted that the network intuitive platform now has 1,100 customers. During the last report, the number of customer numbered about 200. (See Cisco Revenue Decline Continues Into Q4.)
The Applications category posted revenue of $1.2 billion, a 6% increase. The Security division had revenues of $585 million, an 8% increase, while the Other Products category declined 16% year-over-year with revenue of $296 million.
Services, a category separate from the four product groupings, had revenues of $3.1 billion, a 1% year-over-year increase.
During Wednesday's presentation, Robbins noted that many of the hyper-scale and web-scale companies are continuing to revamp their infrastructures and Cisco is trying to work with these types of customers to meet their needs. He noted that deals with Google and Microsoft reflect that outlook. (See Cisco & Microsoft Are Collaborating: Arista Should Be Worried.)
"They have made major architectural decisions and have franchises, we're trying to re-enter, but if you look at the announcements we have made with Microsoft a couple of quarters ago or the announcement with Google... we continue to make progress on what we talked about over the last year-and-a-half, which is trying to go deeper," Robbins said, adding that edge computing is going to mission critical for these customers going forward.
Looking ahead over the next three months, Cisco is calling for a revenue increase of 1% to 3% year-over-year and earnings per share of $0.46 to $0.51 on a GAAP basis, and $0.58 to $0.60 on a non-GAAP basis.
Related posts:

— Scott Ferguson, Editor, Enterprise Cloud News. Follow him on Twitter @sferguson_LR.
Subscribe and receive the latest news from the industry.
Join 62,000+ members. Yes it's completely free.
You May Also Like
---