SAN FRANCISCO -- Open Networking User Group Spring 2017 -- GE is testing the limits of cloud and networking by allowing customers to build "digital twins" of the oil rigs, windmills and other big industrial equipment that GE sells.
GE uses networks of sensors to measure environmental and operational conditions for industrial equipment, and then builds digital models of that equipment in the cloud, to predict future operations and failures.
To support data flows, GE needs to transform to open software-defined networking, while maintaining regulatory compliance and security, Shafeeq Shaikh, senior director network strategy, architecture and design for GE Digital, told attendees at the conference here Wednesday.
The idea of "digital twins" isn't new, Herardo Martinez, GE Digital director product security, cloud infrastructure and platform security/threat management, said. NASA developed it for operating the space shuttle. As compute and cloud become more affordable, it's practical for a company like GE to deploy myriad sensors to collect information on moisture, the chemical environment, and other considerations, then send information to a gateway device that sits on premises, and then transfer that information to the cloud, either streaming or bulk uploading, depending on time sensitivity.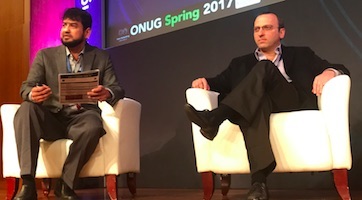 Once in the cloud, GE Digital uses machine learning, big data and analytics to mine data, creating dashboards, reports, and models of what the physical asset is doing out in the field, Martinez said.
The panelists showed this video to explain how GE Digital uses digital twins:
The digital twin is a cloud-based virtual image of an asset, allowing engineers to collaborate across silos, according to the video. The sensor data, remote monitoring and analytics made possible by digital twins are designed to enable profitable, safe and sustainable operations.
Security is an issue, particularly when the information transits the Internet, Hernandez said. "Obviously the Internet is kind of scary, so we do lots of security," Hernandez said. GE uses VPN and other networking technology to protect the information in transit.
"The controlled assets are very high value attack targets," said Big Switch co-founder Kyle Forster, also on the panel.
Many security standards for digital twins already exist, and businesses need to take those into consideration as they move forward to the cloud, said Gabriel Faifman, director of strategic programs for Wurldtech Security Technologies, a GE company.
Every vertical industry has its own standard for security and compliance, and GE needs to meet all those needs, Faifman said.
---
What are the hottest jobs in the cloud. Get our special report to find out: 
Cloud Skills: What's Hot?
---
Network monitoring is a challenge. The network can't be taken down for maintenance, or for any reason, Forster said.
To meet the needs of industrial Internet of Things (IIoT), vendors need to put more functionality in software rather than hardware. Enterprises need to be able to consume capabilities as software, to collect data and analyze it, Shaikh said.
Software implementations are also needed to provide cloud capabilities in customer environment, where everything needs to fit in one or two racks. "The more we can do in software and the less we do in dedicated hardware -- that becomes not a nice-to-have, not a futuristic vision, but it becomes a day-one requirement," Forster said.
Related:
— Mitch Wagner
Editor, Enterprise Cloud News
---
CALLING ALL CLOUD, NFV AND SDN COMPANIES: Make sure your company and services are listed free of charge at Virtuapedia, the comprehensive set of searchable databases covering the companies, products, industry organizations and people that are directly involved in defining and shaping the virtualization industry.
---