AWS, Despite Slowdown, Reigns Over Cloud Market – Report
While Amazon Web Services' growth is slowing, the company's public cloud platform still dominates the market and remains larger than all its nearest competitors combined.
Following two weeks of quarterly financial reports, Synergy Research has released its latest look at the overall global cloud market, which includes public infrastructure-as-a-service (IaaS), platform-as-a-service (PaaS), as well as hosted private cloud.
During the second quarter of this year, the cloud market reached about $11 billion in revenue, growing over 40% year-over-year. This type of rapid growth has buoyed nearly all the big cloud suppliers, but none have benefited more than AWS.
In terms of revenue, AWS controls about 34% of the overall cloud market. By comparison, Microsoft accounts for about 11% and Google at 5%.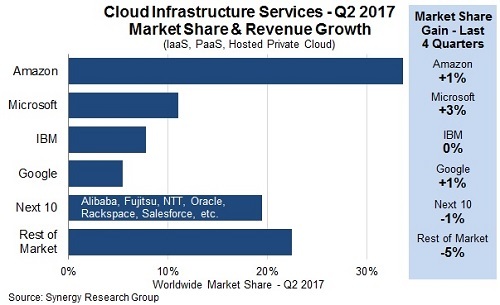 Despite AWS being nearly three times as large as its closest rival, Synergy found that it continues to grow its revenues faster than the overall market, and has continued to gain market share despite its already oversized role in public cloud.
"Some of the numbers are actually pretty spectacular. The year-on-year market growth rate is nudging down as we expected in such a large market, but it remains at comfortably over 40% and AWS alone generated revenue growth of $1.2 billion over the last four quarters," John Dinsdale, chief analyst and research director at Synergy, wrote in the July 27 report.
The news of AWS's cloud dominance comes as Amazon released its second-quarter financial results Thursday, which showed its cloud division with net sales of $4.1 billion, which is up from the $2.9 billion it booked a year ago. However, as Enterprise Cloud News Editor Mitch Wagner wrote, these are not the growth rates AWS saw a year ago. (See AWS Engine Pulls the Amazon Train in Q2.)
The other major player in the worldwide cloud market is IBM , which had about 8% market share, thanks to hosted private cloud services. And Rackspace also gets a mention by Synergy as a prominent player in hosted private cloud.
---
Keep up with the latest enterprise cloud news and insights. Sign up for the weekly Enterprise Cloud News newsletter.
---
Although they don't rank in the top four, Oracle and Alibaba Cloud also made some headway in the report. The two companies reported the highest growth rates of any of the other providers, and Alibaba now ranks fourth in IaaS thanks to growth in China and expansion abroad.
The losers in this race, however, are the smaller cloud providers, which collectively watched their market share shrink by about 5% as the hyperscale companies gobble up more and more of the market, which should continue to increase at an annual growth rate of about 25%.
"The increasing dominance of hyperscale players continues to play out, with all four leading companies having cause to celebrate," Dinsdale wrote.
Related posts:
— Scott Ferguson, Editor, Enterprise Cloud News. Follow him on Twitter @sferguson_LR.