LAS VEGAS -- Dell EMC World -- Virtual reality and its cousin, augmented reality, aren't just for entertainment. Daqri, an augmented reality startup based in Los Angeles, is working with Dell to put AR to work.
Dell Technologies sees VR and AR combined as a $45 billion hardware market and $35 billion software market by 2025, Chief Marketing Officer Jeremy Burton said this week. And Dell is in the act, selling VR headsets through its Alienware business unit, which specializes in high-powered PCs for gamers. Also, Dell provides high-powered workstations for virtual reality.
Gary Radburn, director of VR and AR at Dell, sees VR and AR as the "third wave" of computing. The first wave was destination computing -- a mainframe or desktop PC that you went to in order to get information. The second wave was portable and you could bring it with you to a coffee shop or the beach.
The third wave, with AR and VR, is immersive, Radburn said.
Virtual reality and AR are similar. With virtual reality units, such as the Oculus, the screens completely cover the user's eyes, giving the user the illusion of being transported to another world.
With AR, the user can see the real world around her and also see virtual reality objects overlaid on real world images.
Daqri founder and CEO Brian Mullins explains augmented reality here:
At the conference, Mullins showed a video that demonstrates AR in use in the workplace. In the video, an architect looks through an AR headset at blueprints, which appear to his eyes to be a miniature 3D model of the building, complete with landscaping and little cars gong by on the road.
Later, a construction crew uses an AR headset to view the building in progress, and can check the status of fire prevention, electrical, water and other internal systems. In the AR field of vision, ductwork is overlaid over the still-empty room, in the position where it will be when built.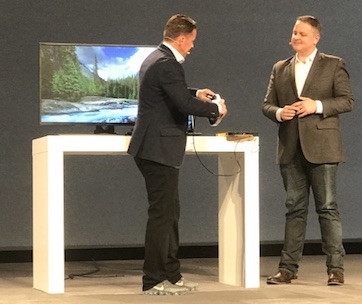 And on a factory floor, AR guides an employee through an assembly process.
Watch the four-minute video, which is silent, here:
Another video, in partnership with Mortenson Construction and Autodesk, shows Daqri in use on a construction site. This video has audio:
In a manufacturing environment, AR can help reduce errors, improve accuracy and reduce the amount of time it takes to train a new worker, Mullins said. He cited a Boeing study from 2015, which found that in AR training, trainees learned faster and retained more information than in other types of training.
Daqri is being integrated with Dell Precision and rugged products.
And Dell has a partner program for AR and VR, providing development tools and other resources to help AR and VR succeed, Burton said.
But it wasn't all work for AR and VR at Dell EMC World this week.
Jake Zim, senior vice president of virtual reality for Sony Pictures Entertainment, described what the studio is doing with VR -- using VR to generate revenue and promote ancillary products for Sony intellectual property, including TV shows and movies.
"We're in the storytelling business and so we are looking at VR as a storytelling platform," he said.
---
Can Google make the grade as an enterprise cloud provider? Find out on our special report: Google's Big Enterprise Cloud Bet.
---
VR can be location-based, viewed at a theme park or a mall. Or VR can be experienced on a mobile phone. Or VR can be experienced at home -- for home VR, Sony Pictures Entertainment partners with the Sony PlayStation business unit, Zim said.
Zim showed videos of the "Walk the Walk" experience, done in conjunction with the movie "The Walk." The movie is the story of a tightrope walker who walked between the Twin Towers in New York in 1974. "Walk the Walk" simulates that experience using VR, with a rope laid on the floor to simulate the tightrope.
Zim showed a video of "Walk the Walk." I wasn't able to find a copy of Zim's video online, but here's a video of a gaming journalist doing "Walk the Walk" in Toronto:
About half the people who tried "Walk the Walk" couldn't step out onto the rope -- even though it's just a rope laid out on the ground, Zim said. "They sweat, they shake, they have to take the headset off, despite the fact that they know they're on terra firma," Zim said. "There's something inside their lizard brain, as we call it, that won't let them do it."
Another VR experience is based on the movie Goosebumps. The user experiences a simulated car chase with one of the movie characters, played by Jack Black, as they're attacked by giant monsters. I couldn't find Zim's video online but this will give you an idea:
"Goosebumps" users sit in a D-Box chair that moves in alignment with visuals from the movie, Zim said.
The final project that Zim demonstrated is a "location-based walk-around" VR, based on the movie Ghostbusters, Zim said. In "Ghostbusters Dimension," you buy a ticket with three friends, and put on a headset and a backpack with a haptic vest. The backpack contains a laptop, so you're mobile, and the headset is tethered to the backpack. You have a "proton blaster" physical prop in your hand, and you can see the other people in your virtual environment.
The environment is a 1,000-square foot physical space divided into rooms, with physical walls you can touch and objects in the VR mapped to physical counterparts, giving the player the feeling like they really are in a New York apartment, Zim said.
Ghostbusters Dimension is live in New York Now, coming to Dubai and elsewhere in North America in the next few weeks, Zim said.
"Ghostbusters Dimension" uses real-world physical sensations to augment the virtual experience. In "Ghostbusters Dimensions," when the players cross the streams to destroy the demonic Stay Puft Marshmallow Man, they smell burnt marshmallows.
Here comes the video:
— Mitch Wagner
Editor, Enterprise Cloud News