Are Oracle's Aggressive Sales Tactics Backfiring?
Oracle's aggressive sales tactics are turning off customers, setting a roadblock in the company's race to catch up with Amazon Web Services in the cloud, according to a report on The Information.
Oracle Corp. (Nasdaq: ORCL) is threatening customers of its on-premises software with potentially expensive usage audits and strongly suggesting those customers could solve their problems by moving to the cloud, The Information says. But the tactic is backfiring.
Several big Oracle customers, including oil and gas exploration company Halliburton, toy maker Mattel and electricity provider Edison Southern California, have recently rejected big cloud services deals proposed by Oracle, according to an Oracle employee with knowledge of the situation.

Oracle representatives had suggested the customers strike the deals to avoid expensive audits of how they were using Oracle software, according to the employee. Instead, that approach to selling cloud is irritating customers.
Oracle faces stagnating sales growth, The Information notes. A decade ago, packaged, on-premises software boosted revenue by more than 20% per year. But revenue has flattened over the past three years, as big companies shift to the public cloud, notably Amazon Web Services Inc. and Microsoft Corp. (Nasdaq: MSFT). While Oracle executives once belittled the cloud, now the company is throwing its weight behind its own public cloud service, launched in 2016.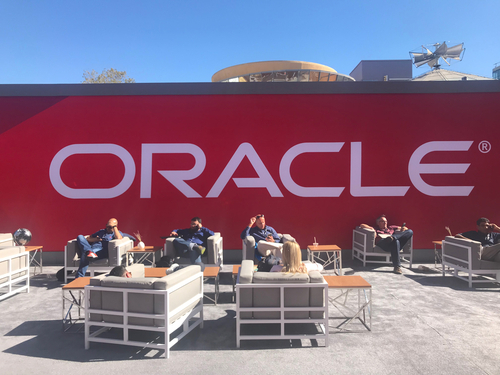 But Oracle has a long way to go to catch up. It ranked seventh in infrastructure- and platform-as-a-service (IaaS/PaaS) market share, at 3%, with $1.7 billion annualized revenue and 24% year-over-year growth, according to an April study by Jefferies & Company. By comparison, market leader AWS has 34% share, $20.5 billion revenue and is growing at a 44% annual clip, and second-ranked Microsoft Azure has 11% share, $6.3 billion annualized revenue and 98% year-over-year growth. (See Google & Alibaba Cloud Gaining Fast in Public Cloud – but AWS Still Rules.)
Oracle's cloud business makes up 16% of its total revenue, and growth is slowing, The Information says. Oracle's cloud revenue grew 32% in the fiscal third quarter ending March 31, down from 62% in the previous year. And Oracle is forecasting revenue growth of 19% to 23% in its current quarter, The Information says.
To boost growth, Oracle is looking to autonomous cloud -- automated cloud database and infrastructure services, which it started rolling out late last year, that the company claims eliminate the need for human operators. (See Can Automation Fix Oracle's Cloud Mojo?)
As another tactic to boost sales, Oracle is using audits and threats of audits against its own on-premises customers, The Information says.
For example, Oracle recently audited the General Services Administration, the US government agency that negotiates contracts for products and services used by other government agencies. Oracle found the GSA was using more software than it paid for, and sought $50 million.
Oracle launched what it called a "licensing review" of Mars in 2014, and the candy maker provided more than 233,000 pages of documentation to Oracle. The software vendor wasn't satisfied and threatened to terminate Mars's licensing agreement. Mars sued in 2015 and the companies settled out of court later that year, according to The Information.
Not surprisingly, the tactic has left some customers moving away from Oracle as fast as they can, The Information says.
Oracle responded to the article in an email to Light Reading: "Oracle, like virtually every other software company, conducts software audits in limited circumstances to ensure that our products are used as licensed. We pride ourselves in providing our existing 400,000 customers a variety of options to move to the cloud when they are ready. Oracle is grateful to its large and growing customers base and has no reason to resort to scare tactics to solicit business. We are disappointed that The Information is presenting inaccurate accounts regarding a handful of customers, based on anonymous sources or competitors who seek to enhance their own consulting services."
Earlier, The Information reported that both Amazon and Salesforce are looking to cut their extensive investment in Oracle databases, following marketing trash-talk from Oracle Founder Larry Ellison, who bragged that both Amazon and Salesforce use Oracle to run their own business. (See Are Amazon & Salesforce Ditching Oracle?)
Related posts:
— Mitch Wagner




Executive Editor, Light Reading
PARTNER PERSPECTIVES
- content from our sponsors