Comcast Surpasses 1M Xfinity Mobile Lines

Comment (0)
Comcast's Xfinity Mobile service is still losing money even as the customer base expands.
Comcast Corp. (Nasdaq: CMCSA, CMCSK) said it added 228,000 Xfinity Mobile subscribers in Q3, compared to 204,000 adds in Q2, expanding the company's total mobile base beyond 1 million total lines. Comcast introduced Xfinity Mobile, a service that is underpinned by its MVNO deal with Verizon Wireless , last May.
Comcast is also shouldering losses from the product in its early days. The company said Q3 results included a loss of $178 million from Xfinity Mobile, widened from a year-ago loss of $161 million. (See Comcast Rings In Xfinity Mobile Nationwide.)
Dave Watson, president and CEO of Comcast Cable, said the company is encouraged by the results of Xfinity Mobile thus and the strategy it's using to bundle mobile with broadband.
"We're off to a really good start," Watson said on Thursday's earnings call. "It's early, very early, but we're encouraged... One of the top reasons why we did [Xfinity Mobile] was to improve broadband retention. The early, post check on is that it's showing there's real hope there."
He also stressed that the longer-term goal is for Xfinity Mobile to achieve stand-alone economics as it scales. "Overall, the trending is what we expected. It's early, but [we're] encouraged."
Though Comcast's Xfinity Mobile sub adds in Q3 beat Q2 results, they came in below the 250,000 anticipated by BTIG Research analyst Walter Piecyk. That growth rate is also leveling off. (See Cable Nearly a No-Show in mmWave Auction.)
"Churn is up at AT&T and Verizon after years of decline, but this level of growth by Comcast does not likely concern the wireless industry," he said in a blog post (registration required).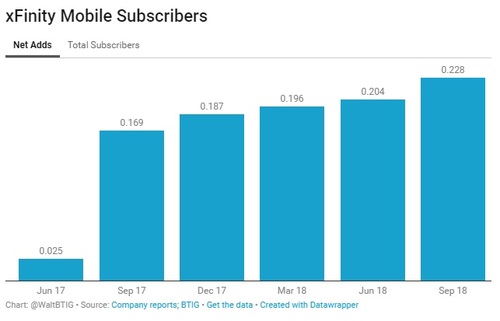 In Q3, Comcast lost 106,000 total video customers -- 95,000 residential subs and 11,000 business subs. It ended the period with 20.97 million residential video subs. Some 65% of that residential base is on Comcast's X1 platform.
Broadband was a big bright spot, as Comcast added a total of 363,000 subs (334,000 from residential customers), its best Q3 result in ten years. Comcast, which recently wrapped up its DOCSIS 3.1 deployment, said 70% of its base of 24.77 million broadband subs, get speeds of 100 Mbit/s or more. (See Comcast Wraps Up DOCSIS 3.1 Rollout .)
Business services climbed 10.6%, to $1.8 billion, in Q3, putting the company on an annual run-rate of $7.2 billion in that category
Comcast also ended Q3 with 1.27 million security and automation subs (Xfinity Home) after adding 42,000 in the quarter. Penetration of that segment represents just 2.2% of Comcast's homes and businesses passed.
Cable capex intensity dropped 5.7%, to $1.9 billion, primarily reflecting lower spending on set-tops and other consumer premises equipment.
— Jeff Baumgartner, Senior Editor, Light Reading
PARTNER PERSPECTIVES
- content from our sponsors
GUEST PERSPECTIVES
- curated contributions