Dish Network LLC (Nasdaq: DISH) has released the ViP922 DVR, a new Sling-loaded satellite receiver and HD-DVR that allows customers with broadband connections to relay video programming to PCs, smartphones, and other Internet-connected screens.

Dish spokeswoman Francie Bauer confirmed that the satellite-TV company began selling the model yesterday, offering it under lease or through direct retail sales.

The suggested retail price is $649; at press time, Bauer was checking on details of the leasing options. According to Engadget, the lease costs will run $200 to $400, with the final price based on how long customers have been with the service provider and what video service tier they subscribe to. The box is also subject to a $10 DVR service fee.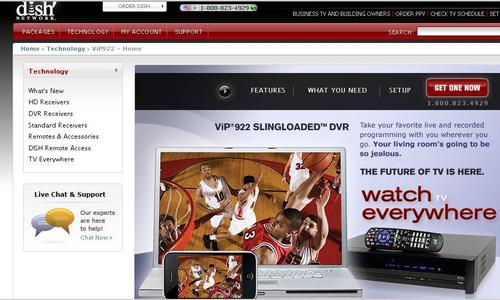 The box is the latest result of EchoStar's $380 million acquisition of Sling Media Inc. in 2007. (See EchoStar to Buy Sling Media.)

The ViP922 is also Dish's answer to "TV Everywhere," a component that gives customers broadband access to content that's already part of their video service subscriptions. Dish's approach provides place-shifted access to linear programming and content stored on the box's 1-Tbyte DVR hard drive. By contrast, initial TV Everywhere implementations from the likes of Comcast Corp. (Nasdaq: CMCSA, CMCSK) offer access to some premium on-demand content and are still limited to PCs.

Dish's box features a graphically rich user interface and a new set of tile-based menus. The Zatz Not Funny blog has posted some screen shots of the new look.

According to Dish, customers need upstream bandwidth of at least 150 kbit/s for the SlingPlayer Mobile application (for devices like the Apple Inc. (Nasdaq: AAPL) iPhone and iPod Touch) and 600 kbit/s for the Dish Remote Access service. They'll also need LAN bandwidth of at least 3 Mbit/s to sling content on home networks in high-definition format. Customers must verify mobile devices for compatibility.

The new model is not initially available to customers in Hawaii, Alaska, Puerto Rico, or the US Virgin Islands, according to Dish.

Sling-loaded boxes won't be a Dish-only play. EchoStar Corp. LLC (Nasdaq: SATS), Charlie Ergen's set-top and technology spinoff, is also developing a tru2way set-top that includes Sling capabilities. EchoStar has not announced any buyers for its cable-targeted device.

Last fall, EchoStar, which also has big plans for the European cable market, indicated that the tru2way box would be ready for production by the first quarter of 2010. (See EchoStar Slings Its First Tru2way Set-Top, EchoStar: We're Cable's Answer , and EchoStar Jumps the Pond .)

— Jeff Baumgartner, Site Editor, Light Reading Cable