Earlier this year, it looked as though so-called third-generation digital loop carriers (DLCs) were having a tough time making a case for themselves (see DLCs: The Downside). But as carriers find that DLCs can be used to help upgrade to packetized voice services, they may be rediscovered as a component in the access network (see New DSL Network Architectures).

"Next-Generation DSL Equipment: The Path to Profitability," the November report by Heavy Reading, pinpoints a key area where 3G DLCs have the potential to shine in carrier networks during 2004. The new crop of devices allows carriers to roll out DSL at close to the cost of POTS (plain old telephone service) lines -- and that's very important. But the feature with the most carrier interest is the introduction of a VOIP media gateway into the remote terminal, according to Graham Beniston, the report's author.

"Carriers see this as a potential vehicle for the graceful migration of POTS service from TDM Class 5 switches to VOIP softswitches," he writes. "It is graceful in that the remote lines can be moved over singly and automatically by changing the POTS lines to POTS + DSL."

Your typical POTS lines can be upgraded to offer DSL services with any number of remote DSLAM solutions. They perform an important service in closing the distance gap between the subscriber and the central office. But if the carrier is trying to move to Class 5 softswitching on a line-by-line basis at the same time, they need to upgrade to a DLC with a VOIP media gateways. This allows carriers to ease over to VOIP switches as gradually as they wish.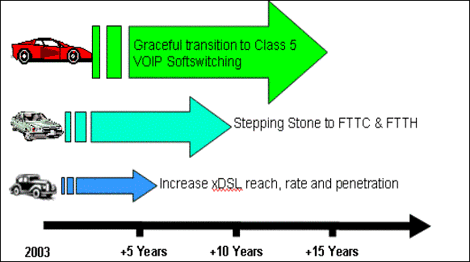 Heavy Reading names Catena Networks Inc. as one of the few 3G DLC vendors with a platform that supports TDM protocols (including TR-08 and GR-303) and packet voice protocols (including MGCP and Megaco, an enhanced version of MGCP).

Not only are a couple of RBOCs reportedly interested in Catena's capabilities, but so are Asian carriers looking to use VOIP to compete with wireline incumbents, and IOCs looking for ways to consolidate the number of voice switches in their wire centers, according to Steve Bauer Catena's VP of corporate marketing.

Catena competitor Occam Networks Inc. (OTC: OCCM.OB) was recently able to raise additional funding partly because of its potential value to carriers wanting to take advantage of having a VOIP gateway in the remote terminal (see Occam Raises More Cash).

But, like most up-an-comers in the decades-old DLC space, Catena is struggling to establish itself in the minds of carriers.

Table 1: 3G DLC Survey Results

Vendor
Recognition
Price
Performance
Quality and Reliability
Service and Support
(number of responses)
(56)
(33)
(36)
(36)
(34)
Occam Networks Inc.
26.80%
12.10%
11.10%
11.10%
8.80%
Calix Networks Inc.
25.00%
3.00%
2.80%
0.00%
0.00%
Catena Networks Inc.
26.80%
0.00%
2.80%
0.00%
0.00%
Source: Heavy Reading


In its survey of 770 service provider and carrier employees, Heavy Reading found that Catena had some name recognition among the respondents in the 3G DLC space, but it had yet to establish itself in other categories, as there aren't that many systems deployed yet.

Regardless, the rising interest in VOIP services may put DLC startups back on the radar. And in the case of Catena, partnering with a larger equipment provider to market such upgrades may be the solution to its marketing challenges.

— Phil Harvey, Senior Editor, Light Reading


---
Archives of Related Light Reading Webinars: