Enterprise Cloud Communications Deliver Borderless Collaboration
Kevin Kelly, former executive editor of Wired magazine, predicted and depicted the future of businesses in his 1994 book, Out of Control: Enterprises will evolve into an ecology, and different ecologies will form a borderless, centerless, open social business environment like a tropical rainforest. In the future business ecology, different groups will be fully connected into a swarm that collaborates to conduct business activities with high efficiency.
Over the past two decades, with the rapid development of Information Technology (IT) and the combination of the Internet, mobile communications, and cloud computing, tremendous changes have taken place in the ways people obtain, exchange, and process information. Innovative communications methods and tools, such as online phone calling, video-conferencing, and cloud video streaming, keep emerging. Communications within an enterprise, between enterprises, and between enterprises and customers are no longer subject to restrictions in time or space. Kevin Kelly's prediction is gradually coming into reality.
At the moment, there are still a lot of problems and challenges that impede the construction of an information-based enterprise. The implementation of efficient collaboration is hindered by various factors, including closed communications systems, high maintenance costs, poor business experience, and low scalability. The establishment of efficient communications and the progress of digital transformation will be vital in enhancing the core competitiveness of businesses.
Focusing on cloud, convergence, and openness, Huawei has launched a one-stop Enterprise Cloud Communications solution to support the requirements of businesses for future-oriented communications and digital transformation by delivering a borderless collaborative experience that helps enterprises achieve efficient collaboration and business agility. The solution allows enterprise communications to advance from on-premises to on-cloud, from internal users to partners and customers, and from office to production.
All On-Cloud Empowering Borderless Service Access
The cloud is driving a comprehensive digital transformation of enterprises. The conventional IT infrastructure has been gradually migrated to the cloud, creating favorable conditions for enterprise communications to embark on a journey towards the cloud. Based on cloud technology, Enterprise Cloud Communications can achieve agile deployment of services, flexible scale-up/-down of resources, automatic service orchestration, and fully automated Operation and Maintenance (O&M), providing enterprises with quick and cost-effective access to communications services.
To eliminate the boundaries of hardware, communications software can run on the existing general-purpose hardware (data center), sparing enterprises the need to go through a long cycle to purchase dedicated hardware.
To eliminate the boundaries of time, communications systems can be rented, instead of purchased, and subscribed instantly on demand, enabling enterprises to swiftly build their own communications and collaboration platforms.
To eliminate the boundaries of communications costs, service portfolios can be flexibly selected to instantly adapt to the changes in business scale; asset-light communications operations can be achieved without the need for a specialized IT maintenance team, allowing enterprises to focus on their core businesses.
The enterprise's demands for communications may vary at different stages of development, and choice should be made flexibly between the options of public, private, and hybrid clouds. Enterprise Cloud Communications solution enables multi-cloud collaboration, which delivers interoperability, license sharing, consistent experience, and smooth migration of services and applications between the public and private clouds, empowering seamless scale-up/-down of services.

Practice shows that, by removing the lengthy processes of purchase, installation, configuration, and rollout, Huawei's Enterprise Cloud Communications solution has been able to help enterprises reduce product rollout time and O&M costs by 80 percent.

Guangdong Telecom, for example, provides over a million small and medium-sized enterprises in the province with Enterprise Cloud Communications services that feature flexible deployment, on-demand sub-scriptions, and minimal O&M. All these cloud services are offered through optical fiber connections, lowering the enterprise's initial investment in audio/video conferencing and Private Branch Exchange (PBX) connectivity. Thanks to easy availability and cost efficiencies, Guangdong Telecom has succeeded in expanding its user base by 40 times, increasing the stickiness of government and enterprise customers, and improving the Average Revenue Per User (ARPU).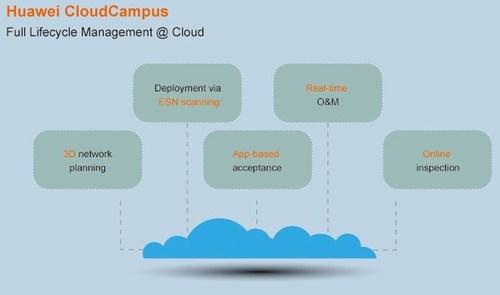 Achieving Borderless Collaborative Office with Total Service Convergence
Jack Welch, former Chairman and Chief Executive Officer (CEO) of General Electric, envisioned that a borderless organization would remove the boundaries among functional departments and allow information to flow freely between the engineering, production, marketing, and other sectors. There would be no mental distinctions between 'domestic' and 'foreign' operations; the external barriers would be torn down to engage the suppliers and customers as part of the operation process.
Huawei's Enterprise Cloud Communications solution has reshaped how communications is conducted via the cloud in order to support for the materialization of borderless business. The solution helps with convergence of multimedia, convergence of the office, and convergence with partners and customers. The Huawei Cloud Enterprise Communications platform connects people, processes, and knowledge.
Omnimedia Convergence
On one unified client, communication will not be interrupted at any point during the process of one-click switching from instant messaging to voice and video calls to multimedia data conferencing. The seamless communication and smooth scaling of function will deliver unhindered service experiences.
The meeting system is also becoming increasingly smarter. When participants enter the conference room, the system will recognize them and automatically boot into the conference mode. While the conference is under way, the camera will automatically track the speakers and show close-ups. In multinational meetings, the smart translation technology will eliminate barriers to multilingual communication. Moreover, a large touch screen allows teams at different sites to remotely collaborate in real time and perform operations such as drawing, marking, and commenting as if on a single, shared screen. Convergence of Office
The convergence of communications and office processes, such as Office Automation (OA), Enterprise Resource Planning (ERP), and Customer Relationship Management (CRM), will be widely applied in process approval, contract review, and technical maintenance, making communications a platform connecting people and services.
A unified corporate directory and instant status feature will empower the staffs to view the current status of their contacts and initiate audio/video calls at any time. Via data collaboration, users who are processing a key task can initiate group meetings attended by experts to obtain their suggestions and guidance. The entire meetings can be archived by recording and screen captures for future analysis. Convergence with Partners and Customers
Besides improving their internal office efficiency, enterprises also need to collaborate more closely with partners and customers. Based on a unified cloud architecture, enterprise communications can break the network barriers in combination with network security policies to facilitate seamless communications between enterprises and suppliers, and between channels and customers.
For instance, aided by total service convergence and collaborative Enterprise Cloud Communications, Huawei's 170,000 employees and numerous partners around the world are able to hold 40 thousand meetings, make 400 thousand calls, and send 40 million messages per day. A better service experience is delivered, enormously enhancing Huawei's operational efficiency.
Communications-integrated Production Breeding Borderless Industry Innovation
IT is an essential element of production. The well-known consulting firm Gartner found that if Communications-Enabled Business Processes (CEBPs) accounted for 10 percent of an enterprise's businesses, the overall operational time could be cut down by 50 percent. Communications capabilities integrated in the production process will unleash the enterprise's productivity.
In production, for instance, when detecting an equipment fault, such as overheating, the system will automatically find and notify the personnel responsible for the state of the equipment by initiating a call or sending an email or instant message. This substantially shortens the fault recovery time.
Based on a system architecture that features convergence and openness, Huawei's Enterprise Cloud Communications solution totally opens up and integrates the communications capability into business processes through secondary development of enterprises and partners. The solution will promote business agility, persistently spur productivity, and advance digital transformation of enterprises.
Huawei's Enterprise Cloud Communications solution offers eight categories of atomic Application Programming Interfaces (APIs) for audio, video, conferencing, messaging, status, groups, directory, and authentication management. In particular, APIs for key sectors, including education, medical care, banking, and convergent commanding are encapsulated based on each scenario, allowing third-party partners to swiftly develop innovative services and applications in various segments.

Huawei's Enterprise Cloud Communications solution has attracted more than 100 industry partners, forming a cloud enterprise communications alliance that cooperates on more than 300 commercial projects to provide services for approximately 600,000 enterprises across various sectors, including finance, electric power, medical care, public safety, and manufacturing. Thanks to the powerful open capabilities, the cooperation mode with Huawei setting the stage and partners putting on the show is yielding fruits in more and more regions across the globe. Huawei's Cloud Enterprise Communications platform has helped more and more partners and developers with industry innovation and implementation.
In 2015, Kevin Kelly described a promising future for cloud computing by revealing a magnificent framework, and he once again predicted that 50 percent of applications will run on the cloud by 2020. Cloud computing will be just like air to us and we cannot live without it. Although we usually do not consciously feel its existence, the sharing experience will be unprecedented and ubiquitous.
The development of the Enterprise Cloud Communications solution has just taken its first step. With the further evolution of the digital economy, enterprises and organizations will no longer exist or operate alone. Instead, everything will be connected, and everything will survive on communications and collaboration. As an engine of growth, Huawei's Enterprise Cloud Communications solution will drive more sectors to change and innovate their business models.
The future is on the way and it is worth waiting for.