Optical M&A: OFC 2019 Is a Couples Retreat, Not a Singles Cruise
SAN DIEGO -- OFC2019 -- As industry participants and investors attend OFC this week, it's easy to find oneself playing matchmaker -- thinking about what M&A transactions in the optical space may come in 2019.
After all, last year, Lumentum shocked investors with the announcement of its intent to acquire Oclaro just before the show opened. Having worked on Wall Street for 12 years, I'd say that guessing the timing of the announcement of an M&A transaction is a fool's errand. That said, it's still interesting to think through some possible company combinations.
M&A activity has been quite strong in the past year in the optical components and systems industries. There's a hunger for consolidation and optical assets are scarce and valued. However, all this activity of late may mean that we may see a little less activity in the near-term.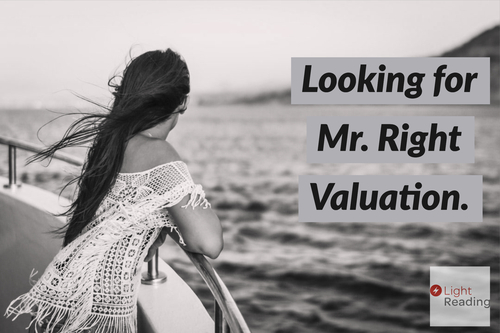 Acquisitions, like weddings, are expensive, and it takes a while for two companies that have recently combined to achieve wedded bliss. Integration requires a lot of management attention (Lumentum keeps yelling at Oclaro for leaving the toilet seat up!), and many recent and pending transactions in the space have increased or will increase the debt load of acquiring companies. It's hard to deny that a lot of aggregate industry "buying power" is currently off the "dating" circuit.
In that light, one might view the OFC 2019 trade show as more of a "couples retreat" than a "singles cruise," where sparks could fly between two companies in a dimly lit conference room. (When the "love" is right, the intimate audience of bankers and lawyers disappears into the background!) We'd note that many companies have recently, to twist Gwyneth's Paltrow's famous phrase, "consciously coupled." Here's a list:
Lumentum is now only beginning to digest Oclaro (the transaction closed on December 10).
II-VI awaiting approval for the Finisar acquisition. Finisar itself was previously seen by investors as an acquirer itself, thus this transaction potentially eliminates two bidders in the components space.
Infinera is working through the integration with Coriant; notably, the shares are down 32% since the announcement of the acquisition and have underperformed the NASDAQ composite by 40% in the same time period. Not the most encouraging feedback from investors!
Koch Industries' Molex announced it had gobbled up WSS player Nistica in September 2018.
Cisco just acquired silicon photonics player Luxtera for a hefty $660 million price tag.

With M&A, you never know when cupid can strike. As we handicap the potential for mergers and acquisitions, we see a couple of key areas where new hook-ups might occur:

Traditional consolidation of optical components and systems vendors. If one looks at the market share charts and uses the textbook HHI, or "Herfindahl-Hirschman Index," the optical component industry remains quite fragmented with an HHI of around 0.08, well below the threshold of 0.15 used to indicate "moderate concentration" of market share. (Side note: the use of "Herfindahl-Hirschman Index" in casual conversation can bring a swift end to any date unless it's with a research analyst or a DoJ lawyer.)

More consolidation would be helpful among components makers and vendors, but some of the most obvious consolidation opportunities have already happened. Neophotonics is one of the last buyable public companies, with an enterprise value below $400 million, but we have to imagine Neo's heavy exposure to China gives any potential buyer pause, particularly in light of an ambiguous outlook for US-China trade relations.

Turning to optical systems, the industry is more concentrated than components but still largely unconcentrated (we estimate an HHI around 0.15). However, given the "nationalization" of the optical transport markets (with Western markets increasingly eschewing Chinese vendors), the market is really even more concentrated than it looks. It's always possible that smaller players like ADVA and ECI could merge, but given Infinera's recent experience, we'd imagine management teams are going to be a bit gun shy.

Integration of optics and ICs. A topic that continues to gain even more attention is the increasingly tighter integration of ICs and optics. Cisco's acquisition of Luxtera likely anticipates this eventual development. With Juniper having purchased Aurrion in 2016, it doesn't seem crazy to imagine Broadcom, Arista and Nokia taking similar steps, though I can already picture Andy Bechtolsheim cursing me in German for even implying his software company would get into the "scheisse" optics market.

If I had to choose, I think Broadcom is the most likely acquirer of an optics player in the next couple of years; with Cisco having thrown down the gauntlet with its purchase of Luxtera, Broadcom is likely thinking about how it will respond when Cisco eventually launches a switch with ASICs that sport integrated optics. It seems more likely to me that smaller, private companies could be more likely acquisition candidates consistent with this theme (perhaps Ranovus, Rockley or Ayar Labs).

Two "hot singles" in the public market place today that could be seen (with a broad lens) as plays on increasing optoelectric integration are Acacia and Inphi. It's not hard to imagine a module company (or even a systems-level company) wanting to bring IC capability in-house, particularly as modules increasingly contain ICs with the advent of 100G single lamba and 400GZR on the horizon.

Both Acacia and Inphi are sporting substantial market caps (~$2 billion) and high P/E multiples relative to other optics companies, so it would seem both companies are a bit "out of the league" of traditional optics companies. Acacia and Inphi are "uptown girls," and other optical components vendors are "downtown boys!"

In conclusion, more acquisition activity in the optical space is inevitable. But I think it's quite possible we're entering a period of relative inactivity after some whirlwind romances. Those newly merged firms need to spend some quality time making a home with their new partners. If you're a startup, I recommend you stay busy and take lots of cold showers.

— James Kisner, Consulting Analyst, LightCounting