Web-Scale & Content Giants Seek Telco Partners
Web-Scale & Content Giants Seek Telco Partners
Partnerships are all the rage and not just in the vendor community – Google and Time Inc. want to team up with telcos, while China Mobile is seeking international support. The earnest appeal for collaborators and partners is as much a telecom conference staple as congested WiFi and the taxi queue.
Huawei's recent annual Mobile Broadband Forum event in Hong Kong was no exception, except it heard partnership pitches from some unlikely sources -- and some of them even made sense.
The sources were heavyweight brands not always regarded as prime candidates to forge partnerships with telcos: Google (Nasdaq: GOOG) and Time Inc. from the web services and digital content sector and China Mobile Ltd. (NYSE: CHL).
China Mobile's heft and its dominance in a market effectively out of bounds to foreign operators means it has rarely had to work closely with other communications service providers.
But in these challenging times, even a company with 823 million customers can't do it alone.
Fan Yunjun, chairman and CEO of China Mobile International, says the giant is seeking partners to help build a "consistent global mobile broadband experience." That's focused on roaming, but it also works back to China Mobile's home network and services.
And it's not just about the network -- he's seeking partners along all points of the value chain, such as cloud capabilities, devices, and in developing innovative new services and apps.
"Even though we are number one in terms of customer numbers and network scale, we are still not good enough or strong enough to serve our customers globally," he admitted during a presentation here.
Time for a new partner?
Erik Moreno, EVP for business development at Time Inc., made a direct appeal to telco self-interest, warning that Facebook and Google were dominating the digital video and advertising businesses, even warning of the "global domination" strategies of the web-scale giants. According to Moreno, Facebook has cornered around 85% of the mobile advertising market, marginalizing both telcos and media firms.
He said media companies such as Time, which has 155 million unique web visitors each month, face the prospective impact of ad-blocker tools now easily available from app stores.
"We cannot take that lying down. Sending a reporter to cover the war in Syria takes money and takes talent. If there is no path to monetize that content [it] will not be made."
Moreno spies "a possible marriage of convenience" between media companies, which have video and storytelling skills, and telcos that, like the web services giants, have networks and enormous amounts of customer data.
He noted that while Apple, Google and Facebook "make sure they keep the data," many media firms such as Fox and Viacom are "almost blind" to customer data.
Moreno said he believes that one of the prime reasons for the acquisition of AOL by Verizon Communications Inc. (NYSE: VZ) was AOL's video-centric advertising technology. "You need choice. If Facebook and Google are your only choice, then, if you're an advertiser, that's not a great place." (See Verizon's AOL Buy Completes Its Content Story.)
He said with new technology such as virtual reality and augmented reality, the potential exists for operators "to marry it up with our brands and content creation capabilities and fundamentally differentiate your offering. We have no legacy businesses to protect at this stage. We'd love to partner with you."
Figure 1: 'Hey, You There – Looking for a Partner?'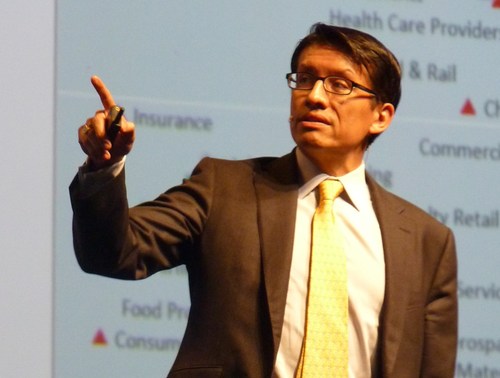 Erik Moreno, EVP for business development at Time Inc., talked of a potential 'marriage of convenience' between media companies and telcos.
Google's offers a path to growth
The Google pitch, not surprisingly, took a different tone, as Mike Blanche, the company's Head of EMEA Strategic Relationships, tried to calm the nerves of service providers by denying any evil overlord plans. He said that while it is investing in access networks in some areas, Google isn't in the business of being an ISP. "We are not in the business of world domination," he noted, half in jest.
He also outlined Google's telco partnership proposition. "We should definitely not think about this as a zero sum game between content providers and access providers," said Blanche. "We should think about ways we can work together on a path to growth. We need operators to be successful so they can make these incredible investments in infrastructure, so users can access our services."
Blanche cited a case in point: Under Project Loon, Google is working hand-in-hand with operators in places such as Indonesia and Sri Lanka to provide Internet access to those without it, using balloons to host basestations. (See Google's Internet Balloon Project Takes Flight.)
The web services firm also wants to work with operators to enable a better quality of experience: According to the Google executive, it is already sharing some of its end-to-end application QoE data with fixed-line service provider partners and intends to do the same with mobile operators.
— Robert Clark, contributing editor, special to Light Reading
Subscribe and receive the latest news from the industry.
Join 62,000+ members. Yes it's completely free.
You May Also Like
---