On its quarterly earnings call Thursday, Juniper had good news and bad news -- and it's the same news.
The good news is that Juniper's most recent quarterly figures came in as predicted, and Juniper is standing by its forecasts for the remainder of the calendar year, with a return to year-over-year growth in the December quarter.
That's also the bad news -- revenues are down again year-over-year, for the most recent quarter, ended June 30. Revenues aren't expected to return to year-over-year growth until next quarter.
Juniper reported second quarter 2019 revenue of $1.1 billion, down 8% year-over-year but up 10% sequentially. Despite the decline, CEO Rami Rahim touted good news: sequential revenue growth, sales transformation progress and predicted sequential revenue growth for the remainder of the year, according to Juniper's earnings news release Thursday.
For the three months ending June 30, Juniper reported non-GAAP net income of $139.5 million down 18% year-over-year and up 50% sequentially, with non-GAAP diluted earnings per share of $0.40. The results were in line with Zacks Equity Research estimates and met Juniper's own forecasts in January and April.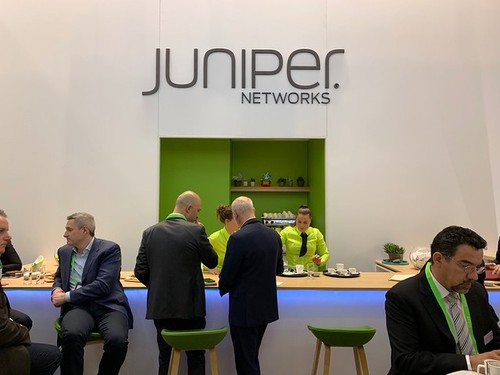 On Thursday's earnings call, Rahim expressed confidence that Juniper's product line and sales structure will help halt Juniper's revenue decline – and reverse it.
"We believe 5G, the 400-gigabit upgrade cycle, SD-WAN, WiFi 6 and enterprise multi-cloud initiatives each represent large, multiyear opportunities, where we would be well-positioned to benefit over the next few years," Rahim said.
He said he is "very pleased" with the progress of the company's sales transformation, and already seeing improved sales productivity. Juniper is adding more "quota-carrying sales head into the field," who will need time to come up to speed but who will start contributing to sales in the second half of the year, Rahim says.
Service providers were a gloomy sector for Juniper.
Service provider revenue declined 15% year-over-year, up 3% sequentially, to $447 million, according to CFO commentary by Juniper.
Service provider business "remains challenged," Rahim said. Juniper expects its service provider business "to experience better sequential trends during the second half of the year, based on our current pipeline of known opportunities," he said. New products and Juniper's partnership with Ericsson will help drive sales. Ericsson tapped Juniper in September 2018 to partner on 5G transport networking.
The new products that Rahim sees driving service provider demand include new MX 5G line cards, switches and routers for 400 Gbit/s, enhanced multicolored Contrail software, and new SD-WAN capabilities to penetrate campus and branch.
Juniper's traditional service provider customers, particularly in North America, aren't going to be enough to grow Juniper's business, so the vendor is working on building new service provider accounts in the rest of the world, Rahim said.
In other sectors
Juniper's cloud revenue grew 28% sequentially (flat-year-over-year) to $285 million. Juniper is leveraging 400 Gbit/s networking equipment to build its cloud business, particularly in data center interconnect and leaf-spine switching. The company plans to introduce additional 400 Gbit/s products this year and next, Rahim says.
Enterprise revenues slipped 6% from last year to $370 million, though bookings increased by double digits year-over-year.
From a technology perspective, routing sales declined 15% from last year to $416 million. The decrease was primarily due to service provider spending -- service providers are just focusing their spending on other areas, notably RAN and spectrum, Rahim said.
Sales of switching gear were $216 million, down 15% compared to the year-ago period.
Juniper's security brought in $81 million, a 2% increase from last year. Its software revenue is now more than 10% of its total revenue.
Of Juniper's top ten customers, one was an enterprise, four were cloud providers and five were telco service providers. One of its cloud customers brought more than 10% of Juniper's total quarterly revenue
Juniper is feeling some pressure from China tariffs, though it has mitigated that pressure by moving part of its manufacturing out of China.
For the quarter ending Sept. 30, Juniper expects revenue of about $1.1 billion, with non-GAAP net income per share of approximately $0.46, assuming a share count of about 348 million.
Related posts:
— Mitch Wagner




Executive Editor, Light Reading