Eurobites: Comcast Snaps Up Ireland's Blueface
Eurobites: Comcast Snaps Up Ireland's Blueface
Also in today's EMEA regional roundup: Wind Tre job cuts on the horizon, says union official; Proximus CEO's resume under the spotlight; will UK put cap on Huawei's 5G market share?

Also in today's EMEA regional roundup: Wind Tre job cuts on the horizon, says union official; Proximus CEO's resume under the spotlight; will UK put cap on Huawei's 5G market share?
Comcast Business has acquired Irish unified communications specialist Blueface for an undisclosed sum, adding cloud-based audio and video communication applications to the menu of services that Comcast offers to its enterprise customers. As part of the deal, Blueface and Comcast, the US cable giant that acquired European pay-TV and broadband service provider Sky in late 2018, have "expressed a strong commitment to job creation in Dublin and will be hiring across software development, engineering, program management, and sales." Earlier in 2018, Blueface merged with US-based unified comms specialist Star2Star to create a company with European and North American operations that, at the time, was valued at US$500 million, but according to the Irish Times this new deal with Comcast unravels that merger. Figure 1: 'Look, There's Your Sales Target for 2020!'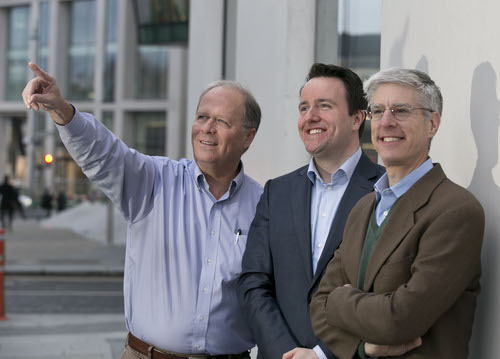 From left to right: Bill Stemper, president of Comcast Business; Alan Foy, CEO of Blueface; and Bob Victor, SVP of Comcast Business Wind Tre, Italy's third-largest mobile operator, could reduce its workforce by more than 20% over three years, according to a union official cited by Reuters. At a meeting last week, executives from Wind Tre told union representatives that up 1,500 redundancies could be on the cards, said Riccardo Saccone of the SLC-CGIL union. Wind Tre has found its business challenged on a number of fronts in the last year, not least the arrival of Iliad on the Italian telecom scene and US trade sanctions against ZTE, one of its main suppliers. Guillaume Boutin, who was appointed CEO of Belgium's Proximus following the departure -- under a cloud -- of Dominique Leroy, is himself now the subject of unwelcome scrutiny following revelations in Le Vif, a Belgian news magazine, that his resume was allegedly less than 100% accurate. Le Vif reported that what Boutin described as experience as a strategic consultant turned out, on closer inspection, to be an internship, and that has prompted a Belgian MP, Michael Freilich, to demand that a thorough investigation be carried out into the appointment in order to dispel "lingering doubts" about Boutin's credentials. UK government ministers are set to impose a cap on the market share that Huawei can take in the UK, but will not ban the Chinese vendor from 5G network rollout, according to a report in the Financial Times (paywall applies). A decision on the matter is expected tomorrow (Tuesday), following a meeting of the National Security Council. The UK has been under intense pressure from the Trump administration to keep Huawei out of its future network buildouts, but such a ban would mean a ton of extra expense for a number of UK operators, who already have Huawei kit widely installed and are understandably reluctant to rip it out to be replaced by rival offerings from the likes of Nokia, Ericsson or Samsung. (See Eurobites: UK Officials Back Limited 5G Role for Huawei – Report and UK PM is right: Where is Huawei alternative?) Openreach, the semi-autonomous network access arm of BT, has been setting out the detail of the next phase of its fiber rollout, which sees it extending "ultrafast" connectivity to 227 UK market towns and villages within the next 14 months. The announcement is in line with Openreach's previously stated aim of reaching 4 million UK homes and business with full fiber technology by March 2021. (See Eurobites: Openreach Talks Up the Fiber Effect and Eurobites: Openreach Finally Puts 'Fibre First'.) KPN Ventures, the venture capital arm of Dutch incumbent KPN, is to participate in the €1.9 million ($2.1 million) investment round of SettleMint, which describes itself as a "blockchain platform as a service" company. SettleMint, based in Leuven, Belgium, has built an infrastructure-agnostic blockchain platform for enterprise-grade blockchain application development and deployment. — Paul Rainford, Assistant Editor, Europe, Light Reading
Subscribe and receive the latest news from the industry.
Join 62,000+ members. Yes it's completely free.
You May Also Like
---