Also in today's EMEA regional roundup: Vodafone UK extends 5G rollout; Czech Republic spectrum auction on track; Sky Mobile skirts data quotas.
Germany's federal network agency, BNetzA, has drawn up a list of "additional security requirements" that must be met by those planning to building communications networks, and particularly those building public networks with a "high potential threat." Among the new stipulations:
- Systems may only be sourced from "trustworthy suppliers" whose compliance with national security regulations is "assured";

- Network traffic must be constantly monitored for any abnormality and, if there is any cause for concern, "appropriate protection measures" must be taken.

- Critical security-related network and system components may only be used if they have been certified by the Federal Office for Information Security (BSI) and undergone IT security checks by a BSI-approved testing body.
Where all this leaves Huawei in the context of Germany's 5G rollout is unclear. Just last week the head of the country's national cybersecurity agency gave the impression that Germany could allow Huawei to supply equipment for its 5G rollout on condition the Chinese authorities issued further assurances on data security -- what some commentators dubbed a "no spy" deal. (See Eurobites: 'No Spy' Deal Could Clear Way for Huawei to Play Part in Germany's 5G Rollout.)
Vodafone UK has added another 12 towns and cities to its 5G hitlist, promising to launch the technology in those locations during the course of 2019. Alongside the seven cities already announced, the operator will be flicking the 5G switch in Birkenhead, Blackpool, Bournemouth, Guildford, Newbury, Portsmouth, Plymouth, Reading, Southampton, Stoke-on-Trent, Warrington and Wolverhampton. Vodafone CTO Scotty Petty has been pretty vocal of late on the 5G front, expressing dismay over the potential effect of a Huawei ban on the cost and speed of 5G rollout in the UK, and accusing the US of "making it up" when it comes to claims of 5G supremacy. (See Vodafone UK Frets Over Huawei Swap-Out Costs, Urges Testing of All Vendors and US 'Miles Behind' China & UK on 5G, Says Vodafone UK's CTO.)
And still on the Huawei-related front: Czech telecom regulator CTU has sought to reassure the industry that the country's planned 5G auction will go ahead, despite a warning from the Czech Republic's cyber watchdog that using equipment from Huawei and ZTE could present a security threat. As Reuters reports, the CTU issued a statement effectively giving the auction the all-clear.
Sky Mobile has announced a new version of its Watch package, which gives customers unlimited streaming on any Sky app while on the go anywhere in the UK and the EU without using any of their monthly data allowance. Watch is available to all Sky Mobile customers, although what customers can access will depend on their Sky TV subscription. If customers don't have a TV package, they can still benefit from streaming Sky apps that don't require a subscription without using their data allowance, such as Sky News.
Separately, Sky Chief Executive Jeremy Darroch revealed in a speech to the Deloitte Enders Media and Telecoms Conference on Thursday that Sky will be bringing Comcast's own voice interface to its Sky Q set-top later this year, and that its broadband customers in Italy will be able to use Comcast's xFi digital dashboard to manage their home WiFi, should they so desire.
It seems Orange is serious about this banking lark: It has now launched a new Visa Premium card to go with its Orange Bank accounts. The card's purported benefits include the ability to make payments and withdrawals with no extra fees anywhere in the world, using either the card or a smartphone, and reinforced security. (See Eurobites: Orange Bank Is Open for Business and Orange Bank Job Is Going Europe-Wide.)
The city of Bristol has come out on top in a survey of 4G download speeds in the UK's major cities conducted by OpenSignal. Bristol's average download speed was 28.2 Mbit/s, while Sheffield, which came bottom of the league, could only mustered less than 20 Mbit/s.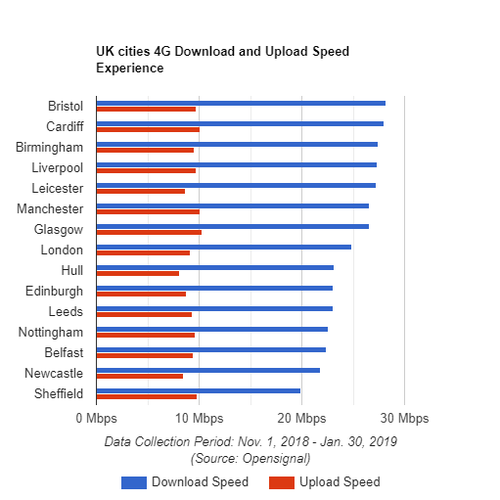 Is artificial intelligence the future? Well, Ericsson and UNESCO clearly think so, because they have teamed up to educate young people in the mysteries of the developing technology via tautologous-sounding "AI hub centers," hackathons, and the like.

— Paul Rainford, Assistant Editor, Europe, Light Reading