Jinni Locks In Its A Round
Execs with
Jinni Media Ltd.
, the startup that's developed technology that helps consumers make video selections based on their moods, are in a pretty decent mood themselves now that the company has closed its A Round of funding.
At $1.6 million, the round isn't huge by typical A-Round standards for tech firms, but the Israel-based company thinks it's plenty big enough to kickstart a go-to-market strategy that counts cable MSOs, satellite TV providers, telcos, and over-the-top video providers among its targets.
DFJ Tamir Fishman Ventures
, a venture capital firm with offices in Menlo Park, Calif., and Tel Aviv, led the round. Jinni, founded in early 2007, has been operating on an undisclosed amount of angel funding and development grants.
The new cash will fund Jinni's expansion and provide the resources it thinks it will need to chase after deals for its mood-based video search and recommendation technology, according to Jinni CEO Michael Pohl, a cable industry exec late of C-COR Inc. and video-on-demand (VoD) pioneer nCube Inc., which are now both part of
Arris Group Inc.
(Nasdaq: ARRS). (See
Jinni Names CEO
.)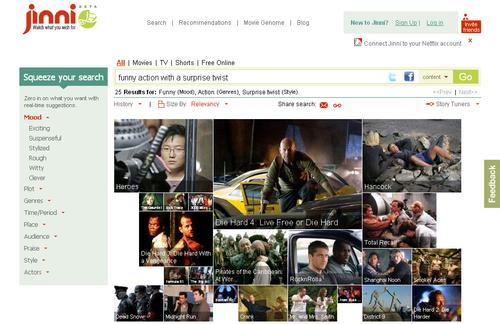 Jinni, which competes with the likes of
ChoiceStream
, has a broad set of business models in mind. The first involves its own Website, which consumers can use to manage their Netflix accounts and find titles that should suit their moods. Jinni envisions offering fee-based services there, coupled with an ad model.
On the commercial front, it hopes to partner with the likes of Best Buy and
Blockbuster Inc.
to Jinni-enable their over-the-top video services. Another option: putting Jinni's app inside DVD kiosks such as those operated by Redbox.
However, nearer-term, it's going after deals that would pair its technology with the VoD and linear video programming offered via the Web and at the set-top from cable MSOs, telcos, and satellite TV operators. That would all be offered under a licensing model.
Pohl thinks Jinni's coming into frame just as MSOs and others continue to beef up their VoD libraries and seek out special tools that can help customers sort through and find what they're looking for amid thousands of choices based on their specific moods or tastes.
Initially, Pohl sees Jinni getting its early traction with operator-managed broadband video offerings, rather than seeing its application ported directly to the much harder to penetrate set-top box environment. "We could build an EBIF app tomorrow," Pohl adds, referring to the
Enhanced TV Binary Interchange Format (EBIF)
, an interactive platform that can be applied to cable's entire universe of digital set-tops.
However, operators such as
Comcast Corp.
(Nasdaq: CMCSA, CMCSK), have already been talking about cross-platform applications that would allow customers to create playlists on the Web and have those lists transferred to the set-top. (See
Comcast's 'Xfinity' to Go Mobile in 2010
and
Comcast's 'Xfinity' Goes Live
.)
But all that remains in the discussion stage with operators, as they vet out their next video navigation tech strategies. In the meantime, Jinni has already sealed up integration deals and partnerships with cable, telco, and satellite TV vendors such as
SeaChange International Inc.
(Nasdaq: SEAC),
NDS Ltd.
, and
OpenTV Corp.
(Nasdaq: OPTV). (See
Jinni Partners With NDS
,
SeaChange, Jinni Team on VoD Search
, and
OpenTV, Jinni Team on Search
.)
"We are pre-revenue at this point," Pohl says. "But that will change very quickly. Next year is a defining year for the company," he said.
As for Jinni's secret sauce, tastes and preferences are developed as consumers rank TV shows and movies, with those rankings then applied to new "semantic tags" created by Jinni. From there, the system uses special techniques and algorithms to determine a "tag cloud" and "entertainment personality" for each user, says Jinni founder and president Yosi Glick.
And for the
Sybils
out there, users can create up to five different entertainment personalities, taking into account that moods do change from time to time. [Ed. note: But not us. We're always as happy as freakin' clams!]
— Jeff Baumgartner, Site Editor,
Cable Digital News
PARTNER PERSPECTIVES
- content from our sponsors