A psychologist who runs Microsoft Corp. (Nasdaq: MSFT)'s TV Usability Lab claims that the "instantaneous channel change" feature developed by the software giant can positively impact viewers' perception of other IPTV applications.

According to Microsoft TV usability director David Sloo, the reaction time of other IPTV features, such as programming guides, can appear to be faster than they really are if a viewer is experiencing highly reactive channel change response times.

That's one of a number of conclusions drawn by Sloo and his team from a number of control group observations. One of those research sessions was held in San Antonio involving viewers of AT&T Inc. (NYSE: T)'s U-verse IPTV service, which runs on Microsoft TV software. (See Selling Telco TV: You Got $99?.)

Sloo manages Microsoft TV Usability Lab in the company's Mountain View, Calif. campus. Part psychologist and part software designer, he is part of the Microsoft TV development team, and his findings in the lab (and in the field) go directly into designing the Microsoft TV software. (See Microsoft Says Middleware Not a Problem.)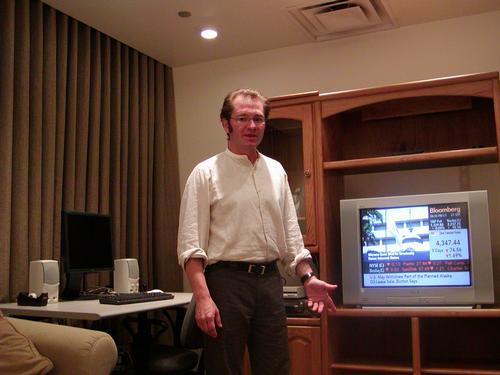 Sloo and his team of about a dozen spend their time watching people watch TV. They record people's responses -- their joys and their frustrations -- to the experience of watching and controlling IPTV.

The Usability Lab is a comfortable living room with a big two-way mirror on the wall. Cameras in the ceiling, in the TV cabinet and in the corner of the room record every move of the viewers on the couch. Behind the two-way mirror is another room with three desk rows where researchers sit and observe the participants on TV monitors and via speakers set up in the "viewing room."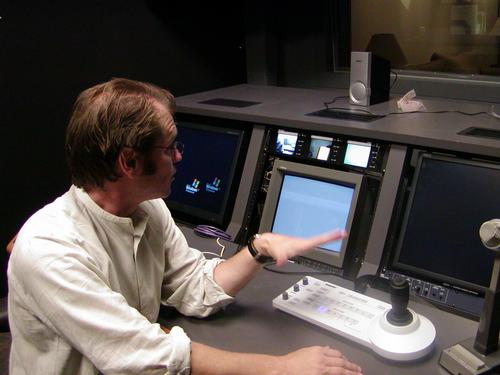 The focus is on user experience, the main battleground in the emerging struggle between cable, satellite, and telecom service providers, where the spoils of war are the TV subscribers. (See Selling Telco TV: You Got $99?.) So Sloo's team doesn't just study responses to the Microsoft TV product: A lot of time is spent learning from both the attributes and shortcomings of competing products.

The research has shown that TV watchers want to spend most of their time looking at their TV, not at their remote. So Sloo and his team have been working with several different ways of putting more navigation features on the screen, and fewer on the remote control.

They've also learned that viewers like to stay with their current experience, such as a TV program, while exploring what else is available. This finding led to the development of the "picture-in-picture" application, where the current program remains on screen while viewers surf through other channels in a smaller frame.

Aside from all the navigation and ease-of-use issues Sloo deals with, he is concerned about a wider problem with TV watching itself.

"The number one issue raised by subscribers is, 'What do I watch when I don't know what I want to watch?' " he says.

IPTV may be in a unique position to solve that problem, reckons the Microsoft team. "We see TV today as akin to the PC in the 1980s -- it's useful but its utility is limited until it becomes a two-way system," says Microsoft TV spokesman Jim Brady. If they're right, it might end up being the thing that makes people switch over from the cable or the dish.

Microsoft's approach to the problem is something called "search and discovery." During Light Reading's visit to Microsoft's Mountain View, Calif. campus, marketing general manager Christine Heckart demonstrated the system's simple search function. She entered some keywords into the system with the remote control, and the system searched all of the recorded, broadcast and VOD programming available and returned a list of titles.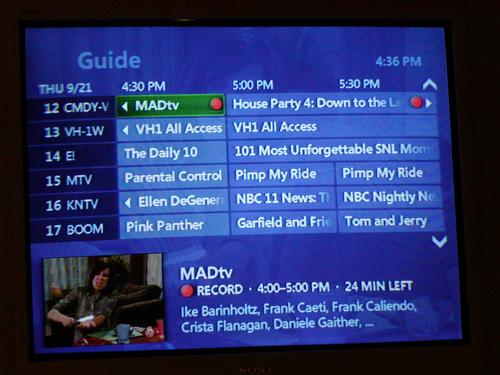 In future iterations of its software, the "discovery" part of the equation will become more emphasized, Microsoft says, with the experience become more like browsing at Amazon. Once a viewer locates something (a movie, clip or TV show) that's in their general area of interest, the system begins suggesting related titles the viewer might like. After the viewer watches a rerun of the Beverly Hillbillies, the system might suggest and equally decrepit episode of Green Acres, or perhaps The Best of Buddy Epsen.

A community aspect might also be built into "search and discover," says Sloo. The idea is that best way to find something one likes is to get a referral from somebody with similar tastes. So the interface might say something like "Other viewers who watched this video also enjoyed the following titles..." Viewers might also be able to send and receive viewing suggestions from a tighter group of viewers, such as friends and family, or a neighborhood Movie Club.

Of course the quality of "search and discover" is only as good as the size of the pool of content that's available. This brings up the obvious question: When will walled-garden Telco TV services such AT&T's make broadband TV experiences such as YouTube Inc. available to their viewers?

Such a move might blow the "search and discover" aspect of IP video wide open, with oceans of content to quickly search, buy and watch. People might never leave the couch. (See Video Site Cheat Sheet.)

"We get asked about broadband video a lot, and there's so much confusion about it," Brady says. "Over time the lines between IPTV and internet video will blur, but today people access and watch them for different reasons," he adds, though "we do see a crossover in the future."

— Mark Sullivan, Reporter, Light Reading