Dish Slings Its 'TV Everywhere' Strategy

Comment (0)
Dish Network LLC
(Nasdaq: DISH) will power up its own "TV Everywhere" tilt in the second quarter of 2010 with a stable of products that use
Sling Media Inc.
's place-shifting technology, including a new "Sling-loaded" HD-DVR and a new, smaller standalone Slingbox/adapter that plugs into several of Dish's legacy satellite receivers.
Dish, which bought Sling Media in 2007 for $380 million and later folded it into its
EchoStar Technologies LLC
set-top and technology division spinoff, is basing its TV Everywhere strategy on a combination of new hardware and software products that enable customers to "sling" video from the set-top to PCs, mobile handsets, and other video displays with broadband connections. (See
EchoStar to Buy Sling Media
and
Sling Media Slings at CES
.)
That all starts with the ViP 922, an HD-DVR that features a 1-terabyte hard drive with Sling's technology built in. Dish, which was expected to launch that box last year, is matching that with the "TV Everywhere Adapter," a sleeker version of the old Slingbox that gives place-shifting capabilities to a number of Dish HD-DVR receivers using a USB connection. According to Dish's
Website
, six existing receivers are compatible with the new place-shifting adapter: the 522, 625, ViP 612, ViP 622, ViP 722, and ViP 722k.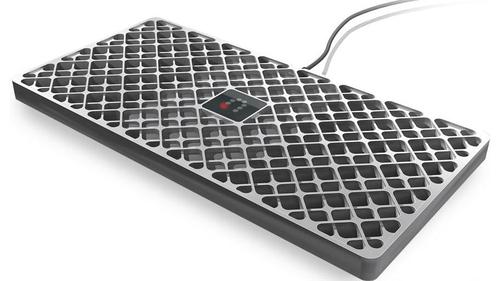 Dish's new hardware also includes a free-standing, 16x9
WiFi Monitor
, also developed by Sling, that is capable of wirelessly transmitting an HD video signal from a set-top to another device on the home's wireless network. The display itself renders video in 720p and can be used to access the functions of the connected Dish receiver, including the ability to manage DVR recordings.
Dish has also developed a Web-based "Remote Access Mobile App" so customers can manage their DVR recordings on multiple receivers. It also has the ability to transform an iPhone or iPod Touch device into a remote control for TVs connected to compatible Dish boxes. Although Dish's TV Everywhere hardware components won't be out until the second quarter, it's already offering the Remote Access Mobile App for free download.
Dish hasn't announced any pricing on its TV Everywhere offerings, including the fancy WiFi monitor, but intends to reveal those details closer to the official launch, a company spokeswoman said.
With Sling at the core of this strategy, Dish should find itself ahead of its cable competitors when it comes to TV Everywhere, a term that the satellite-TV giant has since trademarked (it
reportedly
filed for the trademark last fall), at least in terms of the types of screens it will support at the get-go.
Comcast Corp.
(Nasdaq: CMCSA, CMCSK) launched its initial TV Everywhere product, Fancast Xfinity TV, last month, providing authenticated PCs access to a walled garden of on-demand content. Comcast plans to add support for mobile devices later this year. Dish's version already supports mobile devices, as well as access to the subscriber's lineup of linear programming. (See
Comcast's 'Xfinity' Goes Live
and
Comcast's 'Xfinity' to Go Mobile in 2010
.)
However, cable MSOs will have an opportunity to offer much of what Dish is introducing in the second quarter. EchoStar, Dish's tech spinoff, is also marketing a lineup of Sling-loaded boxes for U.S. and European MSOs, but has yet to announce any cable deals. EchoStar officials have also expressed interest in selling Slingboxes directly to MSOs, and it would appear that Sling's latest standalone box, the 700U, would fit the bill. (See
EchoStar: We're Cable's Answer
,
EchoStar Slings Its First Tru2way Set-Top
, and
EchoStar Jumps the Pond
.)
— Jeff Baumgartner, Site Editor,
Cable Digital News