US pay-TV losses widen to 864K in Q4

Comment (0)
The erosion of the US pay-TV market deepened in the last three months of 2019, according to data compiled by MoffettNathanson for its latest "Cord-Cutting Monitor" report. All TV distributors, including OTT providers, combined to lose 864,000 video subscribers, compared to a loss of 253,000 subs in the year-ago period, the report said.
Traditional US pay-TV service providers shed 1.49 million subs in Q4, versus a loss of 990,000 subs in the year-ago quarter. That figure doesn't account for a gain of 630,000 subs by virtual multichannel video programming distributors (vMVPDs), such as YouTube TV and Hulu Live.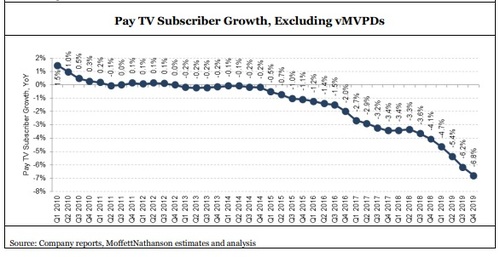 DirecTV and Dish Network lost 1.02 million pay-TV subs in Q4, while US cable operators lost 361,000 subs and telco TV providers shed 108,000 subs.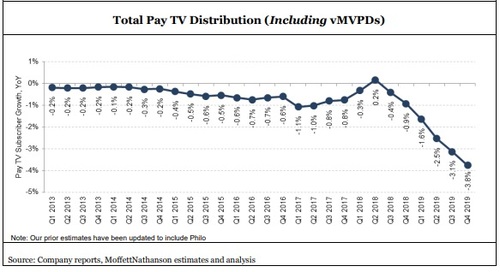 When rolled up, the subscriber base of traditional pay-TV providers declined at a record rate of 6.8% in Q4 2019, versus a decline of 4.1% a year earlier. With OTT TV gains included, the rate of loss was 3.8% in Q4 2019, compared to 0.9% in the year-ago period.
MoffettNathanson estimates that US-based vMVPDs gained 630,000 subs in Q4 2019, slowed from a gain of 737,000 a year earlier. While subscriber data on vMVPDs aren't anywhere near perfect, it's clear that OTT customers are not replacing traditional pay-TV subscribers on a one-for-one basis. According to Moffett's calculations, the "conversion rate" (of traditional sub losses to vMVPD gains) dropped to about 40% over the last 12 months.
According to MoffettNathanson's latest figures, traditional pay-TV penetration of occupied US households dropped to a low of 65.3% in Q4 2019, versus 87.4% a decade ago.
Distributors embracing or encouraging pay-TV cord-cutting
MoffettNathanson's big-picture view on the pay-TV situation isn't merely that consumers are cutting the cord at greater rates, but that cord-cutting is starting to be embraced, or at least encouraged, by traditional video distributors themselves.
"Five decades of video bundles are now being unwound," Craig Moffett, an analyst with MoffettNathanson, wrote. "Operators across the Pay TV distribution map are reassessing video strategies, and they are universally shifting, albeit to varying degrees, towards strategies that accommodate, or even encourage, cord-cutting."
He backed that up with several recent examples: Google Fiber announced earlier this month it had stopped selling its legacy IPTV service to new customers in favor of its YouTube TV service and fellow virtual MVPD fuboTV. Meanwhile, Verizon's new "Mix and Match" offer leads with Fios broadband and steers customers toward YouTube TV more so than its own Fios TV service. Additionally, several smaller cable operators are "actively discouraging video connections" in favor of OTT options, Moffett points out.
Comcast recently said it would have larger pay-TV sub losses in 2020 amid a plan to focus on its most profitable video customers without much of an effort to make uneconomical save offers. Charter Communications has taken a similar stance with its pay-TV strategy – allow the cord-cutters to seek OTT options while also making every attempt to keep them on a high-margin broadband service.
"The cable operators have crossed an important Rubicon," Moffett declared. "Emboldened by the knowledge that they don't make money on many of their video customers, and also by the realization that Cable investors are no longer concerned with video subscriber losses, both Comcast and Charter have adopted radically different video retention policies from the ones of a year or two ago. That is to say, they have all but abandoned their retention policies. No more uneconomic save offers."
Moffett doesn't expect the decline of US pay-TV to reverse anytime soon, as a subset of customers continue to leave traditional bundles and opt for subscription VoD and free, ad-supported VoD offerings. According to his latest forecast, the analyst sees consumers unsubscribing from pay-TV services at a faster clip than ever before, for at least the first half of this year.
Related posts:

— Jeff Baumgartner, Senior Editor, Light Reading