RBOCs Want Inside Your House

Comment (5)
As if selling you voice, video, and data services weren't enough, three of the nation's largest phone companies have designs to help build and manage your home network, too.
In recent interviews with three RBOC technology executives,
AT&T Inc.
(NYSE: T),
Verizon Communications Inc.
(NYSE: VZ), and
Qwest Communications International Inc.
(NYSE: Q) each told
Light Reading
that being a service provider will soon mean managing all aspects and equipment related to any voice, video, and data service inside the home. (See
IP Video: In the House
.)
Each provider has a slightly different take on what type of residential gateway to use, and the video distribution schemes are still coming into focus. But it is clear that residential gateways are increasing in importance, as are the ability of carriers to hold on to customers for life by managing all the services that touch their homes.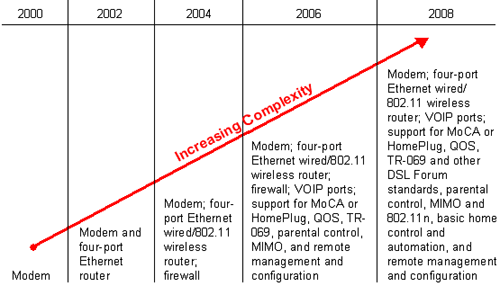 More importantly, though, this push into home networking now -- and, later, device management -- could be a key to the RBOC's survival. As
Heavy Reading
's Graham Finnie wrote in his February report, carriers allowed themselves to be thought of as "dumb pipe" providers by not taking more control of telephone management and, later, broadband devices. (See
The DSL Gateway Dilemma
.)
"This encouraged a sense among consumers that telcos were just pipe providers; so by becoming again the major supplier of more sophisticated (and subsidized) home equipment, service providers could reclaim the initiative on new broadband services." Finnie writes. He points out in the report that, according to one service provider, "The raw-pipe threat has never been as big as it is today, so we must be more present in devices."
Indeed, the major CTOs of the large U.S. RBOCs apparently agree with this statement, and they are looking at broadband as a launching point into more managed home services.
"The service provider can offer the managed solution to them to handle the firewall, manage the anti-spam and the anti-spyware programs, and ensure that there is the adequate priority of services inside the home," says Chris Rice, AT&T's executive VP of network planning and engineering.
Rice says AT&T is using TR-069, a management protocol drafted by the DSL Forum, along with
2Wire Inc.
's residential gateway, to manage consumer home networks for Lightspeed customers. "Much like businesses prefer to use managed services, we think consumers will look for managed services, too," he says.
Verizon is also making its way inside consumer homes. "We have this center piece of our home networking architecture called the broadband home router (BHR) and we're providing IP connectivity from the network to the BHR and then...adding NAT functions, network address translators, to all the devices that sit behind them, whether they be for data or they be for video or even conceivably for voice," says Verizon CTO Mark Wegleitner .
He adds that the broadband home router "really exists today" and it has "all the things you would expect to find in a home router, plus MoCA."
Multimedia over Coax Alliance (MoCA)
is a group formed to promote standards for home networking equipment using coaxial cable.)
Table 1: Residential Gateways In The Digital Home
EQUIPMENT
RELATIONSHIP TO GATEWAY
Modem
Usually integrated
Router
Usually integrated
Wireless Network
802.11, usually integrated
Wired Network
Ethernet usually integrated, other wired home networks becoming integrated
Analog POTS or ISDN Phone
Analog terminal adapters increasingly integrated
VOIP Phone
Usually via phone port only; small number of vendors include phone cradle
DECT Phone
Some vendors support DECT via gateway
Mobile (Dual-Mode) Phone
Rapidly increasing interest in support
Desktop/Laptop PC
Directly connected
Media Center/Server/Storage
Not integrated, but increasingly connected; seen as playing a key role in content distribution
IP STB
Not usually integrated, but increasingly connected and quality-controlled via gateway; some see more integration in the future
TV
Usually connected via separate STB, not gateway
Personal Video Recorder
Usually connected to TV; seen by some on consumer electronics side as playing an important role in content distribution
Game Console
Increasingly connected directly; some vendors have games-oriented gateways
Dedicated Home Control & Automation Equipment
Not connected, rarely based on IP; some vendors and service providers looking at bridging devices to connect
Video Monitoring and Related Security Equipment
Beginning to be connected; some interest, especially in certain countries
HVAC and Domestic Appliances
Not usually connected; some interest, especially in certain countries
Source: Heavy Reading
In fact, according to Verizon's Executive Director of Access Terchnologies, Brian Whitton, the BHR will have two chipsets based on the MoCA technology standard inside. This allows Verizon to (1) get broadband data and video from outside the home to the BHR and (2) move broadband data and video between the BHR and other devices via existing coaxial cable. Essentially, it creates a WAN and LAN in the home using just one physical set of cables to connect the optical network terminal (ONT) outside the home to the BHR to the MoCA-enabled set-top box on the TV.
Continue to page 2
EDUCATIONAL RESOURCES

PARTNER PERSPECTIVES
- content from our sponsors
GUEST PERSPECTIVES
- curated contributions