Hillcrest: Hulu May Be Is Blocking 'Kylo' TV Browser
Just hours after unveiling a new TV-friendly browser designed to allow Web surfers to watch online videos from
Hulu LLC
and other sites on their big screens,
Hillcrest Labs
said this morning that the Internet video joint venture may be blocking its "Kylo" browser from accessing Hulu's TV series and other content. (See
Did Hulu Hamstring Hillcrest's TV Browser?
)
"We are currently investigating why Hulu videos are not playing within the Kylo browser. Prior to our formal launch, Hulu videos would play within the Kylo browser. Like Internet Explorer, Firefox or Safari, the Kylo browser is simply a Web browser, it's our sincere hope that Hulu isn't restricting access," Hillcrest CEO Dan Simpkins said in a statement issued Monday morning.
UPDATE:
Hillcrest issued a revised statement Monday afternoon noting that it has received confirmation from Hulu that it's preventing the Kylo Web browser from playing Hulu videos. It's not clear if Hulu offered Hillcrest a specific explanation. "We have tremendous respect for Hulu, and we hope that a continued dialog might influence their thinking," Simpkins said, in a statement. As of Monday afternoon, Hulu has yet to respond to
Light Reading Cable
's initial inquiries into this or address it via the
official Hulu blog
.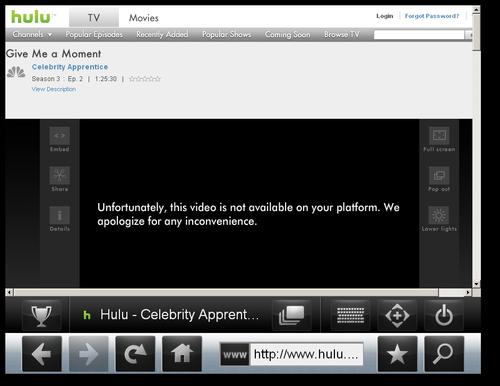 Officials at Hulu, which took steps last year to block users of
Boxee
's Internet video browser from accessing its content, didn't immediately respond to an email and voice mail message this morning. (See
Hillcrest Web Browser Targets Cord Cutters
and
Avner Ronen, Boxee CEO & Founder
.)
It's still not clear if Hulu or its owners, which include
NBC Universal
,
News Corp.
(NYSE: NWS), and
Walt Disney Co.
(NYSE: DIS), are restricting users that have downloaded the free browser from viewing its content. But on the surface, the incident appears similar to the challenges Boxee faced last year, when Hulu, at the direction of its owners, blocked Boxee users from access content from its popular Internet video site.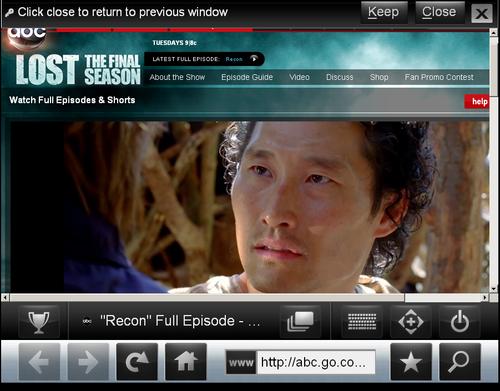 It's also worth noting that the Kylo-Hulu story could draw more publicity to Hillcrest, a little-known technology firm that has struggled to gain distribution for its "
Loop
" remote control and navigation software, on a day when it is launching a new product.
The key issue with which Hulu and the major programming networks and studios that back it are grappling is gauging the impact that Internet video could have on their core TV network properties if Hulu's massive programming libraries were easily accessible on any TV. While it's mostly a limited number of tech-savvy early adopters that have made the effort to wire their computers to televisions in order to view online videos on a big screen, Hulu and its owners are taking a cautious approach to making their content available on the TV.
When Hulu first blocked access to Boxee content in February 2009, CEO Jason Kilar took an apologetic tone in a
blog post
he wrote explaining the move:
Our content providers requested that we turn off access to our content via the Boxee product, and we are respecting their wishes. While we stubbornly believe in this brave new world of media convergence – bumps and all – we are also steadfast in our belief that the best way to achieve our ambitious, never-ending mission of making media easier for users is to work hand in hand with content owners. Without their content, none of what Hulu does would be possible, including providing you content via Hulu.com and our many distribution partner websites.


After Hulu blocked Boxee users from accessing its content, the over-the-top Internet video company attempted to come up with some workarounds aimed at allowing users to view Hulu content. Boxee has never been able to reach a formal relationship with Hulu that would allow it to create a Hulu channel on Boxee's user interface. (See
Hulu Blocks Boxee's Workaround Solution
and
Ronen: Boxee Isn't a Cable Killer
.)
The Boxee incident has remained an issue of contention for Hulu and its owners, used recently by opponents of NBC's proposed merger with
Comcast Corp.
(Nasdaq: CMCSA, CMCSK), with legislators questioning NBCU CEO Jeff Zucker in February at a hearing held by the House Subcommittee on Communications, Technology, and the Internet. Rep. Rick Boucher (D-Va.) asked Zucker to explain why Hulu decided to block Boxee users from accessing the site. (See
Comcast CEO: We Won't Block Rivals
.)
Zucker denied that Hulu was blocking Boxee, and later, in a
written response
to committee members, said that Boxee's software "interferes with the intended operation of Hulu.com."
— Steve Donohue, Special to
Light Reading Cable
PARTNER PERSPECTIVES
- content from our sponsors