Report: Ethernet Exploding in China
Report: Ethernet Exploding in China
Huge growth in Ethernet services identified in Heavy Reading survey of 16 Chinese operators A survey of broadband services in China has revealed that Ethernet is already being widely deployed in telecom networks -- and that residential, rather than business, services are driving demand.

The survey, conducted by Heavy Reading, Light Reading's paid research division, provides a detailed picture of what services are already being provided in more than 100 Chinese cities, by 10 major telecom operators and six cable TV operators.

The Heavy Reading report -- entitled "Ethernet Services in China" -- gives a profile of each operator, including a map showing its network footprint. It also includes a downloadable table identifying competing Ethernet service providers in each city.

"In the West, China is viewed mainly as a market with vast and untapped potential. That perception is clearly an oversimplification," writes Graham Finnie, author of the report.

China has charged ahead with Ethernet service deployment this year and is now a world leader in terms of household connections, which doubled in the first half of 2004, to reach 30 million.

Much of this is based on bringing fiber to large apartment blocks, and distribution within the buildings using LAN technology. In the case of at least one operator, China Mobile Communications Corp., the customer connection is wireless LAN, stretching the definition of an Ethernet service somewhat.

"The emphasis on fiber-based access is not surprising," Finnie writes, "given that China's cities are dominated by large blocks of newer apartment buildings. Most Chinese cities also are well supplied with fiber in the core that can be extended out to these residential blocks."

The Heavy Reading survey indicates a fair amount of competition among carriers, notably in southern China. As many as nine carriers operate in some provinces.

China Netcom Corp. Ltd. (NYSE: CN; Hong Kong: 0906) is the only one to concentrate largely on the north, having been created when incumbent monopoly China Telecommunications Corp. (NYSE: CHA) was split. The map below, taken from the report, shows its network reach.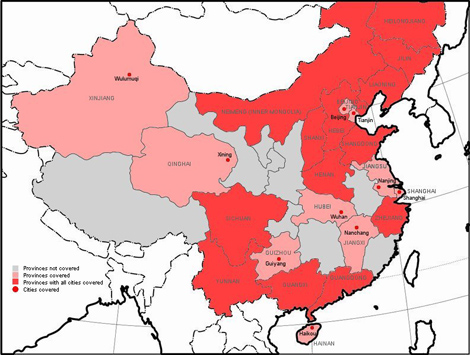 The survey shows China Netcom has one of the most advanced Ethernet strategies, offering video on demand, gaming, and voice over IP to home users, along with private line and private LAN for enterprises.

As in the North American and European markets, enterprise services in China are increasingly being offered over Ethernet, but China Netcom is one of only three major carriers in the report to offer Ethernet private line and LAN services; the other two are China Telecom and Shanghai UnionNet Broadband Video. Operators are more likely to provide high-speed Internet access, which nine said they do, while five offer IP VPN services.

"Although Ethernet is often the base infrastructure for broadband services that are offered to both residential and business users, this does not necessarily translate into native Ethernet services for enterprise users yet," writes Finnie.

The report also concludes that the expanding Chinese Ethernet market provides a real opportunity for Western vendors, with Cisco Systems Inc. (Nasdaq: CSCO) being cited most often as an equipment provider.

Heavy Reading's 23-page report, "Ethernet Services in China," costs $2,495. For more information, please click here.

— Nicole Willing, Reporter, Light Reading


Light Reading's Carrier-Class Ethernet in China roadshow will provide an invited audience of senior decision makers from service providers in China with a unique education in how to design and deploy profitable Ethernet services, employing original research written and presented by Heavy Reading analysts.

In Shanghai on Nov. 30 and Beijing on Dec. 2, those interested may register for it here.

For information about another new Heavy Reading report, Carrier Ethernet Services: Who's Doing What, click here.


Subscribe and receive the latest news from the industry.
Join 62,000+ members. Yes it's completely free.
You May Also Like
---