Nokia Debuts Virtualized Cable Access Platform
Nokia Debuts Virtualized Cable Access Platform
The launch of its Gainspeed virtualized CCAP products puts Nokia squarely in the cable access market.

Following its acquisition of Gainspeed over the summer, Nokia is now launching headlong into the cable access market with the announcement of a new product line-up featuring Gainspeed's virtualized CCAP technology.
The move is a major commitment by Nokia Corp. (NYSE: NOK) to the cable access space and signals just how lucrative that market promises to be as cable operators upgrade and transform their networks to deal with an ever-increasing demand for more bandwidth.
The new Nokia portfolio includes: the Gainspeed Access Controller, a software-driven orchestration tool for managing network nodes; a Video Engine for converting QAM video before it travels over a digital fiber link (more on that later); a node called the Access Node SC-2D, supporting DOCSIS data delivery over a last-mile coaxial network; and a second node called the Access Node SF-4X, supporting DOCSIS delivery over a 10G-EPON last-mile fiber link.
Figure 1: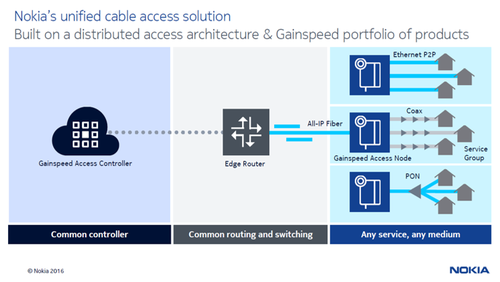 Gainspeed has long been a proponent of the virtualized CCAP approach, which pushes the proprietary functions of a cable network closer to the network edge. In technical terms, this means replacing the analog link running from the headend or hub to the node with higher-performing 10G Ethernet, and moving the MAC and PHY layers of a conventional integrated CCAP device into the node.
In the new Nokia portfolio, the two node products follow this virtualized strategy. They both include the MAC and PHY layers of a CCAP, while the Access Controller is used to aggregate and centralize control of the network nodes through software.
In addition to the performance improvements of replacing the analog connection to the node with a digital fiber link, Nokia says it can show how the Gainspeed solution leads to an eight-fold reduction in power and a seven-fold reduction in the rack space required at a cable headend or hub site. Nokia also says that the technology is currently in lab and field trials across North America and Europe. The bulk of the solution is expected to be commercially available later this year. The 10G-EPON node product will follow in 2017.
The distributed access debate
The virtualized CCAP strategy is one form of Distributed Access Architecture (DAA), but it's not the only one. Competitors to Gainspeed -- and now Nokia -- are promoting a Remote PHY approach that separates the PHY layer from the main chassis, but leaves the MAC layer in place. (See Cable's Great Debate: How to Split Functions and Fueling the Distributed CCAP Debate.)
Many vendors and cable operators are exploring the Remote PHY strategy because it doesn't require as big of a change to the cable infrastructure. The Remote PHY architecture still provides the benefits of moving to an Ethernet link between the headend or hub and the node -- i.e. higher performance through better signal quality -- but it keeps a traditional CCAP chassis in the headend or hub. It also doesn't strand as much equipment down in the node, where those assets may be difficult to manage and upgrade in the future.
For more fixed broadband market coverage and insights, check out our dedicated gigabit/broadband content channel here on Light Reading. Nokia, however, argues that the virtualized CCAP approach is a superior one to Remote PHY. Unlike Remote PHY, it says, a virtualized CCAP architecture gets rid of the "big iron" altogether. That is, the new approach does away with expensive and proprietary CCAP hardware made by traditional cable vendors like Arris Group Inc. (Nasdaq: ARRS), Casa Systems Inc. and Cisco Systems Inc. (Nasdaq: CSCO). "There's been an evolution in our conversations with cable operators around getting rid of 'big iron,'" says Nokia's head of cable strategy and business development Jeff White. "What you need to be able to do as quickly as possible is eliminate these big-iron devices in the headend or else you're just simply not going to have the space as you increase capacity to meet demands from customers without building lots and lots of new buildings. And when you talk to the large cable operators, they get this." Operators ultimately want to migrate away from big iron for several reasons. The proprietary hardware is expensive and takes up significant space and power. Just as importantly, however, cable providers need to start migrating toward more software-driven solutions to gain greater flexibility and control over network operations. "I've heard the term big iron so much recently because they really want to get rid of big iron." White says. "They want to take advantage of SDN-type architectures and virtualization to get rid of these big-iron devices." What about video?
Moving cable over to virtualized, software-defined networks sounds great, but the issue with any DAA option is that because the network link down to the node transitions from analog to digital, operators need a new way to manage and deliver their legacy, non-IP TV content. There are two options. The first is to get rid of standalone Edge QAM devices and move video into an integrated CCAP chassis that converges data and video delivery. (See Don't Give Up on Converged Cable Access Yet.) The second is to convert the video coming from the EQAM so that it can be delivered digitally to the node. This is what the Gainspeed Video Engine does. "It's an incredibly dense solution that can support hundreds and hundreds of QAM channels and take those across the networks to nodes," says White. "The idea is you want to convert this legacy video network to Ethernet and then we can switch it; we can do all the combining digitally, we can switch it, we can multicast it. There's a lot of flexibility that you have once you get it into that Ethernet domain." In other words, the Video Engine makes it possible for operators to continue leveraging their existing infrastructure for video delivery, while also converting equipment higher up in the network to Ethernet and IP more quickly. Nokia's end game
The move to IP is creating a lot of opportunities in the cable business. For a long time, the industry has relied on only a few vendors in the network equipment space. However, with the migration to IP underway, new companies are looking to jump into the market both because of the expertise they can bring from the telecom world, and because of the money that cable operators are going to have to spend in the coming years on network transformation. Adtran Inc. (Nasdaq: ADTN) recently bought out CommScope Inc. 's active EPON and 10G-EPON products for this very reason. Adtran plans to use the 10G-EPON products to expand broadly into the cable market just as cable operators are looking to ramp up their infrastructure budgets. (See Adtran Seeks Cable Stardom With EPON Deal.) In Nokia's case, the company proved its interest in new cable customers when it demonstrated symmetrical speeds of 10 Gbit/s over a coaxial connection earlier this year. That technology demo fits with the work that CableLabs is doing to improve cable's upstream speeds through an emerging standard called Full Duplex DOCSIS. (See Nokia Demos 10-Gig Over HFC and Full Duplex Is a Go; Cable Aims for 10 Gig.) The new Gainspeed product portfolio is another example of Nokia's overtures toward the cable industry. Nokia is hoping that one day, with the move to IP, it can rival heavyweights like Arris and Cisco in the cable market. (See Nokia Swings Deal for Gainspeed.) — Mari Silbey, Senior Editor, Cable/Video, Light Reading
Subscribe and receive the latest news from the industry.
Join 62,000+ members. Yes it's completely free.
You May Also Like
---