ILECs' Missing Links
ILECs' Missing Links
A new report says US networks are well connected and full of fiber. Getting to them is the problem More than 59,000 central offices, wire centers, and points of presence in leading U.S. carrier networks are suitable launching pads for a variety of next-generation services. Too bad just a fraction of those resources are currently accessible to business customers.

According to a new report from Larribeau Associates, a San Francisco-based telecom consultancy, the majority of fiber facilities in U.S. incumbent local exchange carriers' networks, about 49,000 nodes, are designed to link carrier wire centers with subscriber sites. But fewer than 7 percent of office buildings in the incumbent network regions are actually hooked up to those access facilities.

What's more, no one's rushing to make the connection. "There is no sign that the rate of fiber deployment is increasing," writes Bob Larribeau, the firm's principal and author of the report, in an email today. Unless that happens, he estimates it will take more than 35 years for 80 percent of U.S. office buildings to be served by fiber.

Even worse, a large number of ILEC access facilities comprise direct, point-to-point connections that aren't on protected rings, which could stymie their use for business customers with Sonet ring redundancy in mind.

For business customers, what makes these figures even more frustrating is Larribeau's findings about the readiness of U.S. networks to run next-gen services. All of the ILEC fiber nodes in the U.S., 83 percent of which are in the access network and 17 percent in the core network, have the necessary fiber configurations to run one or more services based on next-generation Sonet, switched gigabit Ethernet, resilient packet ring, or passive optical networking (PON) architectures, he says. (For more on these technologies, see the following Light Reading reports: Resilient Packet Ring Technology, Metro Ethernet, Optical Access Startups: Roll Call, and Next-Gen Sonet ).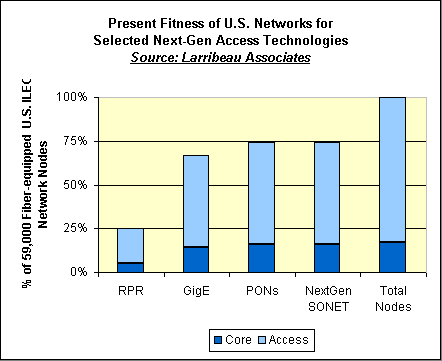 Note: Larribeau does not know to what extent network resources already are equipped with these services. Instead, the report details the opportunity represented by fiber facilities of leading ILECs, specifically those of BellSouth Corp. (NYSE: BLS), Qwest Communications International Inc. (NYSE: Q), SBC Communications Inc., and Verizon Communications Inc. (NYSE: VZ).

The report bases the estimated percentages of ILEC facilities capable of handling new services on how the networks are set up today. For example, PONs and next-generation Sonet networks can run over either rings or point-to-point connections, making them suitable architectures for close to 50 percent of ILEC facilities. (Of course, the bugaboo of redundancy rears its head, given that a large proportion of today's ILEC access networks aren't protected via rings, at least according to Larribeau's findings.)

In contrast, switched gigabit Ethernet services can run point-to-point or over rings, but they require that gear be installed in a wire center instead of a neighborhood connection point, which narrows their potential penetration to a little over half of today's ILEC fiber facilities.

Interestingly, Larribeau says today's access networks aren't set up to handle much RPR traffic. Just about 20 percent of them, he notes, have the necessary ring interconnections to support the topology.

Since core facilities represent a smaller percentage of ILEC networks overall, there is substantially less opportunity there for deployment of next-gen services, according to the report. But the relative potential for the different types of services is proportional to that of the access nets.

In general, Larribeau sees the U.S. network as a set of richly connected nodes in search of a market. Unfortunately, the carrier spending downturn has largely frozen that potential, at least for now.

— Mary Jander, Senior Editor, Light Reading
www.lightreading.com
Subscribe and receive the latest news from the industry.
Join 62,000+ members. Yes it's completely free.
You May Also Like
---