Germans Stalking Finns
Germans Stalking Finns
German bully poised to pound the hell out of pasty-faced northerners -- it just doesn't know when HANNOVER, Germany – CeBIT 2003 -- German giant Siemens AG (NYSE: SI; Frankfurt: SIE) blew its own flugel horn on home turf in Hannover today, saying its market share in the mobile infrastructure market is growing and that is set to replace Nokia Corp. (NYSE: NOK) as the number two vendor in the world.

According to Siemens, it sold $5.3 billion worth of wireless network equipment in 2002, raising its market share to 12 percent, from 8 percent the previous year.

"In mobile networks we are poised to become the second largest supplier," boasted Volker Jung, a member of the Siemens corporate executive committee, perhaps unwittingly capitalizing on Nokia's latest tales of woe (see Network Warning From Nokia).

So how close is Siemens to making it into the Silver Medal position? According to Unstrung's own research analyst, Gabriel Brown, author of our Wireless Oracle reports, LM Ericsson (Nasdaq: ERICY) is the undisputed world No. 1, with a market share of 32 percent during the 12-month period Q4 2001 to the end of Q3 2002. Then things get a little tighter. Nokia comes next with 13 percent, followed by Siemens and Lucent Technologies Inc. (NYSE: LU) in a virtual third-place tie (see chart below).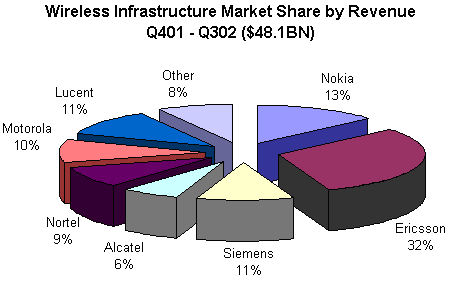 So we asked when Siemens expects to usurp the Finns? Long pause. "Er, well, I don't know," says Jung. "We will try very hard and see what happens." [Ed. note: They've really thought this one through, haven't they?]

Still, there is no doubt that the Germans are weathering the current industry downturn better than many others, as we noted last year (see Siemens One to Watch in UMTS). Quite whether this will elevate it further up the pecking order [cluck] is debatable.

It has, though, been winning deals. "Siemens has been particularly successful in Latin America and Asia," including a 3G (UMTS) contract in Taiwan, boasted Jung (see Siemens Wins UMTS Deal). It has also won infrastructure contracts with all three U.S. GSM carriers -- AT&T Wireless Services Inc. (NYSE: AWE), Cingular Wireless, and T-Mobile USA -- and has shipped more than 9,000 UMTS base stations to 3G license holders such as Hutchison 3G UK Ltd., which is to launch commercial service very soon (see 3 Keeps Europe Waiting).

UMTS (Universal Mobile Telecommunications Service) is the 3G upgrade for GSM operators, employing an air interface based on wideband CDMA (WCDMA) technology while retaining the same core network used for GSM (2G) and GPRS (2.5G). UMTS theoretically offers up to 2 Mbit/s, though the first deployed networks will likely only provide 150 kbit/s or less to end users.

Siemens also has high hopes for the Chinese market (see Siemens Prepares for China Deal). "In China we were able to significantly increase our opportunities for success and growth with the official award of frequencies for the TD-SCDMA [time division synchronous code division multiple access] 3G mobile communication standard we have developed together with our Chinese partners," said Rudi Lamprecht, president of the German company's mobile line of business (see Siemens Praises Chinese 3G).

However, just which technologies will be adopted, and on what scale, is still unclear, as 3G spectrum licenses have yet to be awarded (see What's Up With Chinese 3G?). Whether Siemens can sell enough wireless networking kit to make it a bigger player than Nokia could well lie in the hands of the Chinese licensing authorities that will prescribe which technologies should be used by China's operators in their next-generation networks.

— Ray Le Maistre, European Editor, Unstrung

Editor's note: Neither Light Reading nor Unstrung is affiliated with Oracle Corporation.
Thank God.
Subscribe and receive the latest news from the industry.
Join 62,000+ members. Yes it's completely free.
You May Also Like
---