Ex-Lucent Exec Builds New Career
Ex-Lucent Exec Builds New Career
Last year at this time, Nina Aversano blew the whistle on Rich McGinn. Now, she's at a startup The executive whose whistle-blowing lawsuit against Rich McGinn helped publicize the tribulations of management at Lucent Technologies Inc. (NYSE: LU) is forging a new career in telecom startups.

Today, Aplion Networks Inc., a services switch vendor based in Edison, N.J., announced that Nina Aversano has joined its board of directors (see Aversano Joins Aplion). Aversano is the former president of North American sales at Lucent, and since June 2001 she's been executive VP of worldwide field operations at Apogee Networks, which makes billing software for enterprise and carrier use.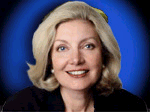 Aversano says she's having a ball. After three decades spent climbing the corporate ladder, she's obviously enjoying the change. "It's enormous fun," she says. "Big companies have wonderful value, but startups have focus, energy, and intensity."

Aversano has plenty of big-league experience for comparison. With a Bachelor's degree in liberal arts from St. John's University and a Master's from Pace University, Aversano spent seven years at IBM Corp. (NYSE: IBM), three at Xerox Corp. (NYSE: XRX), and over 20 at AT&T Corp. (NYSE: T) and Lucent.

Last fall, Aversano made headlines when she filed suit against Lucent, alleging ousted chairman Rich McGinn fired her after a meeting in October 2000 at which Aversano told McGinn his sales targets were unrealistic.

Neither Lucent nor Aversano will comment on the ongoing lawsuit.

News of the litigation broke as reports surfaced that Lucent was undergoing an investigation for accounting fraud by the U.S. Securities and Exchange Commission (see SEC Knocking on Lucent's Door). That too is being kept close to the vest by Lucent and the SEC, neither of which will comment. However, according to the SEC's public records, no specific action has been taken against Lucent so far.

Aversano isn't the only ex-Lucent executive who's running on a different track these days. Rich McGinn himself has become a venture capitalist at RRE Ventures in New York (see Rich McGinn).

— Mary Jander, Senior Editor, Light Reading
http://www.lightreading.com
Subscribe and receive the latest news from the industry.
Join 62,000+ members. Yes it's completely free.
You May Also Like
---