Cisco, Sycamore Circling Lucent's ATM
Cisco, Sycamore Circling Lucent's ATM
Lucent wants to sell its ATM product line for upwards of $600M, and Cisco and Sycamore may be interested Lucent Technologies Inc. (NYSE: LU) is in the midst of a negotiating a deal to sell its telecom data switching unit based in Westford, Mass., sources close to the company say.

The leading contenders for the kit, which would include core and edge switching gear based on Asynchronous Transfer Mode (ATM) and Frame Relay technology, are Cisco Systems Inc. (Nasdaq: CSCO) and Sycamore Networks Inc. (Nasdaq: SCMR), say the sources. Alcatel SA (NYSE: ALA; Paris: CGEP:PA) may also be interested. The price tag could be as low as $200 million or as high as $600 million, according to several experts.

"It sounds like it's moving along quickly," says one financial source close to the company, who asked not to be named. "Cisco can bid the most and wants it the most, and Lucent is pretty desperate."

The Westford unit has its roots in Cascade Communications, a company whose business Lucent acquired through its purchase of Ascend Communications in 1997 (Ascend had acquired Cascade earlier in the same year). The business, which includes the GX 550, CBX 500, and PacketStar (PSAX) core ATM/IP/Frame Relay switches are installed in a large number of top-tier RBOC and incumbent telecom carrier networks throughout the globe.

Two other independent sources with contacts at Lucent say a deal is in the works; one said the board met last Friday but that things could still fall apart.

Lucent and Nortel Networks Corp. (NYSE/Toronto: NT) are widely regarded as the leaders in the multibillion-dollar multiservice and ATM switching markets, according to a recent Optical Oracle, as well as several market research firms. Cisco is running either third of fourth in the market, depending on how you rank them (it vies with Alcatel).

"Lucent and Nortel kind of ping-pong back and forth as leaders in the core ATM market," says Kevin Mitchell, an analyst at Infonetics Research Inc. "Cisco is a leader in the edge, with Nortel strong too. It would make sense [for Cisco] to acquire their core business for the customer contracts, but not the products. Lucent has ignored ATM product development for a while."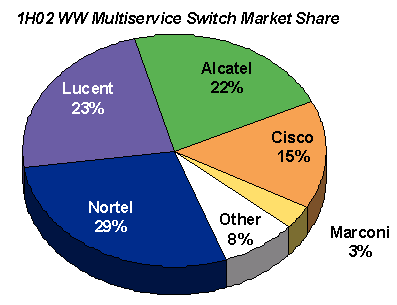 Lucent is motivated by its need to further downsize and its thirst for cash, say several Wall Street sources.

"We think the deal would be a win/win because Cisco doesn't have good penetration into RBOC accounts, and Lucent could strike a deal with Cisco to do professional services," says UBS Warburg analyst Nikos Theodosopoulos, when asked whether such a deal would make sense.

Theodosopoulos wrote in a research note issued on October 17 that Cisco should buy Lucent's ATM switching unit; he pegged the deal at 0.5 to 1 times revenues, and estimated those revenues to be as much as $600 million in cash. The note got the rumor mill grinding, but Theodosopoulos says that at the time he had no specific knowledge of an impending deal. "We didn't write that note based on industry buzz, it was based on Lucent's need to downsize," he says.

In an earnings call earlier this week, Lucent CEO Patricia Russo said the company will continue to invest in and support the ATM switching line (see Lucent Clarifies Product Strategy). At the same time, however, the company needs to lay off an addition 10,000 employees, and many are skeptical she can attain such streamlining without shedding entire divisions.

In addition to raising cash, the deal might be part of Lucent's higher-level move toward a services business model.

"Lucent is trying to focus on professional services," says Theodosopolous, adding that if Lucent sold the ATM switching business, it would likely strike a deal with Cisco to provide professional services and support to the business.

Lucent declined to comment on this article; Cisco and Sycamore Networks had not returned calls at press time.

In morning trading, Lucent shares were down $0.03 (3.06%) to $0.95; however, they've risen 35 percent this week.

— R. Scott Raynovich, US Editor, Light Reading
www.lightreading.comWant to know more? The big cheeses of the optical networking industry will be discussing multiservice switches at Lightspeed Europe. Check it out at Lightspeed Europe 02.



Editor's Note: Light Reading is not affiliated with Oracle Corporation.
Subscribe and receive the latest news from the industry.
Join 62,000+ members. Yes it's completely free.
You May Also Like
---