Cisco Piles On the DWDM
Cisco Piles On the DWDM
Cisco launches another metro DWDM box to target both enterprise and service provider customers UPDATED 5PM ET Cisco Systems Inc. (Nasdaq: CSCO) today furthered its ongoing campaign to dominate metro networks by announcing yet another DWDM (dense wavelength-division multiplexing) product. The new box, dubbed the Cisco ONS 15540 Extended Services Platform (ESP), was built for both service provider and enterprise networks, the company says (see Cisco Unveils Metro DWDM System).

In March, Cisco announced another new metro DWDM product line -- which includes the ONS 15201, ONS 15252, and ONS 15216. Those boxes were based on the technology Cisco acquired last year from Qeyton Systems and are meant to sit at the customer's premises, therefore piggybacking on the success of Cisco's ONS 15454 Sonet add/drop multiplexer, which sits around metro rings (see Cisco Marches Deeper Into the Metro).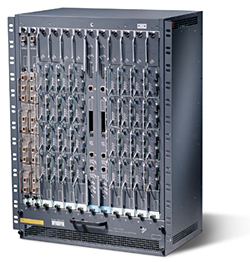 This new platform is a much more heavy-duty box. It can be used to provide connections between service provider points of presence (POPs) or to boost metro network capacity by providing Sonet/SDH aggregation in metro rings. It can also help service providers give several customers different types of storage services -- including Enterprise Systems Connection (ESCON), Fiber Connector (FICON), or Fibre Channel connections -- over a single wavelength.

More to the point, it looks as if Cisco has added a DWDM blade and a few more services to its Cerent box (now the ONS 15454), says LuxN Inc.'s marketing veep, Agnes Imregh, and its director of product management, Paul Zalloua.

Initially, the ONS 15540 will support up to 32 protected wavelengths per fiber pair, operating at variable speeds from 16 Mbit/s to 2.5 Gbit/s, for a total capacity up to 80 Gbit/s per system. The box has 12 slots in a 24-inch-tall chassis.

By the numbers, though, Cisco's new box will probably win more points as part of a multiproduct sales pitch, rather than an individually superior product. Another metro DWDM box, Sorrento Networks Corp.'s (Nasdaq: FIBR) GigaMux product, looks to be more compact and more powerful.

Sorrento says their box supports up to 32 protected wavelengths per fiber pair, operating at variable speeds from 16 Mbit/s to 2.5 Gbit/s. It can also support 10 Gbit/s per wavelength, for total capacity of up to 1,280 Gbit/s per fiber pair, the company says.

Both boxes use the same frequency separation -- ITU 100Ghz spacing with 32 wavelengths in the C-band -- but Sorrento says its box also expands with 32 more wavelengths in the L-band. And in the size department, Sorrento crams 16 slots in a 12.25-inch-tall chassis.

Judging from its protection feature, however, Cisco's new box could also be a competitor to similar products from ONI Systems Inc. (Nasdaq: ONIS), which have been selling well.

Future iterations of the product will allow for transmitting multiple services over a single wavelength, switching at the lambda or sub-lambda level, and support for 10-gigabit Ethernet and OC192. The box also supports several DWDM networking architectures, including point-to-point, hub-ring, and mesh-ring networks, the company says.

On the storage area networks side, Cisco says it intends to make the box work with gear from IBM Corp. (NYSE: IBM) and EMC Corp. (NYSE: EMC). Service providers testing the box include Metromedia Fiber Network Inc. (MFN) (Nasdaq: MFNX) and AT&T Corp. (NYSE: T).

The box will be available next month, fetching a base price of $67,000, a price that Sorrento says is higher than its base price.

While the product fills an important role in Cisco's metro strategy, other vendors contend the product is on a par with what's already being sold. "The size isn't particularly exciting, and the wavelength count sounds like what everyone else is offering," says Thomas Mock, senior director of transport product management at Ciena Corp. (Nasdaq: CIEN). "I would also note that we're delivering 10 Gbit/s today and they're not."

A Cisco spokesperson was unavailable for an interview while this report was being compiled. Other metro DWDM vendors, including Nortel Networks Corp. (NYSE/Toronto: NT) and ONI Systems, didn't return calls by press time.

-- Phil Harvey, Senior Editor, Light Reading http://www.lightreading.com
Subscribe and receive the latest news from the industry.
Join 62,000+ members. Yes it's completely free.
You May Also Like
---