Can Cable Sustain Its SMB Success?
Can Cable Sustain Its SMB Success?
Big telecom is fighting back, but there's still reason to believe the cable industry courtship of small businesses will continue to win hearts. NEW YORK CITY -- Business services continues to be a good news story for the cable industry -- but there are signs that big telecom operators are fighting back. After sales hit the $12 billion mark this year, is it possible cable's business revenue growth will slow?
That's not likely, said Light Reading Cable Practice Leader Alan Breznick, who sees ongoing growth in the business space for cable. But in a kickoff presentation here today at the Future of Cable Business Services event, he said telecom operators are starting to take SMBs, in particular, more seriously, in the face of the cable threat.
The prime evidence of that is this year's J.D. Power & Associates 2015 Business Data Satisfaction Study, where the big three of telecom -- Verizon Communications Inc. (NYSE: VZ), AT&T Inc. (NYSE: T) and CenturyLink Inc. (NYSE: CTL) -- respectively won the very small, SMB and large enterprise satisfaction ratings. That's a turn-around from previous years, he noted.
Breznick, also a Heavy Reading analyst and the event chairperson, still chose to emphasize the upside of the business market, where cable is excelling at meeting the needs of the smaller businesses, which comprise a huge portion of the market. Building on their track record, cable companies still have a lot of room for growth, he said. (See Cable Gives Thanks for Business Services.)
"Very small business has been cable's bread and butter," he said in an interview prior to Tuesday morning's kickoff presentation. "What is helping them is that they can do things the telcos can't, for less money, because they don't have as much legacy equipment and technology. They have made big gains with Ethernet technology and rolled out IP services faster as well."
In addition, cable is doing what big telecom operators haven't always done in the past -- sending sales people out to directly serve the small business, customizing services for that market and being more responsive.
"They pay more attention to those customers," Breznick said. "Cable has a better reputation for customer service on the business side than on the residential side."
Figure 1: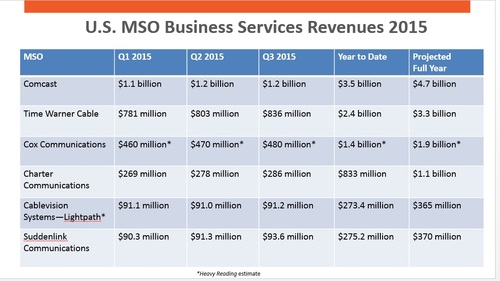 Despite this year's J.D. Power ratings, Breznick sees the small business market, in particular, as a continued wealth of opportunity for cable. Given that the vast majority of the 27.9 million businesses in the US are small companies -- only 18,500 companies have 500 employees or more -- that gives cable a lot of head room in pursuing the $150 billion business spend on telecom services, Breznick noted. Cable's hybrid-fiber cable lines pass three-quarters of those businesses. "The question is, can they keep up the 20% growth rate?" he said. Comcast Business is now among the leaders in the cable industry in trying to push into the larger enterprise space, and Breznick says it will be interesting to see if the same tactics that proved successful among smaller businesses can work there. The other interesting aspect of the cable business services market in the coming year will be the impact of Charter Communications Inc. 's acquisition of Time Warner Cable Inc. (NYSE: TWC) and Bright House Networks , he notes. "If Charter's acquisition of Time Warner and Bright House is approved, they will become the largest cable provider of business services -- bigger than Comcast -- and they will have the two largest US markets, New York and Los Angeles, to themselves," Breznick says. "The question is, will they start competing against each other and how will the market dynamics change?" — Carol Wilson, Editor-at-Large, Light Reading
Subscribe and receive the latest news from the industry.
Join 62,000+ members. Yes it's completely free.
You May Also Like
---