Cable Looking Past AT&T, Verizon
Cable Looking Past AT&T, Verizon
The Big Two of telecom no longer loom as the major competitive threats, say some cable execs, because they are more focused on wireless. NEW YORK -- It's not surprising that leading business executives in the cable space think their companies are well-positioned to leverage their success in the small business area to move upmarket into the enterprise space. The surprise may be that they see competitive carriers and OTT players as their greatest competition, and they see collaboration as wholesalers as a key to their success.
In fact, three cable execs who were part of a panel on tackling the enterprise market here at Light Reading's The Future of Cable Business Services 2015, agreed that one essential element to capturing enterprise business is the ability to build a national footprint, and the way to do that is for cable operators to deliver wholesale services more efficiently to other cable companies. They left it to Comcast Business VP & GM of Enterprise Solutions Glenn Katz to spill the beans on efforts already underway on this front. (See Top MSOs Team for National Enterprise Push.)
Craig Cowden of Bright House Networks , Dan Templin of Mediacom Communications Corp. and Brian Rose of Cox Communications Inc. had different perspectives on how that might happen. Rose, who works in product development at Cox, pointed to the need to deploy new tools, such as those being developed by the MEF , for more seamless interconnection of networks so that services can be more easily and quickly turned up and end-to-end customer service can be delivered as well.
Figure 1: Cox's Brian Rose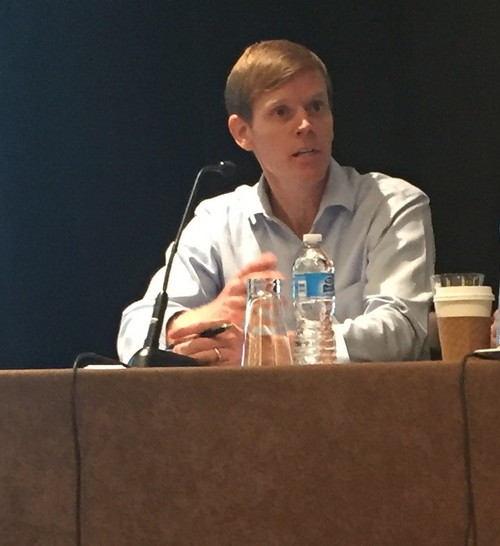 That's important because cable's regional footprint otherwise limits its ability to deliver national services to larger enterprises, but every cable company can deliver the wholesale services that enable other carriers to reach their national customers' sites, he said. "Most of us have healthy wholesale businesses," Rose said. "It is that model, but doing it better than we do today."
Doing it better means simplifying and streamlining the processes of checking for service availability, turning up services quickly, tracking customer orders and trouble tickets and delivering a consistent customer experience, he said.
Rose stopped short of asserting that Cox favors working exclusively with cable operators to do that, saying the network operator wants to do that for all carriers. But Mediacom SVP Templin spoke directly of cable collaboration in expanding its reach from regional to national. That would become the topic of the day.
Figure 2: Mediacom's Dan Templin and Bright House Networks' Craig Cowden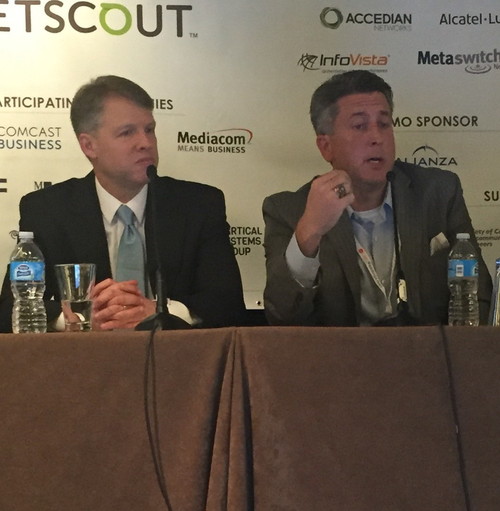 The other surprising statements centered on how the three cable operators view the competitive landscape. Bright House's Cowden, who is chief network officer and VP-enterprise solutions, said he no longer views AT&T Inc. (NYSE: T) and Verizon Communications Inc. (NYSE: VZ) as the top players in the enterprise space, but is seeing aggressive activity from competitive players such as Level 3 Communications Inc. (NYSE: LVLT) and XO Communications Inc. , as well as from over-the-top players such as 8x8 Inc. (Nasdaq: EGHT).
"AT&T and Verizon aren't as focused on this space as they used to be," he commented, saying the operators seem more focused on their wireless business. "Other competitive operators are, but there is no reason cable can't serve this [enterprise] market and dominate it."
Want to read more about cable customer service strategies? Check out our dedicated cable content channel here on Light Reading.
Phil Meeks, EVP & COO of business services for Time Warner Cable Inc. (NYSE: TWC) Business Services, was slower to dismiss the competition from big telecom -- but then he launched his career with AT&T and was a top executive with BellSouth on the business services side before moving to the cable side. If Charter's acquisition of TWC clears regulatory approval, he will be heading up the merged company's business services operation.
Figure 3: Phil Meeks of Time Warner Cable Business Solutions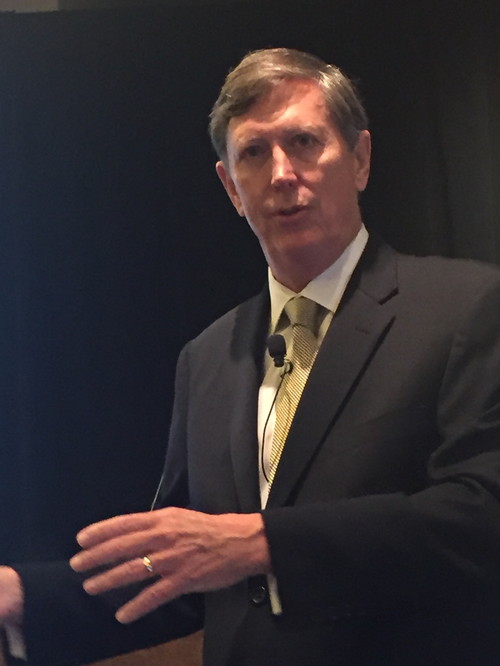 Meeks said the competition from all sides is strong, but he also made it clear the enterprise market is there for the taking if cable operators step up to deliver what businesses need.
"I like where we are -- we have a fantastic present and a fantastic future," he commented. "How much market share can [cable] gain will be different for different companies. Time Warner Business Services will gain as much market share as we have the right to win. Companies don't like having their customers taken away from them. We are going to have to win customers one customers at a time. But we have the opportunity to do that."
Cowden said cable needs to up its managed services game to better compete for bigger businesses. Both he and Mediacom's Templin said they are gearing up to offer dynamic services that allow businesses to ratchet up their bandwidth on demand and pay for what they use.
Rose was a bit more cautionary. Cox, which is on track to hit $2 billion in business service revenue next year, is still looking to grow that by serving larger businesses but may do that more organically, by continuing to serve long-time customers whose businesses get bigger, he said.
"The opportunity for enterprise is ripe -- but cable needs to be careful and thoughtful about how we approach it," he said. "It really depends on scale, and it's going to be different for different companies. Comcast, TWC and Charter will be in different positions than Cox and others to serve larger enterprises."
— Carol Wilson, Editor-at-Large, Light Reading
Subscribe and receive the latest news from the industry.
Join 62,000+ members. Yes it's completely free.
You May Also Like
---