What 'Agile' Looks Like at CenturyLink
What 'Agile' Looks Like at CenturyLink
New St. Louis development center blows up the cube farm and creates a new space for a different style of working and customer meetings. Culture changes are usually focused on a company's personnel, but there are other critical aspects to the process and CenturyLink is unveiling one of its key efforts today at its new CenturyLink Development Center in St. Louis. The facility was formerly home to its Savvis acquisition and was built for a traditional approach to managed services, but now has been dramatically redeveloped and repurposed.
Beginning with the arrival of its current CTO, Amir Hussain, in the fall of 2014, however, CenturyLink Inc. (NYSE: CTL) has been working to transform itself into an "agile" IT organization offering cloud-based IP services, and that led early on into a transformation of its managed services business, based in the former Savvis operation in St. Louis. Former SVP-Platform Jared Wray, who left the company in late 2015, was quick to shake things up among the Savvis crew, pushing them to abandon the traditional hiring hierarchy and work in cross-purpose groups to enable a DevOps approach. (See Wray Reshaping CenturyLink Cloud Operation and New CenturyLink CTO in Major Overhaul.)
The new development center -- the company's third -- was created as part of that process to show that CenturyLink was willing to invest in the changes needed to make this new way of working actually work.
Figure 1: Collaborative Working Space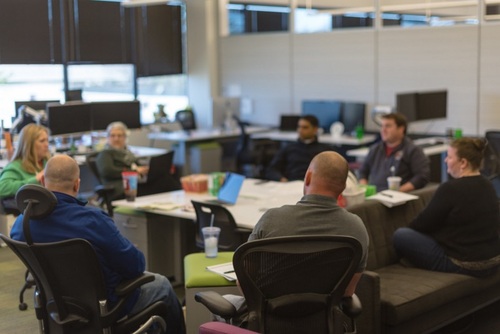 Desks and chairs can be adjusted to different heights and moved around to accommodate the specific working group. "DevOps is not just culture, it also has to be complemented by tools and facilities," says Richard Seroter, VP of Products for the CenturyLink Cloud platform. So CenturyLink tore the building's interior down to the studs and rebuilt the former cube factory in a way that enabled teams to work in collaborative groups and also has facilities to host customers for their input. Learn more about how telecom operators are transforming their cultures to be more agile and innovation at our upcoming Big Communications Event in Austin, TX, May 24-25. You can register now. There are now 19 team workspaces in what is a 46,000-square-foot facility and each is designed for collaboration, including tables that can be moved and reconfigured, a sofa and lounge chairs, smartboards and more. That's in addition to the more typical executive briefing room and areas set up to host developer and startup events, and a dining area. The working teams include development, operations and product builders who all work in one open area. "Collaboration is a key element of software development, it's not about keeping your head down on your code, it's about working with the team and your agile coach," he comments. "Facilitating that by an actual space is really key for us." Figure 2: Idea Sharing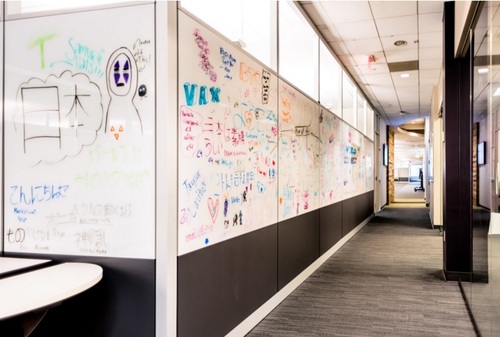 Not all collaboration is done in formal settings. The intent is to host executive briefings, including some tied specifically to the operation in St. Louis but also for customers on the East Coast and in Europe for whom the Seattle or Monroe, La., development centers represent a significantly longer journey. Those briefings are important to CenturyLink's new way of operation, says Seroter, because the company depends on getting its subject matter experts and its customers together for meaningful discussion. "We want to make sure our customers are going somewhere where they are closer to our subject matter experts," he says. "We have remarkably high satisfaction ratings from customers who do briefings with us because we don't staff briefing people -- architects who only do briefings for us. We bring in the product owners, which give us such authentic meaningful conversations with the customers. So we send people to the best places where they get the most authentic experience." In addition to what is considered managed services, the St. Louis facility is also home to other CenturyLink offerings such as its new database offer, Relational DB Service, and a new backup service that will be announced shortly. On the managed services side, one of the key goals is to automate processes wherever possible, enabling customers to do self-service, and retaining the hands-on "white glove" aspect of managed services for those functions where a human touch is required, Seroter says. "The team is responsible for developing this next generation of managed services," he comments. "As we continue to evolve those around operating systems, we want to make sure there is much more self-service capability -- and it may be monitored more by people -- but it has more automation around it and the people part is focused on high-value activities, not on things that can be automated." — Carol Wilson, Editor-at-Large, Light Reading
Subscribe and receive the latest news from the industry.
Join 62,000+ members. Yes it's completely free.
You May Also Like
---