Wray Reshaping CenturyLink Cloud Operation
Wray Reshaping CenturyLink Cloud Operation
New dev-ops approach means major changes in structure, job definitions and even the way offices are built, all to enable faster innovation. CenturyLink CTO Aamir Hussain wasted no time in reorganizing the third-largest US telecom carrier into an agile IT organization. The man he chose to head the company-wide cloud platform, Jared Wray, is likewise wasting no time implementing sweeping change. (See New CenturyLink CTO in Major Overhaul.)
Wray, whose title is SVP-Platform for CenturyLink Inc. (NYSE: CTL), came into the carrier when the cloud company he founded, Tier 3, was acquired and became the foundation of the CenturyLink Cloud organization. In Hussain's reorganization, however, Wray took on much more than that. He assumed responsibility for managed and auxiliary services and what had been the Savvis operation -- another acquisition -- as well as CenturyLink's data centers, as part of a company-wide cloud platform capable of creating services much faster and more flexibly. (See CenturyLink Buys Cloud Leader Tier 3.)
In the two months Wray has been running the broader organization, the cloud pioneer has implemented dramatic changes in how work is done and expects to double the output of his assembled team as a result.
"We run a very specific model of how we build products, invest in products, deploy products and operate from the cloud side," Wray explained in an interview conducted at Light Reading's Big Telecom Event following his keynote speech there. With the reorg, he has gone from having six teams to just over 30, and is moving them all to this model to create faster development cycles that are "more rigid on the process" and less managed in the traditional sense. (See Adventures in 'Platforming' at BTE.)
Figure 1: CenturyLink's Jared Wray Delivers BTE Keynote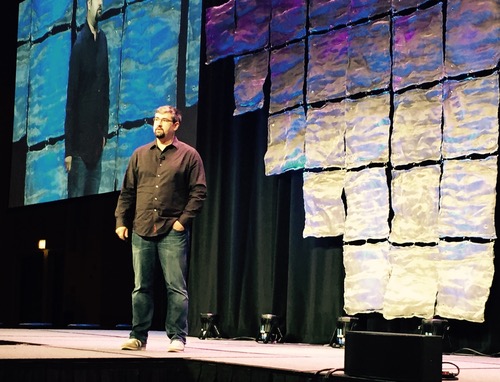 As a result, layers of management were eliminated -- the organization is now much flatter with only two layers, those who report directly to Wray and then their reports. Another major change right off the bat was a more focused road map, which included some hard calls on what the organization wouldn't do, in order to focus its resources on the most important work.
"We made it clear all the work would be very feedback-oriented," Wray says. That feedback was based on data from customer aggregation points that is used to add to or alter the roadmap every 21 days.
Where teams in the past had seven different specific roles -- titles such as architect, analyst, project manager, product manager and different types of engineers -- the new teams are based on more generic roles. And the teams work together in open rooms so there is constant communication as part of the work process rather than working independently, then coming together to meet and discuss progress.
Check out all the news and views from the 2015 Big Telecom Event at Light Reading's dedicated BTE show news channel.
Each team is autonomous in how it operates, functioning as its own business unit and owning product and all the functions surrounding it. The team members see their revenue numbers, up time and performance. "They get excited about it -- they control their destiny," Wray says. "They get instant impact of what they are doing. They are actually affecting what is going on."
"In our model, it's all about accountability, and manufacturing gives you the guide rails to give accountability," he says. The generic roles break down siloed responsibilities -- an "architecture engineer," for example, becomes a senior engineer with more development responsibility and less architecture.
"We also stopped the ivory tower architecture projects," Wray explains. "Instead of doing a three-year to four-year architecture, we are doing a progressive refinement."
Next page: The process defined
The process starts with a minimum viable product and progressively refines it, based on the feedback loop described above, without a specific detailed roadmap imposed at the outset. That's a significantly different approach from the way project teams worked in the past, when the goal was established at the outset and everyone worked in that direction for a set amount of time -- even if, once they got done, the original goal proved to be less relevant or even totally off-base from where the market had moved in the meantime.
This dev-ops approach uses a "progressively defined 'Northern Star' " for teams to follow and selects the tools but doesn't pre-define the finish line. "That allows us to automate a lot faster, because we are not spending time planning, we are spending time doing," Wray comments.
Many meetings are eliminated, although every day starts with a team meeting and then a stand-up meeting of the small team leaders (known as "batmen") at which each must present on the team's progress and is held accountable for that progress. The team rooms are the only closed-off spaces in the office, and not only are no telephones allowed on desks, neither is any food consumption. Phone calls happen in separate "phone booths," which are private, and the company provides free lunches every day.
The cost of food is more than covered by additional productivity gained from eliminating trips out to buy lunch, Wray says.
"We have had pretty good success with [introducing the new model]," he explains. "Some people don't like the model, but we have had a lot of people really start to embrace it." Eighty percent of the project teams are executing on this approach now, following some coaching efforts on how to make it work.
Managing the change
Wray is aware this can be a hard change for folks used to working in a certain way, and he has encouraged employees to give it a try before reacting negatively. The faster pace and the ability to see progress has its own appeal, he notes, and there are fewer meetings, which can be boring time wasters. They aren't as necessary with team members working together constantly in one open team room -- the amount of time spent in meetings now isn't supposed to exceed 20% of the work day.
Turnover numbers are quite low, and many people are actually enjoying the new way of working because they can see results of their work much more quickly. And because the feedback on the work being done is pulled from actual analytics and customer input, there is more specific direction for teams to follow.
The overarching goal is creating dev-ops teams that operate as large Web 2.0 companies or startups do, and have the flexibility to go in whatever direction is needed. "This is the Google model," Wray says. "Our entire job is to optimize engineer output and the velocity of the teams so that regardless of which way Glenn [Post, CenturyLink's CEO] wants to go, we can do it."
Having worked mostly in an enterprise environment, Wray is also learning about telecom, as he educates the "legacy" operations under his control in the more agile way of working. And he admits there is sometimes the need to find "a middle ground" and for everyone to work hard at seeing both sides of the operation. One strong advantage is the support that Post and the rest of CenturyLink's management team have in this process.
As he mentioned in his keynote, Wray himself was initially unwilling to sell Tier 3 to a telco and not convinced it would work. It was the CenturyLink management's eagerness to acquire the company and then embrace its way of working that changed his mind. And that way of working is now being implemented very quickly.
— Carol Wilson, Editor-at-Large, Light Reading
Subscribe and receive the latest news from the industry.
Join 62,000+ members. Yes it's completely free.
You May Also Like
---