TM Forum sea-change overcomes that sinking feeling
TM Forum sea-change overcomes that sinking feeling
The industry association now dedicated to digital transformation answers some of its critics with a well-received show in Nice. NICE -- Digital Transformation World 2018 -- Two years ago, the TM Forum's annual shindig in Nice seemed to hit a low. "Mary Celeste," was how one attendee described the event. The nineteenth-century merchant ship of that name, so the story goes, was found abandoned near the Azores several weeks after setting sail from New York. Its cargo remained, but the lifeboat had disappeared and the crew was gone with it. TM Forum Live!, where executives laud all things digital and grumble about transformation in equal measure, looked similarly adrift.
The anecdote is an exaggeration, of course. In 2016, some 2,900 people in the telecom industry traveled to Nice's digital bazaar to haggle over contracts for the business (or billing) and operational support systems (B/OSS) that prop up today's telcos. Discounting the monster bash that is Mobile World Congress, where attendee numbers top 100,000, those figures stack up well next to other industry events, and especially those of a more specialist nature. TM Forum Live! was still the event for B/OSS enthusiasts. And a business trip to the French Riviera, with its fine wines, gourmet cooking and sun-kissed beaches, was not such a hardship. (See How Long Before We Hit Peak MWC?)
Figure 1: Nice Venue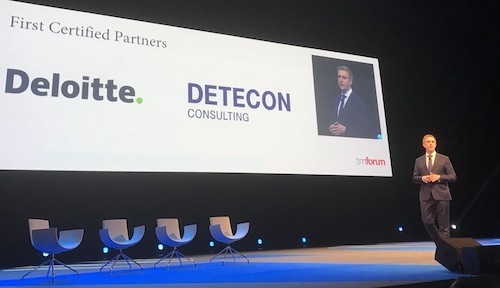 TM Forum CEO Nik Willetts talks about his organization's efforts to attract new partners during this year's Digital Transformation World event in Nice.
But away from the plage, there was a feeling the TM Forum and its flagship event were slowly losing relevance. Some of its frameworks, designed with standardization in mind, were years old. Critics asked if younger initiatives were more applicable for operators struggling to get past rusty B/OSS technologies. Groups like the Linux Foundation and Open Networking Foundation were much trendier. Old-school B/OSS was dead, argued some. "No over-the-top company sends a bill and nobody ever uses the data of the billing system," said KPN Telecom NV (NYSE: KPN) CTO Erik Hoving during a panel session at TM Forum Live! in 2016. "Why do we have a billing system at all?" (See BSS Is BS, Says KPN Tech Boss.)
Getting shipshape
The weather in Nice might have been unseasonably cold, but the sentiment was much warmer this year. Renamed Digital Transformation World, in a sign the TM Forum can practice the change that it preaches, the event had a piquancy it has previously lacked. The TM Forum suddenly looks interesting again.
That is despite what seems like a fall in attendance in 2018. The TM Forum has yet to release numbers for this year's show, and they do not seem readily available for last year's, either. But the early indications are that fewer than 2,900 people turned up.
There are a couple of reasons why this does not come as a big disappointment. For one thing, other trade shows have also suffered as telcos and their suppliers have slashed headcount and tightened belts. Even Mobile World Congress reported a dip in attendance in early 2018 after growing at a breakneck rate for eight years in a row. More importantly, what the TM Forum's event lacked in quantity it made up for in quality, according to several exhibitors who spoke with Light Reading at the show. The consensus is that vendor numbers were down, while service provider numbers were up. For exhibitors touting their wares, that kind of shift is welcome. It is even more desirable if the service providers who came included the real decision makers, as seemed to be the case. (See MWC Visitor Numbers Fall: So Has It Hit Its Peak? )
Moreover, if there were fewer executives from vendor organizations, the main brands were all on display. And at least one vendor who spoke with Light Reading made a bigger splash this year: Its CEO said he had been encouraged by signs the TM Forum was returning to its roots, and focusing less on some of the activities tangential to B/OSS that have consumed its attention in recent years.
Next page: Scrubbing the decks
Scrubbing the decks
The challenge for the TM Forum has been to remain a B/OSS association at its core without losing sight of the strategic priorities for telcos' technology departments. Its efforts in the last two years deserve credit.
In 2016, even as critics doubted if it would be relevant in future, the TM Forum was putting the final touches to a program that now appears to have engaged operators worldwide. The open APIs initiative was endorsed by nine of the world's biggest telco organizations at the May 2016 event, including France's Orange (NYSE: FTE), Spain's Telefónica and UK-based Vodafone Group plc (NYSE: VOD). The general idea was to create a set of common "catalog-based" components for developing IT and service platforms, a goody bag of tools the telco mechanics and their partners could use. BT Group plc (NYSE: BT; London: BTA), another supporter, said at the time that open APIs had already helped it reduce the number of IT systems from 4,500 to 1,800 in just a few years. (See 9 Global Telcos Back Open APIs Scheme.)
Judging by figures disclosed to Light Reading at this year's show, the open APIs initiative has been a roaring success. Some 296 communications service providers are now using the TM Forum's open APIs, easily beating a target set in May 2016 of 200 for this year. With the open APIs, the TM Forum has also shown it can work alongside some of the trendy organizations its critics said would leave it behind. Open APIs are to be included in the next release of ONAP, the open source management and orchestration platform the Linux Foundation oversees.
"In the international business those open APIs are going to be more and more important for us given the way MNCs [multinational corporations] and OTTs [over-the-top players] want to do business these days," says Jacqueline Teo, the chief digital officer of HGC Global, formerly a fixed-line part of Hong Kong's Hutchison but recently sold to private equity.
At a much earlier stage of development, but also a potential game changer, is the One Digital Architecture (or ODA) initiative the TM Forum announced in February this year. Here, the big idea is to provide a sort of updated blueprint for IT architecture in a digital world. As a framework for replacing older B/OSS technology, ODA goes to the very heart of what the TM Forum is all about. Ultimately, it could be a much bigger deal than open APIs. Indeed, the TM Forum has pitched it as a kind of umbrella project that will absorb several other initiatives, including open APIs and the ZOOM automation project that started in February 2014. (See TMF rethinks B/OSS with ODA, but will industry care?)
There is no guarantee of success, and these efforts also have their skeptics. James Crawshaw, a senior analyst with Heavy Reading, has noted that ODA is essentially a rebranding of an older initiative called ODES (for Open Digital Enablement System). He has doubts it will prove that revolutionary, and says it covers some of the same ground as ONAP. While a tie-up between the TM Forum and the Linux Foundation could boost support for both organizations, ONAP is not universally popular. Even before news of that partnership, detractors were complaining that its millions of lines of existing code made it far too unwieldy.
Want to know more about automation? Check out our dedicated automation content channel here on Light Reading.
TM Forum representatives say ODA is not so much a rebranding as a public name for what was previously an internal project under ODES. And it has been well received by some telcos. "Even before the TM Forum approached us we were working on an architecture we need to become a DSP [digital service provider], and so it was a pleasant surprise to see the ODA because it was in close alignment with what we were thinking," says Vincent Seet, an advisor on enterprise architecture with Globe Telecom, one of the biggest operators in the Philippines.
Seet regards ODA as a natural evolution of TAM, an older TM Forum framework he describes as "very CSP [communications service provider] and yesteryear." But he concedes there is still some disagreement among TM Forum members on whether ODA really is TAM's natural successor, or something radically different. Those disagreements will have to be resolved if ODA is to fly.
Next page: New crew
New crew
Fresh blood has undoubtedly helped to reinvigorate the TM Forum, despite murmurings about the leadership changes. After a spell as deputy CEO, and a shorter one in an acting CEO role, Nik Willetts became the TM Forum's latest formal CEO in May last year. His father, Keith Willetts, was a former CEO and one of the association's co-founders.


If some insinuations of nepotism have dogged Willetts the younger, he has not let it show. Instead, he has busied himself promoting new initiatives like open APIs and ODA. He has grown into the CEO role and increasingly seems to command a respect that belies his boyish looks. His keynote presentation at this year's event was well attended and delivered with authority and some panache. It helps, too, that an association born in the 1980s has a youthful CEO, and not one of the greybeards who are often seen leading telecom organizations and companies.
Other fresh talent has also helped to reinvigorate the TM Forum, including Mark Newman, who became the organization's chief analyst in February 2017. While clearly belonging in an older age bracket than Willetts, Newman brings intellectual clout as the former chief research officer at Ovum (which, along with Light Reading, is today part of the Informa Group). He is an instantly recognizable figure to the trade show faithful, and generally combines wit and insight to good effect when moderating on-stage panel discussions.
The TM Forum's long-term future, like that of the telcos it seeks to represent, still hangs in the balance. Having thrived as a developer of frameworks for old-fashioned B/OSS technologies, it needs to carry that success into the digital future it talks so much about. Its task, in essence, is to foment telco reinvention using the digital frameworks it develops, and to remain part of the broader conversation about change. Its recent momentum shows the industry is still listening.
— Iain Morris, International Editor, Light Reading
Subscribe and receive the latest news from the industry.
Join 62,000+ members. Yes it's completely free.
You May Also Like
---