Inside Apple's New 'Business Chat'
Inside Apple's New 'Business Chat'
Apple wants companies to communicate with their customers over Messages, and is building tools to do it. Apple recently gave a quiet, inside look at a platform designed to allow businesses to communicate directly with an estimated 700 million iPhone users, using the Messages app.
Business Chat launched in developer preview at last week's Apple Inc. Worldwide Developers Conference. Business Chat will be generally available next year, Apple says.
Apple provided developers with an inside look at Business Chat in a Friday-morning WWDC session, available on Internet streaming video. (See Apple Adding 'Business Chat' to Messages, for Enterprise Customer Service.)
Apple sees Business Chat as a replacement for phone customer service, Apple's Grant Ritchie said in the presentation.
The presentation doesn't identify Ritchie's position at Apple. However, a Grant Ritchie was CEO of Locationary, a location-based services company that Apple acquired in 2013.
"Sometimes you're busy," Ritchie said in the presentation. "You're running around. You need a way to resolve your issue without devoting time to a phone call. And you definitely don't want to waste your time waiting on hold. You need a way to communicate in between the million other things you're doing."
Figure 1: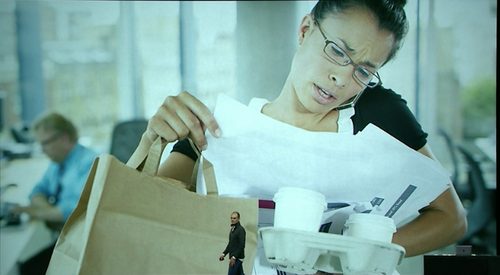 Apple's Grant Ritchie (tiny) and a busy lady.
Figure 2: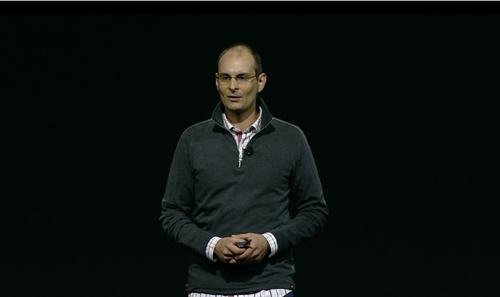 Ritchie, full-size.
Business Chat lets customers and business share photos and video, make appointments, payments, track orders and interact with iPhone apps.
Business Chat will be integrated with Safari, Spotlight, Siri and Apple Maps, so that Business Chat comes up as an option when users search for a business, Ritchie said.
Figure 3: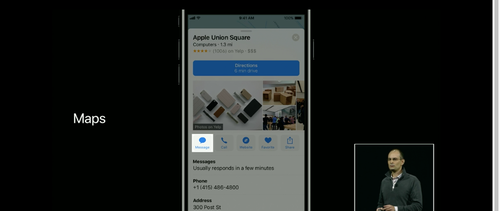 Business Chat is an option in Apple Maps search, and elsewhere.
Business Chat is also available for online-only businesses, or businesses that only interact with customers through an app, Ritchie said.
As part of Business Chat, Chat Intent lets businesses understand the context of a question. For example, when a customer contacts a business after viewing a particular configuration of a product online, that information can be passed to the business, saving customers the time and trouble of sending information manually. In the future, the app will be able to provide their location as well.
Users must start the conversation in Business Chat, but the business can message back, and either the business or customer can pick up the conversation again where it left off, without having to re-enter information.
The service uses language recognition to prompt users for answers to questions. For example, if a business asks for a customer's phone number, the iPhone's QuickType keyboard suggests the user's phone number, likewise for email, postal address and location.
Business Chat includes privacy protections for customers. Users can hide alerts, so conversations can continue but the user won't receive notifications where someone looking over his or her shoulder, or picking up the phone from a tabletop, can see. And once a user deletes a conversation, the business can no longer send that user notifications, until the user starts a new conversation.
Built-in features for Business Chat includes a time-picker to schedule appointments, list-picker to help customers make choices of options (for example, a product's colors). Customers can pay through Apple Pay and get quick checkout with payment, shipping and contact information readily available.
Also, business developers can pull components of apps into the conversation.
Figure 4: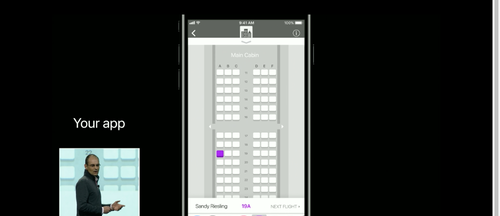 Ritchie demonstrates a seat selection app included as part of a Business Chat session.
With Business Chat, Apple is going up against Twitter Inc. and Facebook Messenger, both of which offer customer service capabilities in their platforms.
Keep up with the latest enterprise cloud news and insights. Sign up for the weekly Enterprise Cloud News newsletter.
Business Chat ramps up Apple's relationship with enterprises, a relationship that's very cloud-connected. Apple built new enterprise and business features into its new iOS 11 software for the iPad announced last week. (See Apple's Cloud Strategy Will Save the iPad.)
And Apple has ties with Cisco, SAP SE, and IBM, to enhance enterprise capabilities. (See Apple & Cisco Plot an Enterprise Fast Lane, SAP Floats Apple Partnership, New Cloud Services, and IBM, Apple Tie-Up Moving Into Cloud.)
Apple appears to be trying to keep Business Chat quiet for now. The timing of Business Chat announcement, on a Friday, with the video only available late in the day, indicates the company doesn't want a lot of publicity -- yet. Once Apple has signed up business users and has examples of the service in action, expect to hear more about it, probably at Apple's annual iPhone announcement in September.
Related posts:
— Mitch Wagner
Editor, Enterprise Cloud News
CALLING ALL CLOUD, NFV AND SDN COMPANIES:
Make sure your company and services are listed free of charge at Virtuapedia, the comprehensive set of searchable databases covering the companies, products, industry organizations and people that are directly involved in defining and shaping the virtualization industry.
Subscribe and receive the latest news from the industry.
Join 62,000+ members. Yes it's completely free.
You May Also Like
---