IBM Faces Age Discrimination Accusations
IBM Faces Age Discrimination Accusations
A ProPublica investigation alleges that IBM slashed its US workforce with cuts that fell more heavily on older workers and protected younger workers.

IBM engages in systematic discrimination against older workers, according to an investigation by ProPublica, a nonprofit investigative journalism organization.
As the high-tech market became more challenging, IBM "reacted with a strategy that, in the words of one confidential planning document, would 'correct seniority mix,'" according to the report, published in conjunction with a feature from Mother Jones magazine titled "Cutting 'Old Heads' at IBM."
IBM "slashed its U.S. workforce by as much as three-quarters from its 1980s peak, replacing a substantial share with younger, less-experienced and lower-paid workers and sending many positions overseas. ProPublica estimates that in the past five years alone, IBM has eliminated more than 20,000 American employees ages 40 and over, about 60 percent of its estimated total U.S. job cuts during those years."
The report continues, "In making these cuts, IBM has flouted or outflanked U.S. laws and regulations intended to protect later-career workers from age discrimination, according to a ProPublica review of internal company documents, legal filings and public records, as well as information provided via interviews and questionnaires filled out by more than 1,000 former IBM employees."
Figure 1: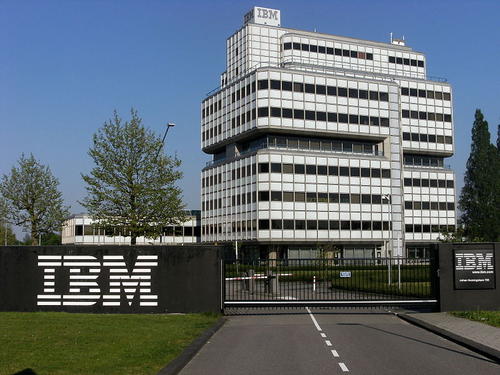 IBM building in Amsterdam. Photo by Mark Ahsmann (Own work) [CC BY-SA 3.0], via Wikimedia Commons.
Subscribe and receive the latest news from the industry.
Join 62,000+ members. Yes it's completely free.
You May Also Like
---