Workers Bracing for Sweeping Automation Changes
Workers Bracing for Sweeping Automation Changes
A study carried out by Market Cube and sponsored by Smartsheet finds that knowledge workers are aware of the changes automation may bring. While there's concern, there's also some enthusiasm. Workers are optimistic about the effects of automation, and many are already using automation in their work. However, a significant minority are concerned about automation hurting their own employment, according to a study.
Most of the talk about automation focuses on technology: how machine learning, neural networks, artificial intelligence and other innovations are getting smarter each day and are able to handle more mundane tasks of everyday work.
However, what do the workers themselves think about these changes?
A study of 1,000 information workers conducted by Market Cube and sponsored by Smartsheet, a maker of cloud-based collaboration and communications software, looks to shed some light on what employees think about automation.
The study, "Automation in the Workplace 2017," finds that while there is concern about how automation could affect their jobs, some employees see the benefits in allowing machines to take over certain tasks.
Figure 1: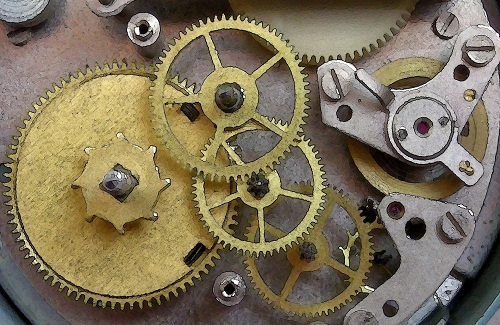 Ticking away the moments that make up a dull day
(Source: Eugeniu via Pixabay)
In fact, about 65% of those surveyed reported that they are already using some type of automation in their daily routine right now. Additionally, 68% responded that their team or department is actively looking into automation technology.
A vast majority -- 97% -- believe that automation will have some benefit to the company.
These are the kinds of attitudes that tech companies are betting on. This week, when Salesforce.com Inc. released its Sales Cloud Einstein update, it included several new features that essentially automate large portions of the sales process, with the notion of freeing up more time for sales people to sell. Company executives essentially want to automate most of the mundane tasks of the sales team. (See Salesforce Updates Sales Cloud Einstein With Additional AI Features .)
This is not to say that automation doesn't have many worried. In the study, about a third of respondents believe that automation could replace their jobs, while 34% are worried about increased layoffs.
Additionally, 60% of those participating in the survey believe that automation would lead to overall high levels of unemployment.
Keep up with the latest enterprise cloud news and insights. Sign up for the weekly Enterprise Cloud News newsletter. In a recent analysis for Enterprise Cloud News, Editor Mitch Wagner wrote about the current big enterprise trend -- digital transformation -- which is turning non-tech companies more and more into software companies, and with that change, a creeping sense that automation will disrupt more and more of the traditional workforce even in white-collar, knowledge-based businesses. (See Will Automation Take All the IT Jobs?.) Still, a sense of optimism permeates the report, with three-quarters of those in the survey believing that they have the skills to get another job if automation takes over their current position. The study also shows that millennials are more aware of automation than older generations, with 71% reporting that their employers are using more and more automation. However, about a third of those in the report find that there's a "high likelihood" that automation will take their jobs. However, the report finds that no matter what attitudes workers have about automation, the trend will continue as the rush to the cloud makes automation increasingly possible. "So far, businesses have embraced the cloud primarily to reduce their IT costs and simplify IT management," according to the summary. "This is important and beneficial work, but the easy gains in this area have been made. The stage is now set for the next phase of this evolution: to leverage automation to improve productivity, increase efficiency, and free up time so all employees can contribute to business success." Related posts:
Cloud, Digital Transformation Fueling Open Source Job Market Network Automation: 3 Tips to Getting Started Buzzword Bingo: What the Heck Is Digital Transformation? — Scott Ferguson, Editor, Enterprise Cloud News. Follow him on Twitter @sferguson_LR.
Subscribe and receive the latest news from the industry.
Join 62,000+ members. Yes it's completely free.
You May Also Like
---