Tru2way 'Phantom' Box Is a DVR Lightweight
Tru2way 'Phantom' Box Is a DVR Lightweight
ADB's next-gen tru2way-based 'set-back' box uses SDHC cards for video storage and MoCA 1.1 for whole-home DVR setups A new class of tru2way "set-back" boxes aims to give TV makers a more flexible digital cable service option at retail, but their Achilles' heel so far has been the lack of a DVR. Of course, consumers can simply add in a DVR by installing a separate box, but that would sort of defeat the general purpose of keeping the devices out of view.

One option is that makers of these new set-back boxes could just bake in a DVR, but doing so could make the devices too big and bulky to hang off the back of a sleek, flat-screen TV.

Advanced Digital Broadcast (ADB) is looking to solve both issues at the same time with the "Phantom," a new tru2way-based set-back box that uses standard SD High Capacity (SDHC) cards for video storage.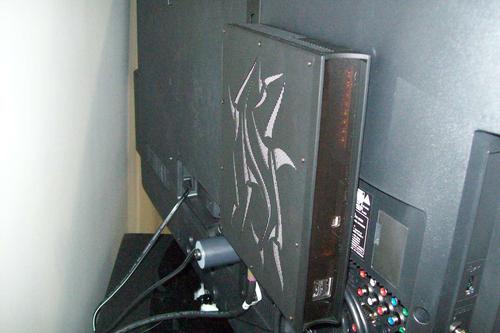 ADB calls this option "DVR-Lite" because it's not a full-fledged DVR, but does offer some DVR-like functions. Users, for example, could transfer a movie or TV show to the card, plug it in to the Phantom, and play it back with all the usual trick-play functions (play, fast-forward, pause, rewind, etc.), or record programs on the card directly from the box itself.

One obvious limitation with this approach is the amount of storage afforded by SDHC cards, which, depending on the product, offer several gigabytes. In comparison, some of the newer HD-DVR tru2way boxes sport up to 500 gigabytes of storage. (See Cox Guides Tru2way Forward.)

But ADB's approach with DVR-Lite does give the Phantom box some recording legs to stand on that the company's tru2way set-back box predecessor, the 4820C, does not. The Phantom also supports Multimedia over Coax Alliance (MoCA) 1.1, so it does have the potential to function like a full-featured DVR when connected to a primary HD-DVR that also uses the speedy coax-based home networking platform. (See ADB Develops Tru2way 'Set-Back'.)

ADB is classifying the Phantom, which it presented in close-room demos at The Cable Show in Los Angeles last week, as its second-generation tru2way set-back box. Its initial set-back model was designed to hook onto Sony Corp. (NYSE: SNE)-made Bravia sets, but officials say the Phantom can be fixed to the back of a broader range of HDTV sets. (See Sony Drives ADB's Set-Back.)

The Phantom also uses the same OpenCable Application Platform (OCAP) stack (the middleware component of tru2way) from ADB corporate cousin Osmosys SA that graces the 4820C, which still remains the only tru2way box to gain retail certification from CableLabs . Panasonic Corp. (NYSE: PC) and Samsung Electronics Co. Ltd. (Korea: SEC) have been awarded similar certifications for a handful of tru2way hi-def sets.

Panasonic is also developing a tru2way set-back box, and there could be more on the way following the recent publishing of a new set of CableLabs specs for so-called "thin chassis" tru2way boxes. (See CableLabs Specs Tru2way Set-Back Box.)

ADB wouldn't say when it will shoot for CableLabs certification on the new box, but the company hopes Phantom will reach commercial availability late this year or by early 2011.

Retail distribution is an obvious target for the new box, but ADB also thinks the out-of-the-way Phantom could score deployments as cable operators pursue new ways to deliver video services to hotels and the wider hospitality industry.

— Jeff Baumgartner, Site Editor, Light Reading Cable


Subscribe and receive the latest news from the industry.
Join 62,000+ members. Yes it's completely free.
You May Also Like
---