Tellabs Victorious at Verizon
Tellabs Victorious at Verizon
Vendor bags a big ROADM equipment deal with Verizon and sets itself up to be a metro WDM contender worldwide It's official: Tellabs Inc. (Nasdaq: TLAB; Frankfurt: BTLA) has bagged the big elephant of reconfigurable optical add/drop multiplexer (ROADM) contracts. The vendor announced today that it has been selected as the primary supplier for next-generation optical transport gear to Verizon Communications Inc. (NYSE: VZ). (See Verizon Picks Tellabs.)

What's it all mean? In addition to hundreds of millions of dollars in potential revenue for Tellabs, the deal is also strategic. ROADM technology, which makes optical networks more flexible by enabling optical channels to be added or dropped remotely, is becoming the linchpin of metro networks -- and landing such a marquee deal with a big RBOC makes Tellabs a clear leader in the market.

At first, Tellabs says, Verizon will put its 7100 systems in to help simplify the structure of its FiOS fiber-to-the-premises networks. The 7100 will help the carrier cut down on the number of multiservice provisioning platforms (MSPPs) required for FiOS backhauling broadband bandwidth -- eventually enabling the MSPP function to be included on a single linecard on its ROADM system. After that, Verizon will install its gear to "converge all of its core metro services onto flexible, dynamic DWDM (dense wave division multiplexing) transport."

Light Reading first reported in September 2005 that Tellabs had won primary ROADM supplier status at Verizon, despite the fact that Fujitsu was, very early on, seen as the frontrunner for the business. (See Tellabs Running ROADMs at Verizon .) Later, Light Reading followed up with reports saying that Tellabs had won second supplier status at AT&T and that Lucent Technologies Inc. (NYSE: LU) was edging in as the second fiddle in Verizon's ROADM rumpus. (See Sources: Tellabs, Lucent Score ROADM Wins.)

In total, it's a big deal for Tellabs. The company only reported about $24 million in metro WDM-related revenues last year, according to Heavy Reading, a figure that left it near the bottom of the heap of about 20 vendors that the analyst firm tracks. But despite having a laggard market share in 2005, this one deal will vault it to the top half of the list of dominant metro WDM vendors worldwide, even though the company is really only catching heat in North America.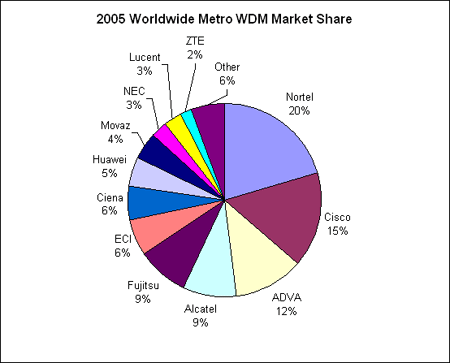 No money figures were announced by Tellabs, but last year, Simon Leopold, an analyst at Morgan Keegan & Company Inc., pegged Verizon's ROADM business to be "worth $250 - $350 mm over 3 years." Scott Clavenna, chief analyst at Heavy Reading, says, "It's got to be worth about $50 million to $75 million a year and it will probably take four or five years, depending on how aggressively Verizon rolls this out."

What was Verizon looking for? A lot, actually. Its ROADM request for proposal (RFP) from last summer said the company desired a product that would integrate "wavelength and Sonet transport and switching capabilities into a single element."

The carrier is aiming to scale the bandwidth available while at the same time simplifying management and reducing the number of network elements in its metro network. With devices like the 7100 Verizon can avoid the manual setup steps usually required at each node, as required by older add/drop multiplexers, which require technicians to adjust the equipment manually, rather than electronically. (See Next-Gen ROADMs.)

Tellabs' good fortune at Verizon is a potential strike against vendors such as Lucent, Lucent's ROADM technology supplier, Movaz Networks Inc. , and Movaz's soon-to-be parent, ADVA Optical Networking . This deal is also a knock on Fujitsu Network Communications Inc. which, like Lucent, won't be seeing the lion's share of Verizon's ROADM business, but also might miss out on opportunities to sell the carrier MSPPs as that business declines over the long run. "The MSPP market is clearly reaching a plateau," says Heavy Reading's Clavenna.

Thanks to its prior equipment contracts in Verizon's access and wireless networks, Tellabs counted 24 percent of its consolidated revenues for 2005 as coming from Verizon. The deal, however, may have already been priced into the market. With weakness elsewhere in the telecom equipment sector, Tellabs shares fell $0.03 (0.25%) to $12.17 in trading on Tuesday.

Tellabs executives weren't available and Verizon officials had not returned calls by the time this article was published.

— Phil Harvey, News Editor, Light Reading


Subscribe and receive the latest news from the industry.
Join 62,000+ members. Yes it's completely free.
You May Also Like
---